Travel
Massport Announces Training Exercise at Logan Airport, Pigs Fly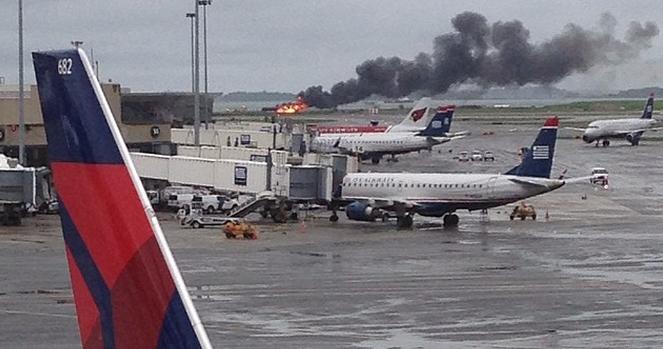 Despite a history of not providing warning about training involving flaming airplanes, Massport had the decency to announce that they'd be running an exercise today.
Using their Logan Airport Twitter handle, @BostonLogan, Massport announced that the exercise would take place Wednesday morning.
[fragment number=0]
While this is a relatively simple gesture, it's notable because it goes directly against what many of us have come to expect as Massport's standard operating procedure: do something alarming then clean up the mess when people freak out.
We saw that exact process last month, when the Boston area had a collective panic attack after large plumes of smoke and flames could be scene drifting skyward from the airfield at Logan. Images of the scene went out on Twitter and Instagram and, unsurprisingly, people were concerned.
But it wasn't until Boston.com actually reached out to Massport that we were told it was just an exercise and something they do "3-4 times a week for training.''
A similar incident on September 11, 2013 (yes, the 12-year anniversary of the 9/11 attacks) garnered just as much attention and drew a reaction from Governor Deval Patrick, who said not announcing the exercise was "just dumb.''
Of course, today's tweet seems to indicate that Massport is getting the idea. It's the second time they announced a training exercise, with the first instance coming last month, the day after the latest fire controversy.
[fragment number=1]
Of course if this is something they're doing multiple times a week, two announcements in 14 days isn't exactly complete coverage. But hey, at least it's a step in the right direction.