Travel
Share Our Katy Perry Hammock Envy With These Gorgeous Hotel Hammock Views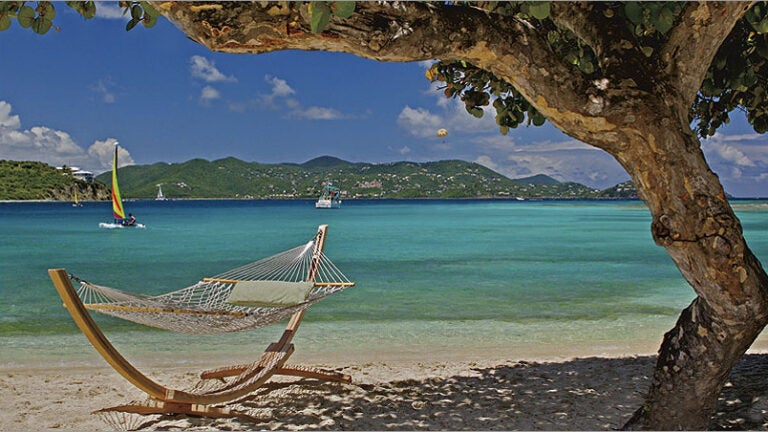 Katy Perry is on vacation this week, lounging on a hammock.
[fragment number=0]
"Swaying on the hammock under mango trees, fresh freckles on my face, everything irie,'' writes Perry on Instagram.
We're not sure exactly where the 29-year-old pop star is, but we do know she's totally relaxed and at peace, a.k.a "irie'' (a term Jamaicans use for feeling good).
Her carefree hammock shot has us wishing we were swinging on one of these high-end hotel hammocks right now, taking in the gorgeous view. We are loving these hammock views posted on TripAdvisor.com.
Here's the view at The Ritz-Carlton, St. Thomas.
When you emerge from the infinity-edge pool and jacuzzi, sink your body into this hammock by the sea for an incredible view and seaside breeze.
Or how about a Hawaiian hammock beneath the palm trees?
Watch the leaves sway as you rest your body and mind and take in the ocean air. You'll find this little slice of paradise at the Grand Hyatt Kauai Resort and Spa in Hawaii.
Or
if you don't want to travel that far for your hammock fix, how about this private little hammock area situated beside a small, private group of sunbathers over at Little Palm Island Resort & Spa in the Florida Keys?
We're thinking we'd definitely choose the hammock over the lounge chairs in this scenario. How about you?
This secluded retreat is "the escape of choice for presidents, celebrities and savvy travelers alike,'' according to the hotel website.
And, finally, how about a room with a hammock view?
Check out the sweet spot at Las Alamandas in Mexico in the photo below.
We just love the location of this hammock, hanging right outside your hotel room (but still with the amazing ocean view!).
With this beckoning outside your door, who would ever choose the couch?