Travel
This Airport Security Machine Could Answer Our Liquid-Toting Prayers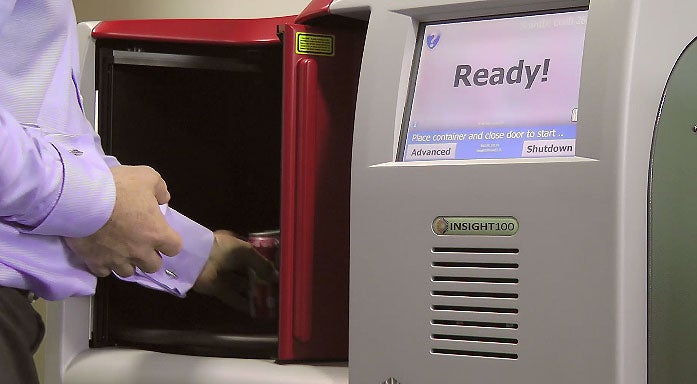 If you've ever flown on an airplane, chances are you've been forced to toss out your water bottle in the airport security line. Maybe you've even had to forfeit an expensive bottle of lotion or sunscreen because it went over the 3.4-ounce limit.
First of all, what were you thinking? These regulations have been in place since 2006. Have you seriously not flown since then? Well, relief may be on the way in the form of a device called the Insight100 Liquid Explosive Detection System.
The $64,000 machine, made by Cobalt Light Systems, is currently being tested at Heathrow and 64 other airports across Europe. Here's how it works. The water bottle is placed within a sliding door. Then a laser takes a "fingerprint'' of the liquid inside. The machine can identify solids, gels, and powders, as well as liquids, in 5 seconds. Then a screen tells the airport worker if there is a threat inside the container. Alas, kombucha is not yet considered a threat by the TSA.
If you are a tech geek and want a more detailed explanation, here's how Paul Loeffen, CEO of Cobalt Light Systems, described the machine to The Guardian.
"We make the light enter in a number of positions and we look at how that light propagates through the powder or liquid or gel or whatever. We end up with a number of measurements where we have both the container and the contents in this signal,'' said Loeffen. "With our method of measuring in a number of different places and comparing the signals and doing a lot of software processing, we can end up with a spectrum of the contents as if there was no container.''
The machine is not being tested in the United States, but perhaps they could send one to Logan before the Thanksgiving rush? Pretty please?