Travel
Book Thanksgiving Dinner Now for Turkey, Great Views, Even Soup Dumplings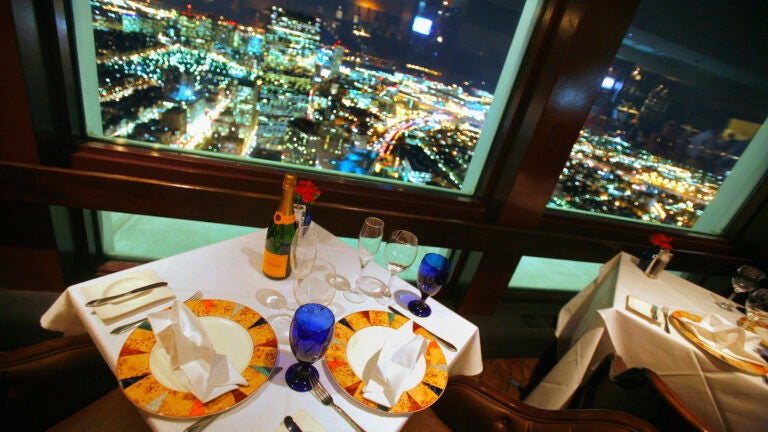 Are you ditching your kitchen for a restaurant this Thanksgiving? There are plenty of Boston restaurants eager to feed you, whether you're seeking live music, family-friendly activities, gorgeous views, or wine pairings.
For the city lover: Top of the Hub in Boston
Enjoy a spectacular panoramic view of Boston 52 floors above the city during your Thanksgiving brunch or dinner at Top of the Hub. A four-course prix fixe menu will be served from 11 a.m. to 8 p.m. and costs $65 for adults and $25 for kids age 6 to 12. Choose from four entree selections — roasted turkey, braised short ribs, crown roast of pork, or haddock Rockefeller. Children under 5 eat free. Enjoy live jazz from 4 to 8 p.m. and free admission to the Skywalk Observatory with your meal (a $16 savings). View the Thanksgiving menu.
For the family-oriented: The Ritz-Carlton in Boston
Parents with young children will give thanks for family-friendly food and activities during this year's feast in the Ritz-Carlton Ballroom. For dinner, little ones can choose between peanut butter and jelly sandwiches, fruit kabobs, and chicken tenders while their parents nosh on caviar, sushi, turkey, and prime rib. For dessert, kids will decorate turkey-shaped sugar cookies. The fun happens from noon to 2:30 p.m. and costs $98 per adult and $48 per child. View the Thanksgiving menu.
For music (and leftovers!) lovers: Beat Hotel in Harvard Square
Beat Hotel's roast organic turkey and grass-fed rack of lamb come with a side of live bluegrass and country music between 11 a.m. and 10 p.m. Is your favorite part of Thanksgiving the leftovers? Then stick around for the "leftovers menu,'' which will roll out from 10 to 11 p.m. Prices vary and can be viewed on its a la carte Thanksgiving menu.
For the app lover (put down your iPhone, we're talking food): City Landing in Boston
City Landing is putting an emphasis on its appetizers this year, offering shareable plates of mini lobster rolls, crispy calamari, and chicken liver mousse. The app fun starts at 12:30 p.m. and runs through 8:30 p.m. A separate four-course Thanksgiving menu costs $65 per adult and $20 per child. View the Thanksgiving menu.
For nature lovers: Restaurant dante in Cambridge
Gaze at the Charles River while dining on turkey, steak, or duck at Restaurant danteinside the Royal Sonesta Hotel. Thanksgiving dinner will be served from 2 to 8 p.m. and costs $69 per person. There is also a vegetarian dinner option.
For turkey haters: Dumpling Cafe in Boston's Chinatown
If you loathe turkey, head to Boston's Chinatown, where you can feast at the neighborhood's Chinese, Vietnamese, and Taiwanese restaurants. The Dumpling Cafe offers beef, chicken, and pork dishes as well as plenty of seafood and noodle selections. Or try the frog with chives to really think out of the Thanksgiving dinner box. The restaurant is open Thanksgiving Day from 11 a.m. to 2 p.m.
For the wine lover: Meritage in Boston
Meritage, located inside the Boston Harbor Hotel, will match wines from its 5,000-bottle cellar with each course of its Thanksgiving dinner. The four-course meal is served from 4 to 8 p.m. and costs $105 per adult ($165 with wine pairing) and $45 per child under 10. View the Thanksgiving menu.
For the vegetarian: The Beehive in Boston
The Beehive will serve up a three-course vegetarian feast of spinach stuffed petite pumpkin, country mashed potatoes, wild mushroom stuffing, brussels sprouts & pea salad, and fresh cranberry sauce. Meat lovers can dine on turkey, steak, or lamb. The feast is served between 11 a.m. and 10 p.m, and a leftovers menu is offered from 10 p.m. to midnight. Dinner costs $46. Oh, and there's live music all day too!View Thanksgiving menu. Top of the Hub, Restaurant dante, and Beat Hotel will also offer vegetarian options.
For the dessert lover: ArtBar in Cambridge
ArtBar , located inside the Royal Sonesta Hotel, will offer a dessert buffet made up of selections from the restaurant's pastry shop, according to its Thanksgiving menu. The family-style meal, which includes the dessert buffet, will be available from 11:30 a.m. to 10 p.m. and costs $55 per adult and $20 per child. Kids 3 and under eat free.
For the French-obsessed: Brasserie-Jo in Boston
For those obsessed with the French culture, head to French restaurant Brasserie-Jo at the Colonnade Hotel in Boston. The restaurant will offer a French version of Thanksgiving dinner for $28 — slow roasted turkey paired with wild mushroom and sage pudding, French egg noodles, and Cauliflower gratin. Or choose a traditional American turkey dinner with the usual fixings like stuffing and sweet potatoes for $29. Sounds like the best of both worlds, Oui? Thanksgiving fare will be served 11 a.m. to 11 p.m. View the Thanksgiving menu.