Travel
London's Tower Bridge Gives Visitors New View: Just Look Down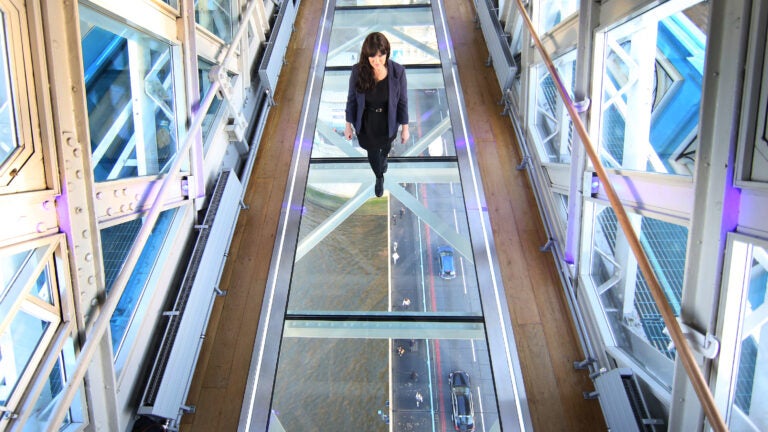 Last month the Eiffel Tower unveiled its $37.5 million glass floor and the resulting Eiffel Tower selfies were endless. Before that, vertical views were installed at the Grand Canyon and Chicago's Willis Tower.
Now London's Tower Bridge has a glass floor, which offers views from 138 feet above the River Thames. It was unveiled this week.
Here is a shot of the Tower Bridge, posted by Instagram user bbbridg:
[fragment number=0]
That's right, you can now walk a clear path — literally — on the west side of the famous bascule and suspension bridge, the only bridge in London that opens up.
And if you're lucky — or follow bridge schedules — you'll get a bird's-eye view of the famous bridge lifts in action. Up until now, it was more difficult to see them from the walkways.
The $1.6 million glass floor, funded by the Bridge House Estate and City of London Corporation, is 36 feet long and about 6 feet wide. This is the view looking down. You can see the river, motorists, bicyclists, and pedestrians.
They can also look up at you. If you are a lady wearing a skirt, or a visiting Scot in a kilt, should you be concerned?
Nope. Engineers thought of that and installed special lighting to protect the modesty of visitors strolling the walkway.
The Tower Bridge, built 120 years ago, became a tourist attraction in 1982. The bridge is crossed by more than 40,000 people each day and 600,000 people visit the Tower Bridge Exhibition yearly. It includes the two walkways (the east walkway will reopen December 1 with a glass floor of its own), a history of the bridge's construction, and a tour of the Victorian engine rooms, which house the coal-driven steam engines once used to power the lifts.
The first 50 visitors to the glass walkway seemed nervous to walk on it, prompting an official to say, "You can walk on the glass,'' reports The Guardian.
"There is that sense of trepidation,'' Chris Earlie, head of the Tower Bridge Exhibition, told The Guardian. "I do a lot of climbing and adventure sports but, even for me, the first time was a bit difficult.''
The ideal time to cross the glass walkway is when the bridge is raised, which happens 850 times each year. Get the bridge lift schedule here.
Let the vertical view selfie-taking begin! This visitor to the Eiffel Tower couldn't resist taking a selfie on the new glass floor.
Not heading to England any time soon? Download the Tower Bridge App to experience a virtual bridge lift, complete with 360-degree views.