Travel
Service With a Swipe: FoxTrotter Connects Travelers With Locals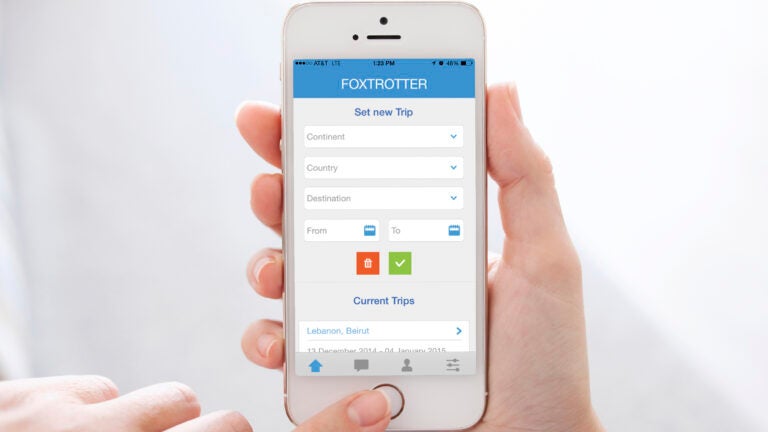 Calling all smartphone owners: You may never need a guidebook again.
The new travel app FoxTrotter, developed right here in Boston, will help you plan your next vacation from the palm of your hand.
"Don't waste your time reading guidebooks,'' said FoxTrotter co-founder (and Northeastern student) Charif Tabet. "With the help of FoxTrotter, you'll be able to make the most of your time in less time and have a better experience.''
The free app, available on iOS and Android devices, connects users with local residents and expert travelers for personalized recommendations on all aspects of a trip, from packing advice to new-on-the-scene hotspots.
"We want to keep it private and personal so it's a one-on-one interaction,'' Tabet said. "Each person is looking for a specific thing, and we wanted to reflect that in our app.''
FoxTrotter uses information available on Facebook—age, interests—to fill out a user's basic profile information. Users then set their hometown, and from there, they have the option to give advice to out-of-town guests or plan their own trips with the assistance of other users around the world.
"What we are providing is a live person, a personal connection, with the knowledge and experience a live person has,'' he said. "Such a connection can't be delivered in a book or on a website.''
Co-founder Karl Bachian had the idea for Foxtrotter earlier this year, when he was researching a trip to Taiwan.
"I had done my research online and jotted down a few locations that I wanted to visit. But even though I planned my trip around these 'trusted' websites, my local friend suggested better alternatives,'' he told news @Northeastern in September. "This made me realize that the best way to get the most out of travel is to get in touch with someone in the know.''
When Tabet heard of Bachian's idea, he jumped at the chance to join.
"It's my fifth year in Boston and I'm still discovering new places, either because friends of mine tell me about them or because people who used to live here tell me about them,'' he said. "Being able to have that connection with people who have been to a place or lived there is something that's invaluable when planning a trip.''