Travel
'Chocolate is special. You don't take it for granted.'
The secrets behind Phillips Candy House, a mainstay candy shop that's been hand-crafting chocolates for 90 years.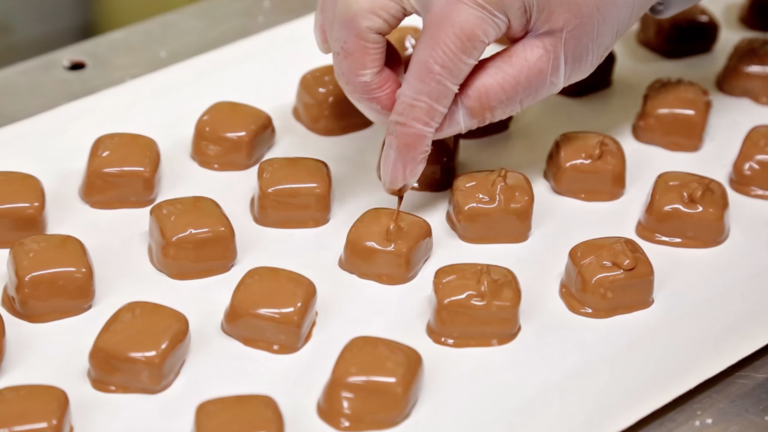 Anna Sammartino, who's 101 years old, would like you to know a little secret: Put your peppermint patties in the refrigerator.
"You bite into that cold, snappy chocolate, and it tastes just like chocolate-covered ice cream,'' said Sammartino.
She should know. She's been eating them from her parents' candy store for 90 years.
Her parents, Phillip and Concettina Strazzula, founded Phillips Candy House, Boston's oldest chocolatier, in 1925. The candy shop celebrates its 90th anniversary this year. It's a milestone the Strazzulas, who immigrated to Boston from Italy at the turn of the 20th century, would be proud of.
Their life's work became her life's work. And, sitting on the couch of her Scituate home, with a box of her family's chocolate on the coffee table before her, the thought of her family's legacy makes her smile.
"It's a sweet business,'' she said.
A recipe for success
"Chocolate is special,'' said Mary Ann Nagle. At 71, Nagel is Sammartino's daughter and the general manager of the candy store. "You don't take it for granted. It's also comforting. It's like going home when you eat a piece of chocolate.''
The first Phillips chocolates were literally made at home in the basement of the Strazzulas' Revere home in 1925. At first, the couple made candy for someone else.
"My grandfather had all of these recipes in his head that he had developed, but it was really my grandmother who had the push and drive to say, 'We can do this ourselves,''' said Nagle.
Her grandparents had four children: Matthew, Philip, Sam, and Anna. Anna would pack the candy, and her brothers would help distribute it. The family opened its first retail shop, Phillips Sweets, in Belmont in the 1930s and moved into a house behind it.
"The chocolate business was the life of my grandparents and their children,'' said Nagle, who remembers eating family meals right in the Belmont shop. "It was your life, your way of life. You can't separate it.''
The family moved the business to Dorchester's Morrissey Boulevard in 1952 and opened a second store in Braintree's South Shore Plaza in 2004.
Since 1925, the family has used Peter's Chocolate to create Phillip Strazzula's recipes. And it has followed its founder's golden rule: quality.
"My father always said, 'Remember, kids: Quality is the key word. If you can't make it because you can't get materials, don't make it,'' said Sammartino, who has 17 great grandchildren, with another on the way.
Nagle maintains her grandfather's high standard, saying, "That's kind of our motto: If we're going to do it, we're going to do it right.''
But good luck getting your hands on one of the family's candy recipes. They're locked in a safe, and the family won't share them.
When asked what makes the family's famous caramel recipe so special, Nagle said, "There's natural, pure ingredients in it. It's all fresh cream and fresh butter. And it's cooked correctly. There's nothing added for coloring or anything.''
Phillips candy is a tradition for many Boston families.
"If I've heard it once, I've heard it one thousand times,'' said Nagle. "[A customer will say] 'My daughter is 25 years old, and if I don't do these Easter bunnies and these Phillips eggs, it's not Easter.'''
A personal touch
The Strazzulas were the product of an arranged marriage. But, make no mistake, the couple was "deeply in love,'' said Nagle.
And from that, a business was built.
"This is the beauty of two people who love each other, what they can accomplish in life,'' said Sammartino, adding, "What a force, the two of them.''
Candy lovers return for the shop's top-selling chocolate turtles and other treats, because they like the flavor. But customers also like that each piece of Phillips candy is hand-crafted. There's a very human element to the candy's manufacturing.
And that personal touch extends to the front of the store.
"The most important thing is not just the chocolates, but your personality,'' said Sammartino. "I'm a talker. I've always been a talker. That's how I succeeded in business. My father used to say, 'How you can roll that tongue of yours.' … A lot of people come in [to the Dorchester store] and say, 'Where's Mary Ann today?'''
Sammartino packed her share of chocolates as a kid but never felt more alive than when she was at the front of the store dealing with customers.
"This is the one thing I always stress: People love to be called by name,'' said Sammartino. "They feel so important.''
She sometimes knew her customers better than they knew themselves. A professor who frequented the Belmont store in the 1930s with strings tied to his fingers as reminders for what he had to do would ask Sammartino, "Dear, do you remember if this was the chocolate one?''
And she always did.
Growing with the times
Times have changed since Phillip Strazzula iced his wife's feet while she dipped chocolate in their Belmont store in the 30s. A pound of bittersweet chocolate sold for 15 cents; today a pound of Phillips chocolate sells for up to $27 a pound.
The family's challenge: Changing with the times while selling a product that cannot change.
"We're not one to experiment and do things differently,'' said Nagle, "Because the attractiveness to our whole manufacturing, as we see it, is it's being made the same way we always have.''
Sure, the family has made a few tweaks over the years — like sugar-free chocolate and candies with sea salt (which, Sammartino — forever the taste tester — was surprised to find delicious). The company even tried its hand at organic chocolate, which didn't work out so well.
"The chocolate was terrible!'' said Nagle, shaking her head.
But without much wiggle room in the recipes, the company has kept a laser-focus on its packaging.
"With any kind of business, you have to reach out for new ways of selling this product,'' said Nagle. "It's not going to sell itself.''
If you step into the aromatic shop on Morrissey Boulevard and walk its aisles, you'll spy the same candies that have been pleasing folks for 90 years: the chocolate turtles, caramels, cream-centered chocolates, and honey nougatines. But you'll also spot chocolate pizzas (with their own pizza box!) as well as towers and baskets full of candy. You'll see samples of colorful wrappings for baby and wedding shower favors. Sports buckets full of sweets ooze team pride. Want a chocolate-shaped football? No problem. Phillips will even add ribbons in the colors of your favorite team.
"Many companies want to give a gift that's representative of Boston,'' said Nagle, whose shop also crafts corporate logos out of chocolate. "We're so much a part of Boston. That's important for us.''
The company creates chocolate bars for charities as well. Several years back they made a "Yoouukk!'' milk chocolate bar for a Kevin Youkalis fundraiser benefitting local kids, and more recently, bars with sales benefitting the Disabled American Veterans.
The shop has amassed a loyal clientele — including hometown celebrity Mark Wahlberg, who orders candy from California.
"Dorchester customers are like little ambassadors,'' said Nagle, with a smile. "They buy this chocolate, then they give it, then people turn around and say, 'Where did this come from?' Your customers breed customers. It's just amazing.''
The future
Sammartino asks Nagle all the time when she's going to retire. The women laugh about it. Watching Nagle move around her candy shop, you can tell she enjoys her work. But she also wants to make sure the next generation is ready to take the reigns.
The family has built an empire that reaches beyond chocolate — Phillips Family Hospitality owns Boston Bowl, Freeport Tavern, Phillips Banquet and Meeting Facility, the Ramada and Comfort Inns, and the Deadwood Cafe, as well as the candy stores in Dorchester and Braintree. The women say their family will always make candy. They can't imagine it any other way.
When asked how it feels to be part of such a long-standing family business in Boston, Sammartino doesn't hesitate.
"Fulfillment,'' Sammartino said. "A satisfaction — to know that my parents worked for it and achieved it. That's the most wonderful thing in the world.''