Travel
7 off-the-beaten-path New England vacation ideas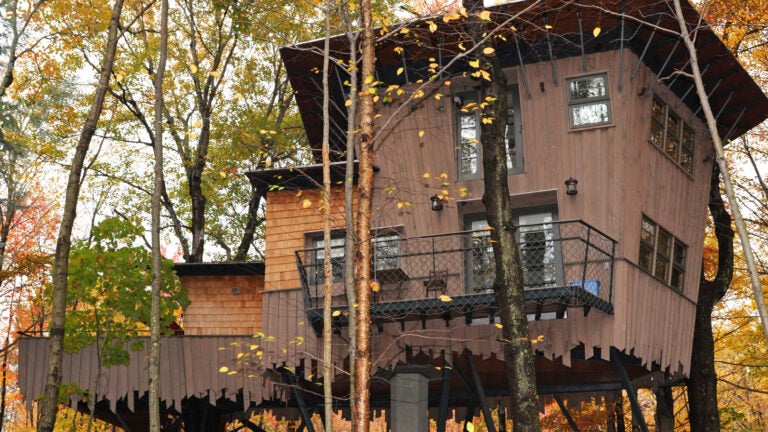 Get amazing travel deals when you sign up for Boston Traveler. Find the perfect getaway, grab special fares for local and international trips, and much more.
Summer in New England is short. Why spend your precious vacation time fighting crowds and waiting in lines? Whether you're traveling with a large family or heading out solo, here are six off-the-beaten-path New England vacation ideas that are perfect for your next getaway.
1. Rent a yurt in Maine
If you want to experience the outdoors, but sleeping in a tent is a deal-breaker, try a "glamping" adventure instead. At Maine Forest Yurts (430 Auburn-Pownal Road, Durham, Maine; 207-400-5956), you can choose from three well-appointed yurts on a lush, 100-acre property featuring a scenic shallow pond perfect for canoeing. The retreat is owned by the Crowley family, whose patriarch, "Survivor Bob," won the 2008 season of Survivor: Gabon.
2. Book a treehouse in Vermont 
Why just visit the forest when you can actually sleep in the trees? The Tiny Fern Forest Treehouse (Lincoln, Vermont) is a cozy abode that fits three people. The treehouse is situated on four maple trees, 30-feet above the ground. You can access the structure by a ramp from the main house—that's where you'll also find your private bathroom and shower.
3. … or Connecticut
If a treehouse in the forest is a bit too remote, the Winvian Resort (155 Alain White Road, Morris, Connecticut; 860-567-9600) offers a two-story, luxury treehouse as one of its cottage accommodations. The suite is suspended 35 feet above the ground, and features a king-size bed, gas fireplace, steam shower, and Jacuzzi. The second floor lounge offers a wood-burning fireplace and a full bar—hardly the treehouse from your childhood.
4. Staycation in a houseboat on the Harbor 
Even if you've lived in Boston proper your entire life, chances are you've still never stepped foot in a houseboat on the Harbor. At the Green Turtle (Charlestown Marina, 1 Pier 8 13th St., Charlestown; 617-337-0202), you can staycation in a luxury floating bed and breakfast that's a short water taxi ride away from everything. You can also walk the Freedom Trail into downtown Boston. 
5. … or in a historic city townhouse
You'll feel like a local at the Clarendon Square Inn (198 West Brookline St., Boston; 617-536-2229), a restored 1860s townhouse that's been reinvented into a grand bed and breakfast. The inn is tucked away on a residential street with brick sidewalks in Boston's trendy South End and offers a rooftop hot tub showcasing city views. Bonus: Every tourist attraction imaginable is just a short stroll away.
6. Rent a lighthouse in Rhode Island 
Lighthouses dot the New England seaboard, and in Rhode Island, you can play "keeper" for the night in the Rose Island Lighthouse, a historic structure built in 1869. Situated on 8-acre Rose Island, about a mile into Narragansett Bay and a short trip from Newport, the lighthouse operates as a museum by day. At night, it turns into an inn—just be sure to get everything tidied up before the museum opens in the morning.
7. Explore waterfalls in New Hampshire 
New Hampshire's mountainous terrain boasts more than 100 waterfalls, which makes exploring them a popular summertime activity. While Flume Gorge and Arethusa Falls are bucket list trips, sometimes you want to experience waterfalls without the crowds. Try renting a cabin at a lesser known spot, such as The Cabin at the Falls, a three-bedroom rental that sleeps more than 10 people. You can hear Profile Falls, which is located right outside the door, from nearly every room in the home. Although the cabin is remote, Laconia and Weirs Beach are only 10 minutes away.