Travel
30 historical places to visit this fall in New England
These both well-known and more obscure spots will take you back decades and, in some cases, centuries.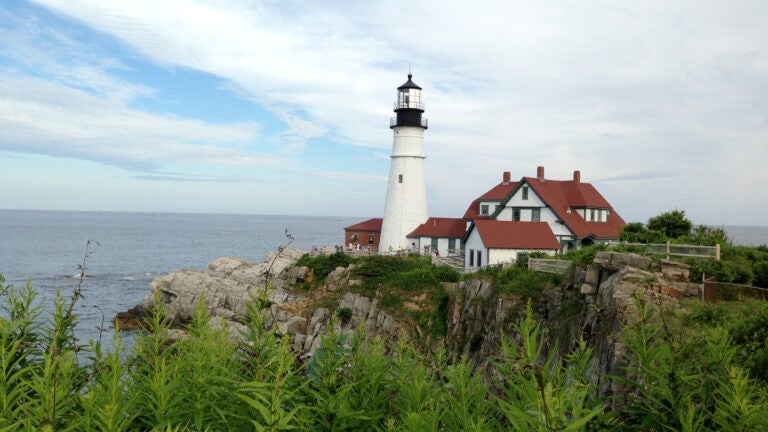 You don't need much convincing that New England is an amazing place to be in the fall: Apple picking, foliage, and flannel shirts all contribute to the crisp and cool wonderland known as autumn in the northeast.
The region is also filled with destinations—from Connecticut to Maine, both well-known and more obscure—that will both get you in an autumnal mood and take you back in time. Here are 30 historical spots you should take a trip to see this season.
It's hard to think of a better way to see New England than by steam locomotive—you get to see the foliage in the Connecticut River Valley without having to drive your car. The Essex Steam Train and Riverboat takes you on a 2.5-hour, 12-mile journey through the Connecticut River Valley by train and by boat. The train departs from the 1892 historic Essex Station. You then spend a little over an hour of the trip traveling down the Connecticut River on the Becky Thatcher riverboat.
(Tour runs on weekends at 11 a.m., 12:30 p.m., and 2 p.m.; $19 for children and $29 for adults) 
The Glass House, completed in 1949, is known for bringing a flare of international architecture into suburban life in America, according to the home's website. Architect Philip Johnson designed the home and lived in it until his death in 2005. Now it's a National Trust for Historic Preservation site, and you can take tours. This fall is the perfect time for one, as a special exhibition called "Yayoi Kusama: Narcissus Garden" runs there through November 30. Along with a landscape installation with 1,300 floating steel spheres, each approximately 12 inches in diameter, you'll also have a chance to see a large steel sculpture called "PUMPKIN," another example of Kusama's work.
(Open Monday through Saturday from 9:30 a.m. to 6 p.m. and Sunday from 11 a.m. to 6 p.m.; visit the website for tour information and prices)
Other historical attractions in Connecticut:
What better time of year to see the historical farms throughout Rhode Island than fall, when leaves are changing and crops are growing? According to Visit Rhode Island, Rhode Island's agricultural history goes back all of the way to its founding in 1636. You can visit the farms on the Heritage Trail in whatever order you want, making stops at Dame Farm and Mount Hope Farm, both of which are on the National Register of Historic Places for their historic buildings, as well as at Coggeshall Farm Museum, Prescott Farm, Watson Farm, Casey Farm, Smith's Castle, South County Museum, and Abrams Animal Farm.
The new school year is kicking off, but you don't need to be a new student to stop by historic colleges this fall. Brown University, which has been around since 1764, offers a self-guided tour of its brick-clad buildings. The tour starts at the Van Wickle Gates at the top of College Hill, where you can see views of Providence, and then heads to libraries, green spaces, dorms, before ending at the athletics center. Afterward, there are plenty of other historical experiences around Providence that will keep your academic-themed day going, including tours of the Rhode Island State House, the John Brown House Museum, and the Museum of Natural History and Planetarium.
Other historical attractions in Rhode Island:
Known as Harvard University's "3,500 acre laboratory and classroom," according to its website, the Harvard Forest is also home to the Fisher Museum, which showcases acclaimed dioramas that illustrate information about New England's forests. Its variety of walking and hiking trails include a self-guided ecology and history trail and a self-guided nature trail, where you will certainly see the changing leaves.
(Open May to October, Monday through Friday from 9 a.m. to 4 p.m. and Saturday to Sunday from noon to 4 p.m.; closed for renovations from November 1, 2016 to April 1, 2017)
The Mohawk Trail opened in 1914 and extends 63 miles throughout the western part of the state, with 50,000 acres of state parks and forests surrounding it. Though open throughout the year, the road is especially beautiful as the leaves begin to change colors for autumn. Along with places to eat, nature to see, and stores at which to shop, The Mohawk Trail has a variety of historical sites along the road. The Susan B. Anthony Birthplace Museum, where you can learn about the famous suffragist and abolitionist, falls along the trail in Adams. So does the Quaker Meeting House in Adams, which is on the National Register of Historic Places. If you're more interested in art history, you can head to the Williams College Museum of Art in Williamstown, the Massachusetts Museum of Contemporary Art in North Adams, or Sterling & Francine Clark Art Institute, also in Williamstown.
Other historical attractions in Massachusetts:
At the top of New England's highest peak, you'll find Mount Washington Observatory's Weather Museum, the Sherman Adams Visitors Center, and the 1853 Tip Top House, which was built as the second stone house at the mountain's summit and was originally used as a hotel. Get there on what the state's website calls the the world's first mountain-climbing train and the only Cog Railway east of the Rockies. It offers a three-hour guided train tour up to the top of the mountain.
(Railway runs April to November and leaves at various times throughout the day; $69 for adults, $65 for seniors, $39 for children ages 4-12, free for children 3 and under; recommended to buy tickets in advance)
Election season is certainly underway. This fall, you can engage in presidential history by heading to the childhood home of Franklin Pierce, the 14th president of the United States. Pierce lived in the house from birth until his marriage in 1834. The National Park Service explains that his home is a good example of village architecture in New Hampshire, as it has a hipped roof and paneled doorways.
(Open weekends from September 10 until closing for the season October 10 from 10 a.m. to 4 p.m., with the last tour at 3:15 p.m.)
Other historical attractions in New Hampshire:
The National Park Service encourages visitors to "experience Vermont's only national park bejeweled in vibrant fall colors." That park would be the Marsh-Billings-Rockefeller National Historic Park, and the Billings Farm and Museum is part of it. Check out a museum showcasing the history of rural life in Vermont and learn what it was like to run a farm in the 1890s. Also there: a restored 1890 farmhouse and an operating dairy farm.
(Billings Farm and Museum is open daily from April 30 through October 31 from 10 a.m. to 5 p.m.; open weekends November through February, as well as Christmas and February vacation weeks from 10 a.m. to 4 p.m.)
There's no better time than fall to learn about the history of maple in the foliage-covered state of Vermont. The New England Maple Museum (This exists!) will teach you how sugaring occurs and get you up close with a collection of sugaring artifacts. Maple syrup samples are available. There's also a museum store where you can buy syrup and tons of other maple products.
(Open seven days a week from 10 a.m. to 4 p.m.)
Other historical attractions in Vermont:
Many of the historical arts museums along this trail showcase works of famous artists who took some time to get creative in Maine. The trail includes Bates College Museum of Art, Ogunquit Museum of American Art, and the Portland University of Maine Museum of Art. Of course, you also get to take in Maine's beautiful fall views and quaint cityscapes.
Around since 1807, this is America's last standing maritime signal tower. It will certainly give you some longstanding memories of Maine's fall beauty. The tower is on the National Register of Historic Places, and subsequently became a National Historic Landmark and a National Civil Engineering Landmark after undergoing multiple renovations and preservation efforts.
(Guided observatory tours occur daily from 10 a.m. to 4:30 p.m.; $10 for adults, $8 for seniors/students/AAA members, $5 for children ages 6 to 16, free for members and kids under 6, $30 for families)
Other historical attractions in Maine: