Travel
6 fall getaways for apple picking and leaf peeping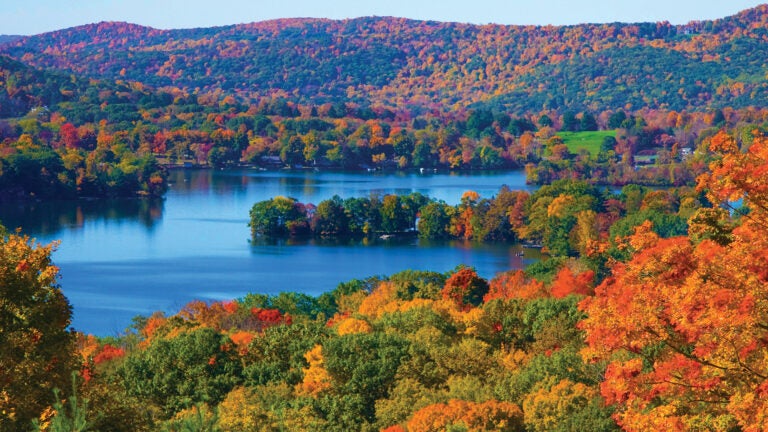 Arguably, the only good thing about summer's end is the promise of apple picking and foliage viewing opportunities. In New England, many of those are an easy day trip away from Boston. A short list of options follows, with the actual possibilities nearly as endless as the varieties of apples and colors you'll find along the way.
For foliage fabulousness, this byway in Maine (with its 40,000 acres of public, protected land) is a best bet, starting at Smalls Falls on Route 4. Then from the shore of Rangeley Lake, the centerpiece for 112 interconnected lakes and ponds, drive up Route 17 to the Height of Land and behold a colorful view of protected forest stretching from Bemis Stream and Upper Richardson Lake to Rangeley Lake.  
In the heart of Rhode Island's Apple Valley is the fourth generation Jaswell's Farm, where you can pick your own or do it up sweeter, noshing on the farm's famous Jaswell apples coated in hard cherry candy, caramel, or chocolate. (50 Swan Rd., Smithfield, Rhode Island; 401-231-9043; open daily from 8 a.m. to 5 p.m.)
Route 3, New Hampshire
New Hampshire's scenic Route 3 is a foliage hotspot, particularly Franconia Notch State Park and the Cannon Aerial Tramway (260 Tramway Dr., Franconia, New Hampshire; 603-823-8800; tickets are $17) that sweeps through colorful forests en route to the 4,180-foot summit, with clear-day views all the way to Canada.  
From Cortlands to Zestars and a dozen other varieties in between, Mad Tom Orchard (2615 Mad Tom Rd., East Dorset, Vermont; 802-366-8107; open 9 a.m. to 5:30 p.m. Tuesday through Sunday) has ample pick-your-own-apple options covered. The family farm was closed for a spell in the '90s, but has since planted 1,200 new trees on a spread that takes in some pretty terrific foliage on nearby mountains.
How do you like them apples all in one place? While you're in Vermont for Mad Tom, check out the annual Apples & Crafts Fair in Woodstock. With more than 100 juried crafters and food producers, there'll be a whole lotta them apples. (Bailey's Meadow, 1 Maxham Meadow Way, Woodstock, Vermont; Saturday, October 8 from 10 a.m. to 5 p.m. and Sunday, October 9 from 10 a.m. to 4 p.m.; $4 admission, free for children under 12)
This state park may be in southern New England, but it rivals anything hundreds of miles north. There, fall foliage reflects on the water and draws many sightseers and photographers. Take the Pinnacle trail in the Macricostas Preserve for an elevated look at the lake. (30 Lake Waramaug Rd., New Preston, Connecticut; 860-868-2592)