Travel
This Seaport hotel is one of the first to feature voice-activated rooms
It's part of a pilot program called ""Project Jetson." Seriously.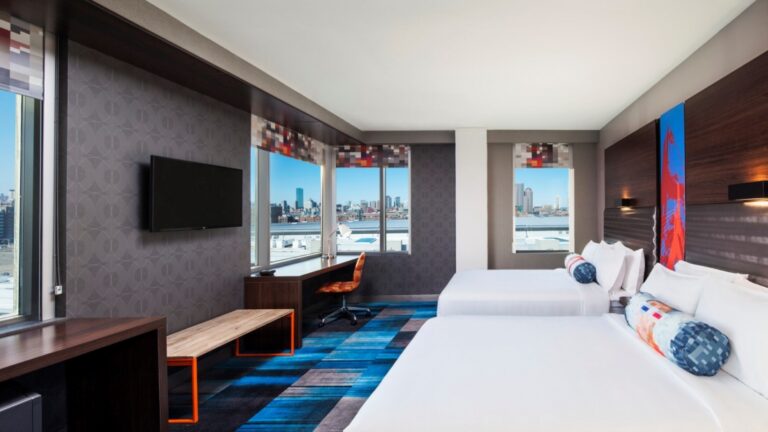 Hotels have long adapted to technology, adopting online reservations and swapping clanking keys for swiping, magnetic key cards. Going far beyond that are voice-activated rooms, such as the ones at the recently opened Aloft Boston Seaport (401-403 D St., Boston; 617-530-1600).
"Today's hyper-connected global traveler wants a level of personalization unlike ever before," said Brian McGuinness, global brand leader for Aloft Hotels. "And that means being able to control their hotel experience with the sound of their voice."
At the Aloft Boston Seaport, 10 of the 330 hotel rooms are voice-activated, meaning you can call out, "Hey, Siri," and get special attention.
Aloft's Boston and Santa Clara, California, locations are the first in the world to use this smart technology. (You can likely expect other hotels to adapt accordingly.) The technology is part of a pilot program dubbed "Project Jetson," a nod to the '60s futuristic cartoon family. Depending on demand and feedback in Boston, more voice-activated rooms powered by in-room iPads with custom-made Aloft apps will be created.
When you get to your voice-activated room, the Aloft app is launched, and a personalized welcome screen advises you how to set up your room and use your own voice with Siri. For those tech-challenged travelers, worry not: Each iPad also offers a reasonably simple tutorial to guide you through the setup process and answer any questions you may have.
Then the magic happens.
Too warm or cold in the wee hours and too lazy to get out of bed to tweak the temperature? Ask Siri to cool it down or warm it up, and she'll have the Ecobee HomeKit-enabled thermostat do it for you.
Not feeling the lighting? Call out Siri's name, and she'll turn on the Philips Hue lights in a variety of configurations and colors that include regular white and moody blue, in the categories Re:view (movie-theater mode), Re:vive (morning), Re:lax (evening), and Re:set (standard).
If you're interested in a little shower karaoke, say, "Hey, Siri, put on my morning playlist," and you'll get it piped in through your own personal device when you're signed into your iTunes account.
The Siri-enabled virtual concierge lets you ask for the nearest whatever-suits-your-needs, from museums to historic sites to restaurants.
And with the SPG Keyless system, as long as you have a smart phone, you can check in, get your room number, and open your room door.
Other tech-y items that may be coming to Aloft Boston Seaport include a Botler, the world's first robotic butler that will bring you items like the toothbrush you forgot to pack, and TiGi, "text it, get it," the world's first emoji-only room service menu (we're thinking? ).