Travel
25 things to do for under $25 in Manchester, Vermont
Are you traveling on a budget? There are plenty of things to see and do on the cheap in this charming town.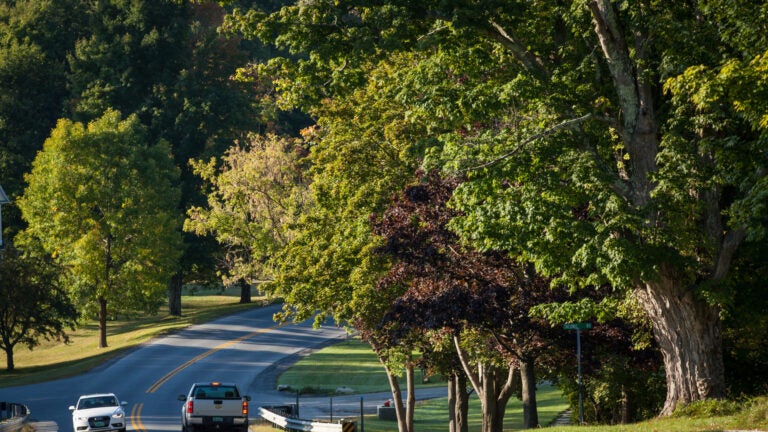 Nestled in the Green Mountains, Manchester, Vermont, is a charming town full of cozy inns and eateries, historic sites, quaint shops, and plenty of outdoor activities. In the winter months, you can tour a historic site on snowshoes, ski down the local slopes, or pack a picnic lunch for a horse-drawn sleigh ride.
And it's only a 3 1/2-hour drive from Boston.
"Culturally, it's a rich community," said Paula Maynard, group tour director at Hildene, The Lincoln Family Home, and an area resident for 27 years. "It's in a beautiful spot. We're the region of Vermont most sandwiched in by mountains."
Here are 25 fun things you can do in Manchester, all for less than $25:
Food + Drink
1. Feast on homemade sammies at Ponce Bistro
Try the North Country Turkey, the eatery's most popular sandwich, made of house-roasted turkey breast, apple, dill Havarti cheese, and homemade parmesan peppercorn dressing, served on a panini bun for $8.95. (Ponce Bistro, 4659 Main St.)
2. Eat smoked duck and apple brandy sausage at Up For Breakfast
This small, cozy restaurant is known for unique specials like elk sausage with pear and port wine ($4.25), Cajun frittatas ($10.75), and strawberry cream-cheese croissant espresso French toast ($14.25). (Up For Breakfast, 4935 Main St.)
3. Grab a deconstructed burrito at Cilantro
At this local standby right on Main Street, plates are typically less than $10. Diners with dietary restrictions can order most items gluten free, dairy free, vegetarian, or vegan upon request. (Cilantro, 5036 Main St.)
4. Taste homemade buttercrunch from Mother Myrick's
Mother Myrick's has dished out its buttercrunch since 1977. Their take features toffee dipped in milk chocolate or dark chocolate, then rolled in roasted cashews and almonds. It's made with local butter, too. (Mother Myrick's Confectionary, 4367 Main St.)
5. Grab some grub at Bob's Diner
Stop for classic diner grub at Bob's Diner, named an iconic Manchester spot by Travel + Leisure. Play a tune on the 1950s jukebox before settling into a red cushioned bar stool for bacon and eggs or a burger and fries. (Bob's Diner, 2279 Depot St.)
6. Eat Mediterranean food … at a furniture store
Depot 62 is a home goods store that sells European and Mediterranean home furnishings and rugs, and the cafe's pizza has also been called the best in town by seriouseats.com. Try the Kofte Kebab, made with minced lamb and veal patties, roasted tomato, bell pepper, and yogurt sauce for $18.50. (Depot Cafe, 515 Depot St.)
7. Get a drink at The Copper Grouse
The American restaurant at the Taconic Hotel is recommended by Travel + Leisure and uses seasonal, locally-sourced ingredients. Dive into a plate of roasted beet hummus for $10, a butternut bisque soup for $10, or a Caesar salad for $11. (The Copper Grouse, 3835 Main St.).
8. Nibble cheese at the Equinox Hotel's Falcon Bar
The Falcon Bar inside the Equinox Hotel boasts a drink menu of more than 50 wines and single-malt scotches. It also has cheese and chocolate plates: Three cheeses go for $20, while three chocolates are $8. Enjoy live music on weekend nights, too. (Falcon Bar, 3567 Main St.)
Outdoor Activities
9. Hit the slopes at Bromley Mountain
Nearby Bromley Mountain boasts 47 trails for a fraction of the price by participating in the resort's special winter promotions; for example, skiers and snowboarders who wear their Irish green on March 17 can ski and ride for just $17. Kids younger than 5 ski free year-round, too. (Bromley Mountain, 3984 Vermont Route 11, Peru, Vt.)
10. Go ice skating at Riley Rink at Hunter Park
This Olympic-sized indoor ice rink is available for public skating from October to March. Save on admission during special Dollar Skate days, where kids 13 and younger skate for $1 and skaters 14 and older pay $3. (Riley Rink at Hunter Park, 410 Hunter Park Road)
11. Cross country ski or snowshoe at Viking Nordic Center
These picturesque Vermont woods offer about 25 miles of snow-covered trails. The center, less than 30 minutes from Manchester, also offers equipment rentals. (Viking Nordic Center, 615 Little Pond Road, Londonderry)
12. Take a ride on a horse-drawn sleigh at Taylor Farm
Blankets are provided on this 45-minute sleigh ride pulled by Belgian draft horses. Make a fireside stop in the woods with gorgeous views of the ski mountains all around. (Taylor Farm, 825 Route 11, Londonderry)
13. Get outside at the Dana L. Thompson Memorial Park
Weather permitting, burn off some energy at the Dana L. Thompson Memorial Park (called the Rec. Park by locals). The 88-acre park contains three playgrounds, a skateboard park, basketball and tennis courts, several sports fields, and walking trails. (Dana L. Thompson Memorial Park, located off Route 30 on Recreation Road)
Museums
14. Tour Hildene, The Lincoln Family Home
Tour the 412-acre estate built in 1905 by Abraham Lincoln's son, Robert Todd Lincoln. Tour the house, garden, farm, and explore 12 miles of walking trails. You can even visit the outdoor attractions on snowshoes or cross country skis. (Hildene, The Lincoln Family Home, 1005 Hildene Road) 
15. Up your fly fishing IQ at The American Museum of Fly Fishing
Learn all about fly fishing at The American Museum of Fly Fishing. Check out thousands of angling-related items such as rods, reels, and flies. Some objects date back to the 16th century. (The American Museum of Fly Fishing, 4070 Main St.)
16. View art at the Tilting at Windmills Gallery
Immerse yourself in art at the 45-year-old Tilting at Windmills Gallery, which features work by local, national, and international artists.  (Tilting Windmills Gallery, 24 Highland Ave.)
17. See Vermont's largest sculpture park at the Southern Vermont Arts Center
The 95 year-old Southern Vermont Arts Center, sprawled over 100 acres, offers cultural, educational, and creative opportunities year round. Check out more than 800 pieces of 19th and 20th century art at the center, which also has the largest sculpture park in the state. (Southern Vermont Arts Center, 930 SVAC Drive)
18. Tour a sculpture garden at The Museum of Creative Process at the Wilburton Inn
Walk the estate of the Wilburton Inn, where you'll discover a sculpture garden and gazebo full of art, courtesy of The Museum of Creative Process. The museum attracts artists, scholars, scientists, and poets and hosts workshops and retreats for universities. (The Museum of Creative Process, 257 Wilburton Drive)
Shopping
19. Buy a Vermont-made item at the 138-year-old Heinel's Clothiers
One of Vermont's oldest continuously running clothing stores, this shop carries clothes for men and women, as well as accessories, footwear, home goods, and specialty items. Many of the shop's mittens, hats, socks, T-shirts, and mugs are priced below $25. (Heinel's Clothiers, 4964 Main St.)
20. Browse local items at Dorset Farmer's Market
The Dorset Farmer's Market, located just 10 minutes from Manchester, is a year-round market offering a wide variety of items, from produce to bison to pottery to jewelry. And, of course, there is plenty of Vermont cheese and maple syrup. The market operates out of the J.K. Adams manufacturing facility during the winter months. (Dorset Farmer's Market, 1430 Vt. Rt. 30, Dorset) 
21. Go consignment shopping at Zippy Chicks
Here's a chance to boost your wardrobe without breaking the bank. You can nab purses, dresses, skirts, pants, jewelry, sweaters, footwear, and more for under $25 by brands like J.Crew, Talbot's, Gap, and Banana Republic. (Zippy Chicks, 4732 Main St.)
22. Buy a wooden item at Manchester Woodcraft
Ferdinand "Nundy" Bongartz opened the shop in 1950 and his daughters currently run it. You can get everything from tiny items needed for DIY projects to toys, frames, and furniture at the shop, recommended by The New York Times. (Manchester Woodcraft, 175 Depot St.)
Arts + Entertainment
23. Meet an author at the Northshire Bookstore
Rub elbows with authors during weekly presentations and book signings at the family-owned Northshire Bookstore. The presentations are often free, and some books can be purchased for less than $25. (Northshire Bookstore, 4869 Main St.)
24. Enjoy live music at The Other Woman Tavern
The Other Woman Tavern, upstairs from The Perfect Wife Restaurant, hosts live music on weekend nights. Listen to funk, blues, jazz, and rock. The shows are typically free. (The Other Woman Tavern, 2594 Depot St., Route 11 & 30)
25. Catch a movie at Village Picture Shows
Catch a movie at Village Picture Shows, Manchester's only independent movie theater. The tiny theater with the old-time feel features two movies at a time, from current blockbusters to family flicks, classics, and documentaries. (Village Picture Shows, 263 Depot St.)