Travel
Where to eat, stay, and play in the Berkshires this spring
This region of western Massachusetts sees hundreds of thousands of visitors a year.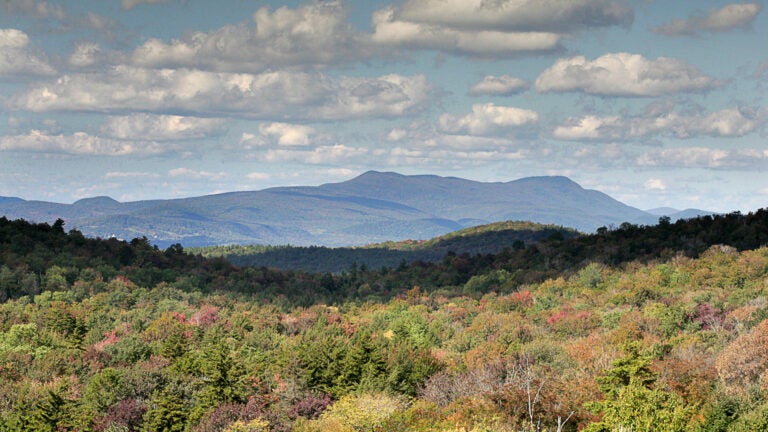 The Berkshires, a region of western Massachusetts comprised of 30 towns and two cities, sees hundreds of thousands of visitors a year, according to Lindsey Schmid, director of marketing for 1Berkshire, the regional tourism council for the area.
Up to 80 percent of the land in the Berkshires is undeveloped, Schmid said, which means there's plenty of nature to explore by hiking, camping, skiing, kayaking, and zip lining.
"There's just something about when you come here, there's an expansive feeling," Schmid said.
The area is rich in cultural offerings, as well. You can hop between towns to experience shopping, farm-to-table restaurants, world-class museums, and music festivals. Tanglewood, the summer home of the Boston Symphony Orchestra, draws more than 300,000 people each season.
"You have access to such a great variety of different places," she said. "You can come here and have world-class culture and food like you would in a city."
Whether you're spending a day or the weekend in the Berkshires, Schmid gave her picks for where to eat, stay, and play during your next visit.
Eat
Mezze Bistro + Bar in Williamstown
Find Mezze Bistro + Bar inside a 19th century historic house on three acres of land overlooking Sheep Hill, a 50-acre former dairy farm now used for public recreation. The farm-to-table restaurant has received rave reviews from national magazines such as Food & Wine and Travel + Leisure. Its contemporary American dinner menu features pasta, vegetable, and meat dishes such as ricotta cavatelli, pappardelle, heritage pork loin, cassoulet, and slow-roasted carrot tacos. "It's one of the best restaurants in Berkshire County," Schmid said. "I've never gotten anything that hasn't been on point." (777 Cold Spring Rd., Williamstown)
Haven Cafe and Bakery in Lenox 
This casual cafe in Lenox, which serves breakfast, lunch, and weekend brunch, is always jam-packed, Schmid said. The cafe makes all items fresh, from French-rolled omelets and croissant French toast to grass-fed, hormone- and antibiotic-free burgers. Schmid loves the Haven scramble, full of goat cheese, spinach, butternut squash, and chorizo. "I have a 5-year-old, and the restaurant makes their own marshmallows," Schmid said. "So this time of year, we go in for a hot chocolate with a homemade marshmallow on top." (8 Franklin St., Lenox)
The Old Mill in South Egremont
This former 1700s-era grist mill cooks contemporary New England cuisine in a charming, rustic setting with wide plank floors, dark chestnut beams, and a wood-burning forge. "It's a real cozy environment," Schmid said. "The bar is super cute. And there's this little tiny open fireplace in the middle of the dining room." The restaurant serves only sustainable wild-caught or organically-farmed seafood. Appetizers include mussels and pate. Entrees range from a skillet-roasted organic half chicken to sauteed shrimp and spaghetti to grilled rib lamb chops. (53 Main St., South Egremont)
Stay
The Porches Inn at MASS MoCA in North Adams
Art lovers can stay right across the street from the world-renowned Massachusetts Museum of Contemporary Art (MASS MoCA) in North Adams (and down the road from the Clark Art Institute) at the Porches Inn at MASS MoCA, a group of 19th century Victorian row houses that were once mill workers' homes. "They are funky old row houses that have been converted," Schmid said. The inn has a lobby bar and complimentary continental breakfast, as well as a fitness center and heated outdoor pool. Ask about the inn's museum package, which includes museums tickets with your stay. (231 River St., North Adams)
Schmid loves the beautiful mountain view at The Kemble Inn in Lenox, a Gilded Age mansion that's a 10-minute walk from the Shakespeare & Company and a short drive to Tanglewood. It has two restaurants, including one with outside dining, different-themed suites, and a fireplace in nearly every room. One popular suite has a 1920s glamour theme of white on white with gold accents and a panoramic mountain view. "You can sit on the porch and have a cocktail, and it's walking distance to town," Schmid said. (2 Kemble St., Lenox)
Embrace lake life at the Lake House Inn, where guests have water access for swimming, kayaking, and paddleboarding. "It's right on Laurel Lake," Schmid said, "so there are just amazing views overlooking the lake." Choose from 15 different rooms and suites, some with balconies that look out on the water. At a daily 5 p.m. cocktail hour, guests are served complimentary beer and wine. A gourmet breakfast is available each morning. (615 Laurel St., Lee)
Play
Adventurers can challenge themselves in this tree-to-tree aerial park that spans more than 10 acres of forest. The park has eight aerial obstacle courses of varying levels. Visitors use zip lines, high wires, balancing logs, rope ladders, and suspension bridges to complete the courses, some of which go as high as 120 feet. Kids must be 7 years old and at least 55 inches to participate. "You feel like you're in an Ewok village," Schmid said. (110 Brodie Mountain Rd., Lanesborough)
The Mount, Edith Wharton's Home in Lenox
Wander through the country estate of American writer Edith Wharton, who designed and built The Mount in 1902. The building, a National Historic Landmark, is open for tours from May 13 to Oct. 31. Exhibits throughout the house shed light on the lives of both Wharton and her staff, as well as Wharton's writing and humanitarian efforts. Don't forget to check out the outside, as well. "The garden at The Mount is stunning," Schmid said. Follow the manicured trails into the woods for even more of an adventure. (2 Plunkett St., Lenox)
Norman Rockwell Museum in Stockbridge
View the world's largest collection of Norman Rockwell's work and spend time in his studio, which was moved to this museum from the artist's Stockbridge residence after his death. "Norman Rockwell [Museum] is your sort of traditional, quintessential Berkshire museum," Schmid said, "because the people in his paintings are Berkshire residents." The museum hosts days on which the public can meet Rockwell's models, she said. You can also discover more than 100,000 items, such as photos, letters, fan mail, and personal calendars, in the museum's Norman Rockwell Archives. (9 Glendale Rd., Stockbridge)