Travel
20 things to do in Newport, Rhode Island, this spring for under $20
Spend time in Newport on the cheap.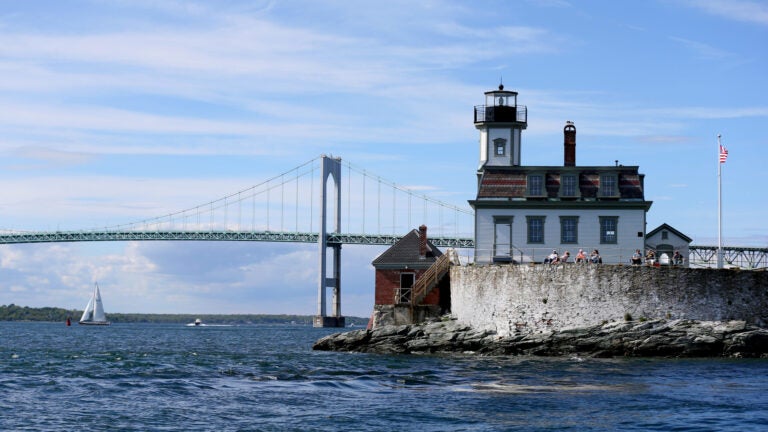 ---
Are you looking for tours and activities in Boston for this weekend? Click below for fun ways to explore the city.
[fh_link href="/activities/harbor-cruises"]Book Harbor Cruise[/fh_link]
---
The city of Newport, Rhode Island, located only 1 1/2 hours' drive from Boston, is known for its sailing, Gilded Age mansions, and seaside restaurants and shops that populate the city's busy downtown and waterfront area.
Benedict Leca, executive director of the Redwood Library & Athenaeum in Newport, the oldest continuously lending library in America, called Newport "a world-class destination" that "marries the sporting life of sail and sea to a deep engagement with history, tradition, and conservation, especially of our early national heritage."
But exploring Newport doesn't have to cost a lot of money. Here are 20 things to do for under $20 this spring in the coastal city.
Food + Drink
1. Order a drink at The Bar at the Chanler
The Bar at the Chanler is a richly decorated bar inside The Chanler at Cliff Walk, a lavish mansion-turned-hotel on the edge of the sea that makes one of the best hot toddies in the state, according to Travel + Leisure. (117 Memorial Blvd.)
2. Sample beer and rum at Newport Storm Brewery
Take a 30-minute tour of the brewery, and sample rum from the Thomas Tew Rum Distillery, located at the brewing company as well. You'll taste four Newport Storm brews and three samples of Thomas Tew Rum from different stages of the distilling process. Take a souvenir glass home to boot. (293 JT Connell Highway)
3. Eat clam chowder at The Black Pearl
Grab an outside table at The Black Pearl restaurant, and you can eat that classic chowder while overlooking picturesque Newport Harbor. Note that reservations are not accepted on the patio. (Bannister's Wharf)
4. Snag a lobster roll at Easton's Beach Snack Bar
In the mood for seafood? This beach spot, which reopens in April, dishes out everything from lobster and clam rolls to calamari. For those who are partial to land-based food, there's hamburgers, hot dogs, and chicken, as well. (175 Memorial Blvd.)
5. Sip wine at Newport Vineyards
Examine the grapes and get a behind-the-scenes look at the winemaking process at the 60-acre Newport Vineyards. Tours and tastings are offered daily. A one-hour tour and tasting costs $12, $15 with a Newport Vineyards glass. (909 East Main Rd., Middletown)
6. Grab a bottomless coffee at Cru Cafe
Yankee magazine named this casual eatery among the best attractions in Newport because of its affordable prices and local ingredients. The cafe offers a BYOB brunch on weekends and serves its own line of coffee, Cru Brew. "We do a bottomless coffee, so if you come in and order a coffee and leave and come back, you still get free refills," said front of house manager Justine LaBonte. (1 Casino Terrace) 
7. Order oysters from the Midtown Oyster Bar
How do you like your oysters? At Midtown Oyster Bar, you can get a Japanese oyster shooter infused with sake, torched oysters that are "lightly flamed," fried oysters, oyster tacos, and more. The restaurant received a Certificate of Excellence from TripAdvisor. (345 Thames St.)
Outdoor Activities
8. Stroll along the Cliff Walk
With gorgeous mansions on one side and sweeping views of the Atlantic Ocean on the other, it's no wonder the 3.5-mile Cliff Walk is so famous. The path, designated as a National Recreation Trail in 1975, runs behind beautiful properties such as Marble House and Rosecliff. Don't forget to make a stop at The 40 Steps, a centuries-old gathering spot, which is less than a mile from the start of the walk. (intersection of Memorial Blvd. and Eustis Ave.)
9. Visit the historic Rose Island Lighthouse on Rose Island
Spend some time on Rose Island, where you can take a free tour of the Rose Island Lighthouse, listed on the National Register of Historic Places. Learn how lighthouse keepers and their families lived by touring the fully-restored living quarters. Guests are also welcome to picnic, bird watch, and fish on the 18-acre Rose Island, which houses the centuries-old Fort Hamilton Barracks (available to tour), as well. There's a $5 fee to visit the island, and you can use your own boat, canoe, or kayak to get there, or take the Jamestown/Newport Ferry, which is $14 round-trip after 4 p.m. ($24 round-trip before 4 p.m.). The island is open to visitors Memorial Day through Labor Day. (Rose Island, Narragansett Bay)
10. Rent a bike and ride down Ocean Drive
Glide down scenic Ocean Drive at your own pace, stopping to take in the gorgeous ocean views and estates. Scooter World rents 10-speed bikes in a variety of styles for $7 an hour. (12 Christie's Landing) 
11. Hike Brenton Point State Park
Hike alongside the Atlantic Ocean at this state park, located about 10 minutes from the city. You can also bring a picnic lunch and kite and relax on the green space, open year round from sunrise to sunset. "The view is absolutely beautiful," said Gina Simeone, of the State of Rhode Island Division of Parks & Recreation. (Bathrooms are open May 1 to Oct. 31.) (Ocean Drive)
12. Tour Fort Adams at Fort Adams State Park
Take a 60-minute guided tour of Fort Adams, the former United States Army post dating back to 1799 and named after President John Adams. View the quarters where officers and their families lived, explore the underground tunnels, and learn about the role the fort played during wartime. Tours cost $12 for adults and $6 for children age 6 to 17. Members of the military, seniors, students, and AAA members get a $2 discount. (90 Fort Adams Dr.)
Arts + Entertainment
13. See a Roger Federer hologram at the International Tennis Hall of Fame
At this museum, tennis lovers can check out the grass courts where the first U.S. National Lawn Tennis Championships were held in 1881. The museum also has more than 1,900 pieces of tennis history and interactive exhibits. There's even a Roger Federer hologram. (194 Bellevue Ave.) 
14. Spend time at the Redwood Library & Athenaeum
Take a tour of the first library in Rhode Island and the oldest continuously lending library in America. (It was founded in 1747.) View a 1488 bible printed in Venice and 18th-century sculptures. "Discover early masterpieces of American art, decorative arts, rare period books and documents, two rotating exhibition spaces, as well as a slate of lecture, performances, and exhibitions," said Executive Director Benedict Leca. The $10 admission fee is waived for students with IDs, visitors under 18, and those with Rhode Island library cards. (50 Bellevue Ave.)
Spend the day discovering how the elite lived during Newport's Gilded Age by touring a gorgeous Newport mansion. Wealthy families like the Vanderbilts built these mansions, with names like Marble House and Rosecliff, as summer "cottages." A one-day ticket to most mansions costs $17.50; the famous Breakers mansion is slightly more at $24. (various locations)
16. Ogle cars at the Audrain Automobile Museum
At this museum, named among the Best Attractions in Newport by Yankee magazine, guests can view 200 rare cars arranged in exhibits with names like "Drop Dead Drop Tops" and "American Muscle." (222 Bellevue Ave.)
17. See where John F. Kennedy and Jackie Kennedy married at St. Mary's Catholic Church
Retrace the steps of newlyweds John F. Kennedy and Jackie Kennedy down the aisle of St. Mary's Catholic Church, where the famous couple tied the knot on Sept. 12, 1953. The future president and first lady lingered for three hours after the ceremony, greeting some 1,300 guests. (80 Memorial Blvd. West)
18. Visit the National Museum of American Illustration
Walk the halls of the historic Vernon Court, an 1898 Gilded Age mansion and home of the National Museum of American Illustration. Currently on exhibit: "Norman Rockwell and His Contemporaries," an exhibit about the famous illustrator best known for his iconic 20th century covers of the Saturday Evening Post. Kids will enjoy "My Little Pony: Under the Sparkling Sea by Mary Jane Begin." (42 Bellevue Ave.)
Shopping
19. Look for treasures at the Armory Antique Marketplace
Browse antiques at this 6,000-square-foot indoor market inside the historic Newport Armory, built in 1894. The market has more than 70 dealers and 100,000 items, 3,000 of which are nautical in theme. (365 Thames St.)
20. Shop consignment at Vintage to Vogue
Freshen up your wardrobe for a fraction of the price at the Vintage to Vogue consignment store. "We have sale racks right now where we've got $150 items on a rack and everything is $20 or less," said owner Shana Gaines. Parents of teens: You can snag a prom dress for less than $20. (489 Thames St.)
Boston.com will receive payment if a purchase is made through the article.