Travel
Where to eat, play, and stay in Portsmouth, New Hampshire
It's only about an hour drive from Boston.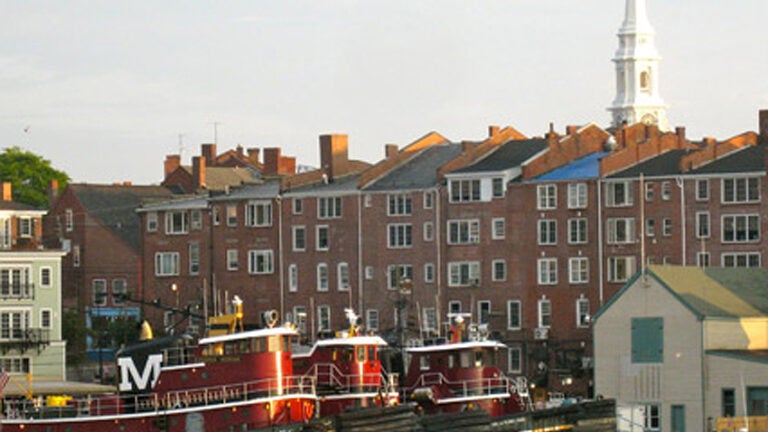 ---
Are you looking for tours and activities in Boston for this weekend? Click below for fun ways to explore the city.
[fh_link href="/activities/brewery-tours"]Book Brewery Tours[/fh_link]
---
Portsmouth, New Hampshire, is only about an hour drive from Boston, but its gorgeous waterfront and historic homes and architecture evoke a completely different feeling.
It's a "postcard-perfect kind of place," said Olivia Briggs, tourism coordinator at the Greater Portsmouth Chamber of Commerce.
The city sees 4 million visitors annually — 2 million in the summer, 1 million in the fall, and another 1 million in the winter, according to Valerie Rochon, president of the Greater Portsmouth Chamber of Commerce.
"We are known as a culinary destination because we have many amazing restaurants, and chefs who have been nominated for James Beard Awards for Best in New England," Rochon said in an email. "Combining our restaurants and event seating, we actually have more dining seats than we have residents, which number 21,440."
Whether you are going to Portsmouth for the day or for a weekend, Briggs gave her picks for where to eat, stay, and enjoy the historic city.
Eat
At this seaside restaurant, choose from mussels, scallops, oysters, shrimp, lobster, sushi, and more. "Their lunch is delicious, and it's affordable," said Briggs, who raved about the shrimp and pork belly ramen she ordered for lunch during her last visit (for $14). Then there's the view. "They are right on the water," Briggs said. "They have a killer location." (99 Bow St.)
This upscale surf and turf restaurant serves everything from pan-seared scallops to ribs to, of course, steak. "It's definitely one of the best places to go if you are looking for a great steak," Briggs said. Consider more than the entrees, though: "They have a massive list of sides," Briggs said. Those include lobster mac 'n' cheese, Parmesan truffle fries, and bacon Brussels sprouts (a favorite among Briggs's coworkers). (3612 Lafayette Rd.)
This eclectic downtown spot prepares its meals—salmon, short ribs, pad Thai, and more—with local ingredients sourced from more than 27 local area farms. "One thing I liked is, with some of their options, you can get a half portion or a full portion," Briggs said, "so it's a good place to go if you want to try a few different things." The restaurant also has a large outdoor dining patio—perfect as the weather gets warmer. (103 Congress St.)
Stay
Briggs couldn't resist recommending Wentworth by the Sea, though it is technically in New Castle, a 10-minute drive from Portsmouth. "It's a beautiful hotel," Briggs said. "Definitely our most luxurious property on the seacoast." The resort was named one of the best in New England by Conde Naste Traveler in 2016 and has been welcoming guests since 1864. It has 161 guest rooms and suites, two restaurants, a full-service spa, indoor and outdoor swimming pools, historic gardens, tennis courts, and a 170-slip marina. Briggs said you shouldn't miss the Bubbles and Jazz Sunday Brunch, which takes place every Sunday in the Wentworth Grand Dining Room. (588 Wentworth Rd., New Castle)
This intimate, 32-room hotel is housed inside a 135-year-old historic mansion downtown. It's just steps from Portsmouth's busy Market Square, full of shops, restaurants, and historic buildings. "[The hotel is] really boutique-y," Briggs said. "I think what's cool is they have such a big variety of rooms." Choose from a garden suite, king or queen suites, a loft, or a penthouse suite. Guests receive free parking, personalized concierge services, and breakfast and afternoon snacks. (40 Court St.)
Briggs chose this vintage-style inn, built in the 1950s, because of its affordability and friendliness. Pick from two double bed, queen, and king rooms, and rooms with kitchenettes. "When I stayed there, the front desk staff were so personable," Briggs said. "They are on a first-name basis with you. It's a place that makes you feel really at home." (505 U.S. Highway 1 Bypass)
Play
Take the Granite State Growler Tour
With at least 17 breweries in the Portsmouth area, it's a good place for a beer tour, Briggs said. Granite State Growler Tours drives guests to various breweries and even the occasional distillery and cider house. "They'll take you to three to four different breweries in Portsmouth and around the seacoast," Briggs said. Tickets include tours, samples, a Q&A with the brewers, snacks, water, and coolers full of ice to keep your growlers cold. You can choose from several different tours with names like "Saturday Beer Run" and "New Kids on the Block" (which makes stops at newer breweries). (Most tours begin at the Hanover Street Parking Garage in downtown Portsmouth)
Spend time wandering through this National Historic Landmark, built in 1763, that was home to William Whipple, among others. Whipple, who represented New Hampshire at the Continental Congress, signed the Declaration of Independence. Walk the estate's elegant garden, and take in the Georgian mansion's portraits, manuscripts, furnishings, and textiles. "It's pretty cool to see," Briggs said. View the house by appointment beginning April 1. Public house tours begin June 1. (154 Market St.)
Briggs said Portsmouth is a "huge shopping destination" because of its tax-free shopping, coupled with its variety of locally owned boutiques. Puttin' on the Glitz ("the ultimate hat store," Briggs said), Gus & Ruby Letterpress ("an amazing stationery store"), and Hazel Boutique (full of "trending fashion") are just a handful of the shops sprinkled throughout downtown Portsmouth. (Various downtown locations)
Boston.com will receive payment if a purchase is made through the article.