Travel
20 things to do for under $20 this spring in Providence, Rhode Island
It is the third largest city in New England, behind Boston and Worcester.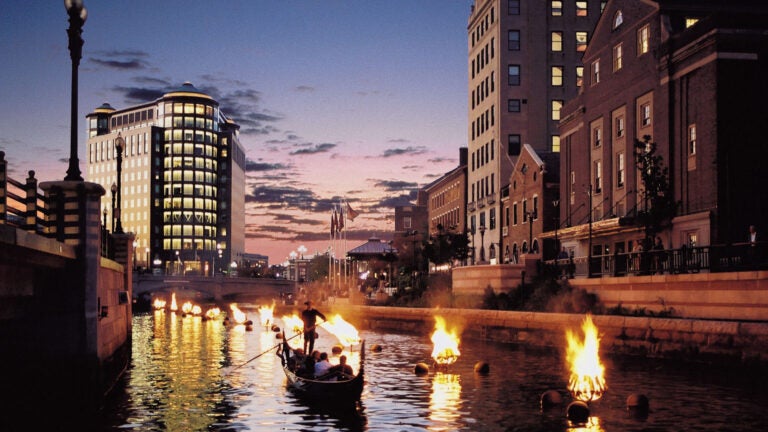 ---
Are you looking for tours and activities in Boston for this weekend? Click below for fun ways to explore the city.
[fh_link href="/activities/bike-tours"]Book Bike Tours[/fh_link]
---
Providence, Rhode Island, is the third largest city in New England, behind Boston and Worcester.
"It's one of those places where the density of just beautiful, historical architecture is kind of incredible," said Kate Blankenship, operations and advancement coordinator at the Providence Preservation Society. "It's a very kind of vibrant area. There's a lot of universities here, cultural events, museums, organizations in town that really make it an interesting place to visit."
A trip to Providence—about a one hour drive from Boston—doesn't have to break the bank, either. Here are 20 things to do for under $20 this spring in Rhode Island's capital.
Food + Drink
1. Get a drink at a Coffee & Spirits Bar inside the Arcade
Order a coffee or cocktail at New Harvest Coffee & Spirits inside Arcade Providence, the nation's oldest shopping mall. New Harvest Coffee Roasters, headquartered in Pawtucket, specializes in sourcing and roasting coffee from small farms. Enjoy coffee brewed by the cup or choose from small-batch, single-malt, and single-barrel liquor and craft beers from around the world. (65 Weybosset St.)
2. Grab biscuits made from scratch at Bucktown
At this "hot spot," according to The Boston Globe, you can order biscuits with chicken; honey butter; or sausage, egg, and cheese; as well as fried chicken; shrimp po' boys; and $1 locally-farmed oysters on Mondays. (471 West Fountain St.)
3. Savor a croissant from Ellie's Bakery
"Our baking team went through 40 recipes before we found the perfect croissant dough recipe," said bakery manager Alyssa Jerrell. "It takes three days to make a batch. We really labor over them." Pair yours with a lemon verbena matcha tea made with lemon verbena grown on the rooftop garden. (61 Washington St.)
4. Order native clams and oysters at Providence Oyster Bar
Stop by this spot, given a Certificate of Excellence by TripAdvisor, during "appy hours" on Tuesdays through Sundays from 3 to 6:30 p.m. and Mondays from 4 to 6:30 p.m. to snag $1 oysters and clams, $2 shrimp cocktail, $12 sushi rolls, and a bowl of New England clam chowder for $7. (283 Atwells Ave.)
Providence's first specialty doughnut shop often has a line that stretches down the block, according to the Globe. Once you make it in, choose from 24-hour-raised brioche yeasted doughnuts and old-fashioned doughnuts made from cake-like batter. Vegan doughnuts are available every Wednesday and Sunday. (79 Ives St.)
6. Enjoy dinner and a show at Cable Car Cinema
This cozy cafe is also a movie theater, with both regular theater seating and comfortable couches. Most movie tickets are $10 and under, and sandwiches at the cafe go for $6.50 each. (204 South Main St.)
Outdoor Activities
Architecture buffs should stroll along the mile-long Benefit Street. "It has the highest density of late-18th century housing stock in the country," said Kate Blanketship, operations and advancement coordinator for the Providence Preservation Society. "It's a gorgeous walk." You'll see the John Brown Museum, First Baptist Church, Providence Athaneaum, and more. Pick up a $3 booklet from the preservation society at 24 Meeting St. for a history of the buildings before you go. (Benefit Street)
WaterFire, a fire sculpture installation in downtown Providence, attracts tens of thousands of people throughout its season. The installation is made up of nearly 100 bonfires that burn on vessels atop the three rivers that pass through the middle of downtown Providence. WaterFire is free, but guests are encouraged to make a $5 donation at guest stations set up along the river walkways. Find the schedule here. (Downtown Providence)
9. Feed a giraffe at the Roger Williams Park Zoo
Mingle with the elephants, giraffes, camels, leopards, lions, monkeys, and more at the 40-acre Roger Williams Park Zoo. Feed a giraffe (for an extra $5), take a behind-the-scenes tour of the harbor seal exhibit, and let the kids burn energy on the playground. Tickets cost $14.95 for adults and $9.95 for kids ages 2 to 12. (1000 Elmwood Ave.)
10. Walk, jog, or bike through historic Swan Point Cemetery
Spend time on the pathways of this tranquil, 200-acre garden cemetery that was established in 1846 and is listed on the National Register of Historic Places. Note that pets, skateboards, and rollerblades are not allowed. (585 Blackstone Blvd.)
11. Smell the flowers at the Roger Williams Park Botanical Center
The Roger Williams Park Botanical Center, located in historical Roger Williams Park, offers 12,000 square feet of indoor gardens, as well as several outdoor gardens. Tickets cost $5 for adults and $2 for kids ages 6 to 12. (1000 Elmwood Ave.)
12. Stroll down the cobblestone paths of Federal Hill
Federal Hill was home to Providence's Italian immigrant community in the late 19th century—hence its nickname, "Providence's Little Italy." Enjoy free entertainment courtesy of the neighborhood's street performers before grabbing a drink at one of the area's many restaurants. (Federal Hill)
13. Take a self-guided tour of Brown University
Founded in 1764, this Ivy League college is one of the oldest and most prestigious in the country, named the 14th best university in the country in U.S. News and World Report's 2017 rankings. It also boasts beautiful brick buildings inspired by European architecture. (1 Prospect St.)
Arts + Entertainment
14. Browse old books inside the Providence Athenaeum
Wander an 1836 Greek Revival building, the Providence Athenaeum. Browse the books, busts, paintings, prints, and sculptures on your own during a free self-guided tour, or learn about the building and collections on a free staff-guided tour on Wednesdays and Saturdays. (251 Benefit St.)
15. Take the kids to the Providence Children's Museum
This spring, kids can experiment with hands-on puzzles, construct magnetic mazes, build forts with big, blue foam blocks, bring marionettes to life, make crafts with recycled materials, and explore a garden of native plants. (100 South St.)
16. Spend time at the RISD Art Museum
The RISD Museum, which works closely with the Rhode Island School of Design (RISD), offers about 100,000 objects of art and design divided into seven departments: ancient art; Asian art; contemporary art; costume and textiles; decorative arts and design; painting and sculpture; and prints, drawings, and photographs. Tickets cost $12 for adults and $3 for kids ages 5 to 18. Admission is free every Sunday and the third Thursday night (after 5 p.m.) of each month. (20 North Main St.)
17. Check out the architecture at the Lippitt House Museum
Dive into Providence's Golden Age at the Lippitt House Museum, an 1865 mansion and National Historic Landmark. The house, which is open from May to October, was built by Henry Lippitt of one of Rhode Island's leading textile manufacturing families. Take a self-guided or guided tour and see how four generations of the Lippitts lived over the course of 114 years. Admission is $10 for adults, $5 for students, and free for kids 12 and under. (199 Hope St.)
18. Blink Good Night Lights from the Hot Club
At exactly 8:30 p.m. every night, this waterfront nightclub and restaurant flashes its large neon sign to say goodnight to the kids at Hasbro Children's Hospital. Patrons are encouraged to bring their own flashlights and participate.
Shopping
19. Shop for produce (and more) at the Hope Street Farmers Market
Listen to live music, peruse the wares of local artisans, and buy produce, meat, cheese, seafood, flowers, and specialty products. When you're hungry, grab lunch from a food truck. It's all part of the scene at the Hope Street Farmers Market, which is open Saturdays from 9 a.m. to 1 p.m. beginning May 6 and on Wednesdays from 3 to 6 p.m. beginning May 31. (The corner of Hope Street and Blackstone Boulevard)
20. Buy at bottle of wine at 119-year-old Gasbarro's Wines
This shop, in historic Federal Hill, was established in 1898. Some of the store's top selling wines can be purchased for less than $20, including Attems Pinot Grigio 2015 for $18.99, Bodegas Atalaya LAYA 2015 for $10.99, and Fleur de Mer Cotes de Provence Rose 2016 for $18.99. Gasbarro's also holds free wine tastings. (361 Atwells Ave.)
Correction: A previous version of this article misspelled Lippitt House Museum as Lippett House Museum. We regret the error.
Boston.com will receive payment if a purchase is made through the article.