Travel
Bike or run along these 3 former railroad routes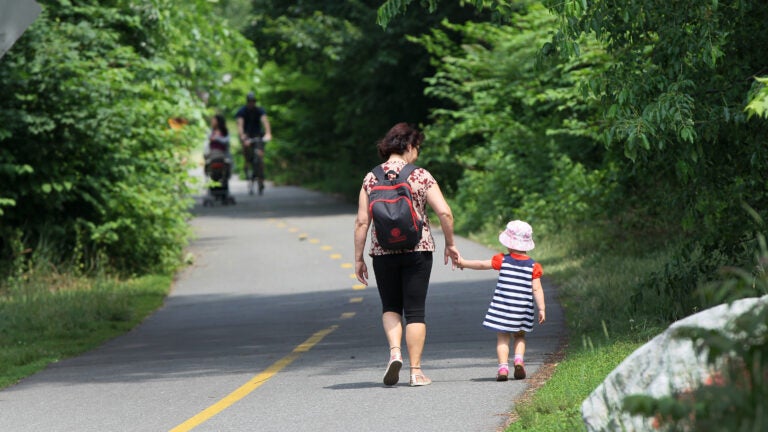 More than 2,000 former railroad routes across the country have been transformed into biking and running trails for public use. They're called rail trails, and New England has some of the best in the country, according to the Rails-to-Trails Conservancy.
Three New England trails—the Minuteman Bikeway in Massachusetts, Island Line Rail Trail in Vermont, and East Bay Bike Path in Rhode Island—are included among the conservancy's 30 "hall of fame" trails. Trails named to the "hall of fame" are managed well, have gorgeous views, historical significance, trailside amenities, and high traffic.
Ahead, find out more about these superior trails. Dog owners may also want to check out two New England rail trails that just landed on the conservancy's list of 10 great rail trails for dog walking in the U.S.: Old Colony Nature Pathway in Provincetown and Larkin State Park Trail in Connecticut.
Minuteman Bikeway in Massachusetts
The Minuteman Bikeway, billed as "America's Revolutionary Rail Trail" and called one of New England's most popular trails by the conservancy, is a nearly 10-mile trail that stretches from Alewife Station in Cambridge to the South Road intersection beside Bedford Depot Park in Bedford. The route now passes through Cambridge, Arlington, Lexington, and Bedford, but it's the old Lexington & West Cambridge Railroad Line. It takes visitors through where the Revolutionary War began in April 1775 on the Lexington Battle Green and past Spy Pond and the 250-acre Great Meadows National Wildlife Refuge. It's also wheelchair accessible. Here's a detailed map of the route and parking information.
Island Line Rail Trail in Vermont
This 14-mile Vermont trail, the former Island Line Railway route, runs from Oakledge Park in Burlington to South Hero. It winds through Burlington, as well as green spaces like Leddy Park, which has restrooms, playgrounds, and picnic areas. The Colchester Causeway, above, is the star of the trail. Adventurers can walk, run, or bike more than three miles out onto Lake Champlain and enjoy sweeping views of the lake and New York's Adirondack Mountains in the distance. There's a 200-foot gap in the causeway called "the Cut" that bicyclists and pedestrians can cross to South Hero using a ferry service. The trail is wheelchair accessible. Here's a detailed map of the route and parking information.
East Bay Bicycle Path in Rhode Island
The 14-mile East Bay Bike Path runs from Thames Street in Bristol to India Point Park in Providence, and connects eight Rhode Island parks, including Independence Park in Bristol, Veterans Memorial Park in Barrington, and Burr's Hill Park in Warren. Much of the scenic path, the former rail bed of the Providence and Bristol Railroad, passes along or near the shore of Narragansett Bay. All of that means there are plenty of opportunities for side excursions. Visitors can also stop at the Rhode Island Audubon Society's Environmental Education Center, located off the trail in Bristol, to visit a natural history museum and aquarium. The path is wheelchair accessible. Here's a detailed map of the route and parking information.
Read More in Travel
---