Travel
This New England city is a favorite food destination for Boston chefs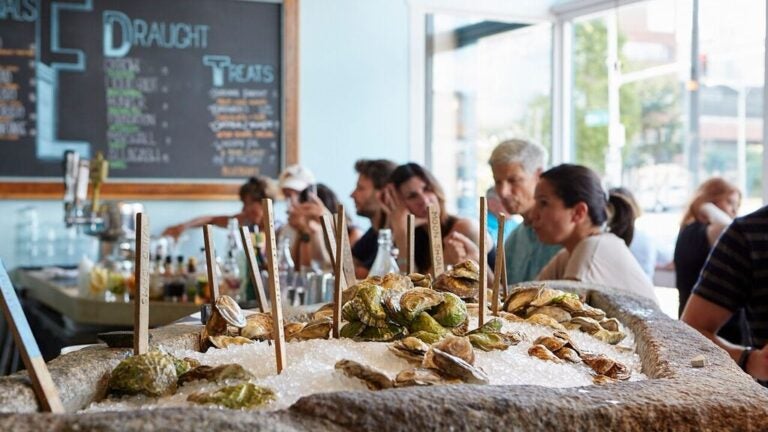 Boston's winter is finally over, which means it's time for some weekend getaways.
With that in mind, we asked a handful of beloved Boston chefs — all of whom have either been nominated for or won James Beard Awards, among other recognitions — to tell us their favorite food cities in New England.
Individually and unprompted, each of the five chefs included Portland, Maine, on their lists.
Portland is the "obvious" answer to the question "if you're looking for the cool, hipster food," said Tony Maws, chef at Craigie on Main and the Kirkland Tap and Trotter in Cambridge.
Joanne Chang, chef behind the Flour Bakery empire and the South End's Myers + Chang, said the walkable, artsy city has a "fun, tight-knit food scene."
"It's an outdoor culture that loves good food, and it's a very creative town," said Ana Sortun, chef at both Oleana and Sofra Bakery & Cafe in Cambridge, and Sarma in Somerville. "The arts are really big there, the music scene is really nice. It reminds me of a slower-paced Boston."
Irene Li, one of the three siblings behind the Mei Mei food truck, restaurant, and shipping container, and Juan Pedrosa, chef at modern supper club-style Yvonne's, agreed.
These five chefs gave us recommendations for foodie spots serving up everything from oysters and noodles to wine and coffee in the seaside city less than two hours north of Boston.
First stop: Eventide, said everyone. Everyone: Chang, Li, Maws, Pedrosa, Sortun, as well as Eater National, Saveur, Food & Wine, Bon Appétit. The accolades go on and on. The restaurant is known for its oysters (shocker) and New England seafood staples, like its browned butter lobster roll and clambake. You'll also find the occasional dash of Asian influence: dashi and miso in the clam chowder, coconut and green curry in the lobster stew. If an escape to Portland isn't in the cards for you soon, don't worry. Eventide is planning to open a second location in the Fenway neighborhood. (Li is especially pumped due to the proximity to Mei Mei's brick-and-mortar restaurant: "They're going to be our neighbors!") The opening date has yet to be announced, but stay tuned. (86 Middle St.)
There was a similar chorus of praise for the Honey Paw, a restaurant next door to Eventide in Portland and by the same team, Big Tree Hospitality. The spot showcases handmade noodles, serving "regional American cuisine with an Asian sensibility," according to its website. Hugo's (88 Middle St.), a third restaurant by the team located on the other side of Eventide, is also a classic, the chefs said. (78 Middle St.)
Standard Baking Co. is another can't-miss Portland staple, according to nearly every chef with whom we spoke. The family-owned mainstay opened in downtown Portland in 1995, focusing on breads and pastries made with organic grains and flour. (75 Commercial St.)
This oft–mentioned restaurant is also owned by the Standard Baking folks. Sortun singled out Sam Hayward, co-owner at seafood restaurant Scales and Fore Street, and former chef at the latter, as a "role model" for her with regards to ingredient sourcing. "He was the visionary behind what the food scene ended up being up in [Portland]," Sortun said. "I don't want to give him 100 percent credit because I'm sure there were other people involved, but his restaurants are extremely well-known, great reputations, and the quality of the ingredients is spectacular." (75 Commercial St.) 
Sortun loves to stop by this waterside market. It has an incredible selection of caviar and wine, she said. (262 Commercial St.)
For your caffeine fix, Sortun recommended this cafe and bakery. At the cafe, the coffee is roasted in-house; the bakery offers a delectable pastry selection to go with your espresso indulgences. (Cafe and roastery: 122 Anderson St.; Bakery: 742 Congress St.)
Across the river from the downtown area, Scratch Baking Company has incredible bagels, Sortun said. (416 Preble St., South Portland)
The magic makers at this sweet go-to, endorsed by Li, use Maine potatoes — mashed potatoes, to be precise — in their iteration of the comfort food. "[The doughnuts are] incredibly light and fluffy despite being made from mashed potatoes," Li said. "The texture is just awesome." (7 Exchange St. and 194 Park Ave.)
Li also recommended this wine bar and 2017 James Beard Award nominee for best new restaurant that focuses on natural wines. "The entire kitchen is two induction burners and an oven," Li said. "The food they're putting out is amazing, and the wine experience overall is fantastic." (63 Washington Ave.)