Travel
Sleep in a bed, order lobster to your tent when you 'glamp' in Maine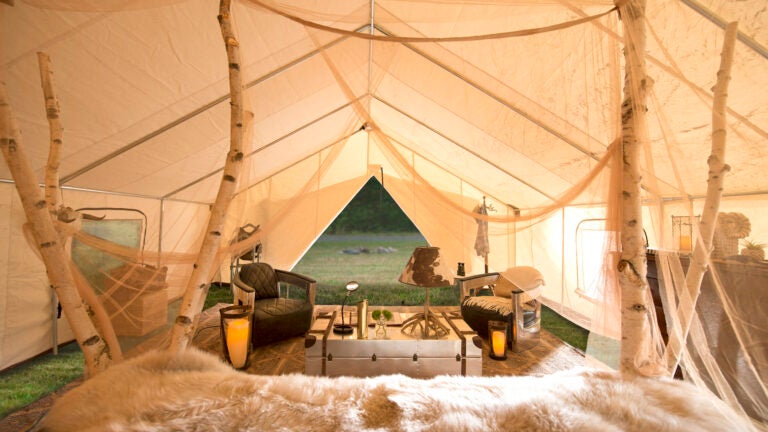 When you think of camping, you likely imagine roughing it in the woods without your creature comforts, not eating fresh lobster in a furnished luxury tent.
But if the latter—aka, "glamping," or glamorous camping—sounds more up your alley, you'll want to take a look at Sandy Pines Campground in Kennebunkport, Maine, which will offer professionally decorated, safari-style "glamp tents" beginning this summer.
The 320-site new campground will have plenty of spaces for old-fashioned tent and RV camping, but for those who want to chic up their camping experience, there will be 12 glamp tents available: two to rent and 10 to buy. The one-of-a-kind, 430-square-foot luxe tents will each include a bed, seating area, lights, a mini fridge, heaters, fans, a deck, sheets, towels, and access to a shared bathhouse.
Each of the tents was furnished by an interior designer and has a theme, such as "Nomad: A Bohemian Retreat" and "Nautical Nights." Inside the tents, visitors will find special touches, such as antique furnishings and a chandelier made of oyster shells.
"It's like a luxury hotel room, but you're in a tent," said Beth Geary, marketing director for Sandy Pines Campground.
Sandy Pines Campground is minutes from pristine Goose Rocks Beach and bustling Dock Square, filled with shopping, restaurants, and art galleries.
Back at the campground, among the tall pine trees and saltwater marshes, campground amenities will include a general store, a farm stand, an old-fashioned ice cream cart, a heated saltwater pool, rentals for bikes, paddle boards, and kayaks, a playground, a craft tent for kids, and a lobster delivery service.
That's right: The campground will deliver lobsters, either alive or precooked, right to your tent.
"People come to Maine, and lobster is one of the first things they think about," Geary said. "So we want to make it easy."
Sandy Pines Campground, formerly known as Salty Acres Campground, was purchased by Kennebunkport hoteliers Tim Harrington and Debra Lennon last summer. The new owners poured $5 million into the camping facility, updating the water, sewer, and electric infrastructure and adding amenities, Geary said.
The campground opens June 24, and you can rent a tent for between $129 to $149 per night beginning July 3. Glampers using the tents must stay a minimum of three nights in the months of July and August.
If you'd rather buy a tent and camp all summer long (and for summers to come), the tents will be available to purchase starting June 23, and prices start at a cool $15,000. Or you can go all in for a park model, "mini homes" that include stainless steel kitchen appliances, plush carpets, cable TV, air conditioning, and recessed lighting, and that cost between $63,000 and $83,000. They cannot be rented.
For those looking to camp the old-fashioned way, tent sites cost $30 per night, and RV sites cost $45 per night.
"We want there to be something for everyone," Geary said. "But we also want to have this level of enhanced camping for people who are into that."
If you're jonesing to take a look around Sandy Pines and tour the tents, you can head to the designer showcase from June 24 to July 2 from 11 a.m. to 4 p.m. each day for $15 in advance and $20 at the door. The money raised will benefit local charities.