Travel
Where to eat, stay, and play on Block Island, RI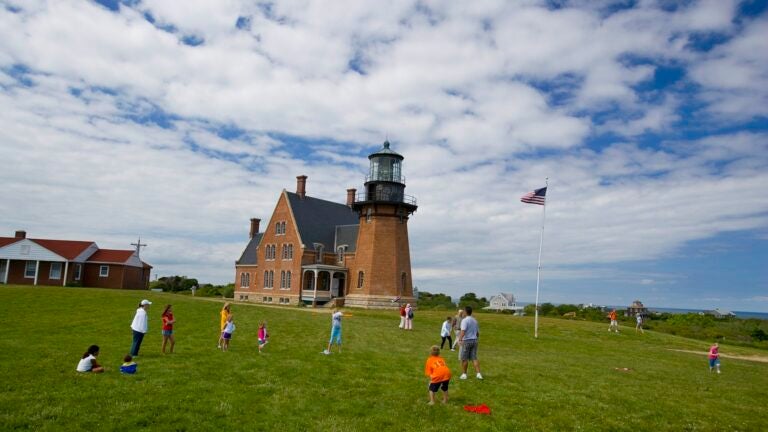 Register here for the Blue Cross Blue Shield of Massachusetts Island Run powered by Boston.com on Sept. 23 on scenic Spectacle Island. Choose between a 5k and 5-miler. Each race wraps up with a post-race celebration including lunch, cold beer, and an award ceremony before everyone cruises home through Boston Harbor.
Block Island, Rhode Island, has earned the nickname "Bermuda of the north" due in part to its white sandy beaches, laid-back vibe, and island time mentality. The hideaway is 12 miles out to sea from the Rhode Island coast.
The seven mile-long and three mile-wide island only has about 1,000 year-round residents, but on a busy weekend day, 15,000 people might be on it. Both fast and traditional ferries arrive from multiple locations: Point Judith, Rhode Island; Newport, Rhode Island; New London, Connecticut; Montauk, New York; and Fall River. "They have the ferries coming from all directions," said Kathy Szabo, executive director of the Block Island Chamber of Commerce and Visitor's Center. "Our office is right near the ferry, and we see all the visitors arriving off the boats."
Mid-June is a great time to visit for Block Island Restaurant Week. The dining event takes place June 11-17, when upward of 20 restaurants offer lunch and dinner specials, including three-course meals. "It's a nice time to plan a trip because it's a little quieter, and you can get some nice meals at a discount price," Szabo said, adding that the event is scheduled before the tourist season heats up.
Here's where to eat, stay, and play on Block Island.
Eat
Enjoy steaks, seafood, and sunsets just steps away from the water at Dead Eye Dick's, located near Payne's Dock in New Harbor. "They have a mixed menu, and indoor and outdoor seating, so there's something for everyone," Szabo said. "It's a very popular spot." The family-friendly restaurant is well-known for its swordfish, lobster dishes, and cocktails, best enjoyed on the waterfront deck with a view of boats bobbing in the harbor. (218 Ocean Ave.)
The National Hotel Tap & Grille
The restored, 45-room hotel is on the National Register of Historic Places, and its Tap and Grille restaurant is just as legendary. With choices like banana almond French toast and a lobster frittata for morning meals, and seafood and steaks for dinner, anytime is a good time to dine on The Big Porch. "There's a beautiful porch to sit on across from where the ferry comes in," Szabo said. "It has indoor and outdoor dining, it's close to the beach, they have water views, and it's family-friendly." You can also try Block Island's signature cocktail, a Block Island mudslide, at the outdoor bar while listening to live entertainment on weekends throughout the summer. (36 Water St.)
Located at the airport, the diner serves breakfast and lunch, and it's a good spot to stop for coffee. "It's one of the few places that's open year-round," Szabo said. "They have egg sandwiches in the morning and burgers for lunch. When nothing is open, you can always rely on Bethany's Diner."  Breakfast options might include a French toast sandwich with a sausage patty, egg and cheese with warm syrup, or an open-faced everything bagel with egg, ham, Swiss, and home fries. For lunch, many dishes come with a sweet and a drink for $13. (Center Road)
Stay
"There are so many different places to stay, from the larger hotels right down to the smaller bed and breakfasts," Szabo said. One of the most intimate boutique accommodations on the island is the 10-room Inn at the Spring House, a newly built property located next to the larger historic 33-room Spring House Hotel. A room at the inn includes air-conditioning (not a given on the island), private baths, and balconies that overlook the water. "Sit and enjoy your coffee in the morning over a view of the ocean. It sits on top of a hill so it's just amazing," Szabo said. (52 Spring St.)
This inn boasts nine rooms named after Block Island's founding families. Options feature water views and antique furnishings, air-conditioning, private baths, small refrigerators, televisions, and Wi-Fi. Plus, the inn has its own farm and garden, filled with llamas, a zeedonk (a zebra crossed with a donkey), a giant tortoise, kangaroos, and more. "It's such a draw because they have such unusual animals," Szabo said. "And right next door is North Light Fibers, and they spin yarn from llamas' wool. It's an amazing mill." The inn also has an on-site restaurant that serves a champagne buffet breakfast, featuring an omelet station, pancakes, waffles, fruit, corned beef hash, and homemade muffins, as well as a complimentary glass of bubbly. (5 Spring St.)
House Rentals
"If you are going to stay for a length of time, especially during the summer months, house rentals are a great option on the island," Szabo said. "That's really popular because you have the option of making all your own meals." Rentals are handled by various real estate companies, including Ballard Hall, Sullivan, and Phillips Real Estate. If you rent a house, you'll probably also want to bring your vehicle, so be sure to book a spot on the ferry for your car well in advance. "Then it doesn't matter where your house is located because you can drive wherever you want to go," Szabo said. 
Play
Beaches   
"The whole coastline has beautiful, sandy beaches," Szabo said, mentioning Fred Benson Town Beach, which is located about a mile from the center of town in the heart of Crescent Beach. "There's a pavilion that has chairs, umbrellas, food, showers, and bathrooms right there for visitors." Off the beaten path is Mansion Beach, which is more secluded and accessible by bike or car. There's also another small beach at the base of the Mohegan Bluffs, visible after descending 142 of steep wooden steps. At the top, take in one of the best panoramas on the island. But take note: "The beach at Mohegan Bluffs is not a great spot to take children for swimming because there is an undertow and there are no lifeguards, but the view is absolutely breathtaking," Szabo said.
Hiking
You can explore the more hidden parts of the island by foot. Hike the Clayhead Trail along the cliffs, or visit Rodman's Hollow and see all the white shad flowers in bloom. While you're trekking along the Greenway Trails, keep an eye out for glass floats, small glass orbs created by glassblower Eben Horton for the Glass Float Project. The Rhode Island artist hides 550 of these delicate globes each year along trails and beaches (but never in the dunes or up the sides of the bluffs) for visitors to discover and take home a piece of the island with them. 
Lighthouse Hopping
The island has two distinctive, historic lighthouses, the Southeast Light and the North Light. The Southeast Light is slightly more famous because it had to be moved 230 feet inland from the cliff in 1993, or else further erosion would have sent it right over the ledge. "That is a huge draw," Szabo said, "and they are restoring that building now and it's open for tours." You can also view the island's new wind farm out on the water from it. "If you are coming in on the ferry, you can see five huge wind turbines," she said. "They are pretty close, but they are not as close as they appear to be." The North Light is on the other end of the island, about four miles away from the center of town. This location is also surrounded by sand dunes and conservation land, right in the heart of migratory birds' protected nesting grounds.