Travel
A local man who visited 350 parks says you need to know about these 9 hidden gems
An outdoor adventure isn't far away.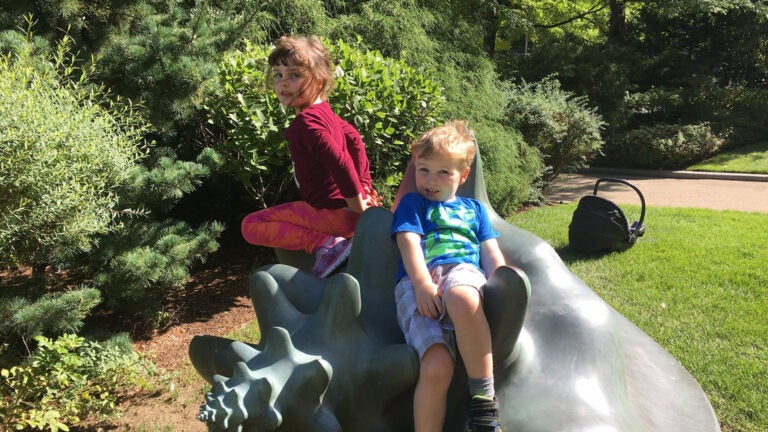 If you're a Bostonian, you're probably familiar with the Public Garden and the Arnold Arboretum. But how much time have you spent in the Allandale Woods or at Neptune Edge Airport Road Buffer Park?
"The tragedy is, a lot of these parks are very visible, and nobody knows about them," said Ed Lyons, a Swampscott resident who visited 350 Boston area parks and green spaces between 2016 and 2017 with his three children Fiona, Eddie, and Darcy, who are now 10, 7, and 4 years old.
Lyons, a computer programmer who was homeschooling his children at the time, answered the city's request in May 2016 for members of the public to photograph a long list of area parks for its web pages, snapping more than 5,000 photos during his family's travels and submitting 855 to the city's "Show off our city" web page.
Lyons said that, due to his kids' flexible homeschooling schedule, they were able to visit parks often. He figured his family was in a good position to help the city and that they'd all have a great time doing it. They began their park-hopping adventure on May 12, 2016, at Belle Isle Marsh in East Boston and, after a lot of T-hopping and map reading, finished just over a year later, on May 17, 2017, at Mount Pleasant Play Area in Roxbury.
"We were thrilled to have the photos," said Jascha Franklin-Hodge, the city's former chief information officer. "The digital work we were doing allowed him and his family to experience parts of Boston they didn't know."
Lyons said the yearlong project taught him just how rich Boston's park scene is. The area has sprawling parks, tiny parks, parks full of art, parks with playground equipment his family had never seen, parks full of history, and nature-filled spots called "urban wilds."
Ahead, Lyons recommends nine gorgeous parks and green spaces that probably are not on your radar, but should be.
Allandale Woods in West Roxbury
Lyons, who has lived in the Boston area for 20 years, said he had no idea how much of the city is wild.
"I was startled to learn that there are roughly 40 urban wilds," Lyons said.
Urban wilds are remnants of the original ecosystem of Boston. Allandale Woods, an urban wild in West Roxbury, has 86 acres of protected land and a pond, intertwining streams, a cattail marsh, underground springs, a historic spring house, and a Depression-era stone wall.
"There's this huge forest, there are trails, and there's this nice, long stone wall to walk on," Lyons said. "It's really special."
(Allandale Woods, 19 VFW Parkway, West Roxbury)
Eastport Park in South Boston
Eastport Park in the Seaport area offers beautiful grass and winding paths, Lyons said, as well as contemporary art installations.
"The art is wonderful," he said. "The sculptures are very interesting."
Lyons said you'll find sculptures in geometric shapes, as well as shells and lobsters.
"There's all these long benches, big bronze benches, that are actually giant fish you can sit on," Lyons said. "To have this wonderful, serene environment in the bustling Seaport is really something."
(Eastport Park, 211 Seaport Blvd., South Boston)
Buena Vista in Roxbury
Buena Vista, an urban wild in Roxbury, boasts trees, trails, maps and poetry etched in stone, and what remains of a 19th-century mansion.
Merchant Isaac Fenno built a mansion named Buena Vista on the land in 1876. Parts of the mansion's foundation are still located on the site.
"There are several large stones there with some poetry, maps of Boston, and other things," Lyons said. "You can walk around and look at them. What's nice about it is you are on this high cliff, and it's like a sanctuary. It's like you're all alone on top of this little mountain."
(Buena Vista, Richard St., West Roxbury)
Mellone Park in Allston
Mellone Park in Allston has plantings, winding paths, benches, and a misting fountain.
"Also, you climb up this winding path and you can look down on the whole area," Lyons said. "I lived in Brighton for five years, and I had no idea this park was there."
The park has four granite lion heads named Lionel, Rusty, Hermione, and Courage, Lyons said. Three are situated around the fountain, and the fourth, Courage, is harder to find. Lyons said his kids had a lot of fun tracking that one down.
(Mellone Park, 300 N. Harvard St., behind the Boston Public Library Honan-Allston branch, Allston)
Ramler Park in Boston
Bird lovers will be fans of the Fenway's Ramler Park, which is filled with flowering trees designed to attract migrating winged creatures. A brick path is marked with the names of more than 150 species of birds you can find there, Lyons said.
Encircling the park is an artistic fence called "The Birds of the Fenway." It was created by artist John Tagiuri, according to Friends of Ramler Park, and features a pattern of 15 swallows in flight.
"It's a lovely oasis," Lyons said. "There's a trellis with the bricks. A lot of rabbits live there. I think Ramler Park is my favorite. It's just a beautiful park."
(Ramler Park, 130 Peterborough St., Fenway)
Neptune Road Airport Edge Buffer Park in Boston
There's so much to love at this park, Lyons said, from great landscaping to flowers, art to statues to interesting historical information.
The area, once a neighborhood, was razed due to airport expansion half a century ago, according to the East Boston Times-Free Press. Some of the original house numbers are engraved in the sidewalk, and a timeline explains the area's history.
"It's wonderful how it preserves the history of the neighborhood there," Lyons said. "It's really special. That's one of those hidden parks that I don't think anyone knows about."
(Neptune Road Airport Edge Buffer Park, 18 Neptune Road, Boston)
Rolling Bridge Park in Boston
Lyons called Rolling Bridge Park, a park dedicated to the bridges and history of Fort Point Channel, "a real gem."
Visitors can check out a preserved piece of the Old Colony Bridge from nearby South Station.
"It also has three historical tablets telling about the history of the Fort Port Channel, in terms of all the bridges that have been there," Lyons said. "It sort of documents what's been happening in that part of Boston."
(Rolling Bridge Park, 61 Dorchester Ave., Fort Point)
Belle Isle Marsh in East Boston
Belle Isle Marsh, another urban wild, is Boston's last remaining salt marsh. It's also only a short walk from the Suffolk Downs stop on the Blue Line, according to Lyons.
The 241-acre marsh is full of plants, wildlife, and protected waters with fish. It features landscaped hiking paths, benches, and an observation tower.
"I was like, 'There's a salt marsh in Boston?'" Lyons said. "It's really gorgeous. There's this wooden overlook tower where you can look out over the marsh."
(Belle Isle Marsh, 1399 Bennington Street, East Boston)
Horatio Harris Park in Roxbury
Lyons loved the picturesque Horatio Harris Park in Roxbury for its beautiful landscaping and "wonderful, climbable rocks."
"Even though it has nothing but the paths, the large rocks, and the trees, it's just gorgeous," Lyons said. "It looks like something out of the Emerald Necklace."
(Horatio Harris Park, 85 Harold St., Roxbury)
Get Boston.com's browser alerts:
Enable breaking news notifications straight to your internet browser.