Travel
Peek inside the glamorous tents at a new Maine campground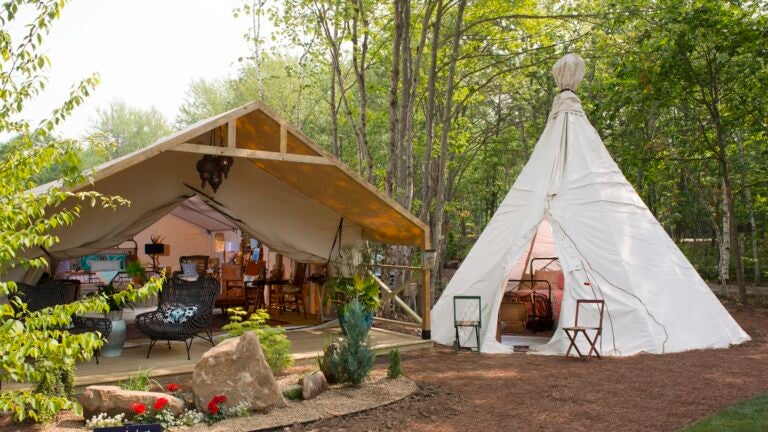 Sandy Pines campground in Kennebunkport, Maine, has taken tent camping to a new level by introducing a dozen "glamp tents," where guests sleep on king-size beds beneath chandeliers. (They can order lobster to their quarters, too.)
The new, 320-site campground, which opened June 24, teamed up with 12 New England interior designers to create the luxe tents with names like "Nautical Nights" and "Nomad: A Bohemian Retreat." They include a bed, seating area, lights, a mini fridge, heaters, fans, a deck, sheets, towels, and access to a shared bathhouse. Three of the glamp tents have accompanying teepees, perfect for families with kids.
Folks can rent the glamorous tents for between $174 and $314 per night, depending on the season. Glampers must stay a minimum of three nights in the months of July and August. The campground's original plan was to rent two tents and sell 10, but now, all tents are available for rent and none are up for sale.
"We have received overwhelming interest in the glamping experience, so [we] have decided to make all 12 tents available for nightly rental," said Deb Lennon, co-founder of Sandy Pines Campground, in an email. "Everyone who has stayed so far has loved the designs. The tents are arranged around a central campfire and garden, fostering a community feeling, and we just added a communal grilling and picnic area."
The campground, located minutes from Goose Rocks Beach and bustling Dock Square, offers campers plenty of amenities: a heated saltwater pool, a farm stand, a general store, an old-fashioned ice cream cart, a playground, a craft tent for kids, a lobster delivery service, and rentals for bikes, paddle boards, and kayaks. Pets are also welcome on the campground, but not inside the glamp tents.
Ahead, peek into the 12 one-of-a-kind, 430-square-foot luxe tents:
For those who prefer old-fashioned camping, plenty of sites are available for traditional tent and RV camping, too.