Travel
Soaking in the views (and hot springs) in Banff, Lake Louise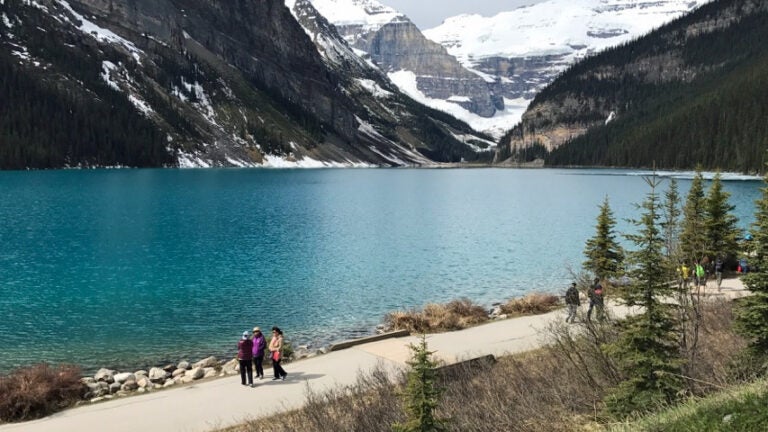 Forget the tourist brochures hawking pricey attractions. The perfect three-fer in Banff National Park is this: 1) hike yourself silly; 2) soak in a warm mineral pool to relieve the effects of #1; and 3) go out for a bison burger, or something else in the meat category. This is Alberta, Canada — cattle country. "Good for what ails you!'' said the bartender at the Bear Street Tavern as he served our smoked bison-topped pizza.
You could say the same thing about Banff. Glorious, rugged, and gorgeous, Banff gets a lot of love. National Geographic Traveler named it one of 21 must-see places to visit in 2017, the only spot in Canada to make the list. Lots of people will see it this year, no doubt, since Parks Canada is offering free admission to all of the 148 national parks, historic sites, urban parks, and conservation areas in the system this year, in honor of Canada's 150th anniversary. Driving in from Calgary, 80 miles to the east, you'll be transported to a landscape of ancient monoliths, some more than 100 million years old and looming as high as 11,850 feet. Adding to the visual splendor at this UNESCO World Heritage Site: more than 1,000 glaciers and gem-like glacier-fed lakes at every bend in the road.
You could choose another, less visited national park — say Quittinirpaaq, in Nunavut — and probably have a grand time. We considered that. But the lure of the jagged, ice-capped Canadian Rockies was too strong to resist. We wanted to drive Icefields Parkway to see the glaciers. And we had to see if the water in Lake Louise is really as deeply turquoise as it looks in the pictures.
The town of Banff and the village of Lake Louise, 40 miles to the north, are located within Banff National Park. We arrived in Lake Louise late at night, so we didn't see the iconic, mountain-ringed body of water until the next morning. But . . . the lake was covered in ice. In June. (In our zeal to beat the crowds, we visited early in the summer season.) "It was snowing like crazy last week!'' said the concierge at our hotel. Undaunted, we bundled up and joined our fellow tourists for a 2.4-mile lakeside hike. As the day warmed, the ice mostly vanished, revealing amazingly aqua waters. Not only do the pictures not lie, they don't do it justice. The mile-long lake, 230 feet at its deepest, is more turquoise than the gems of the same name at the Rocks & Gems Canada shop in Banff. Glacial deposits are the reason for the lake's eye-popping blue hue, we're told. No wonder Lake Louise is one of the most-photographed places in North America.
After taking the requisite dozen or so selfies, we decided to cross off one of Lake Louise's musts, a "teahouse hike'' to one of two Tibetan-style teahouses in the mountains. Lake Agnes Teahouse had just opened for the season, so off we went.
For hikers, it doesn't get better than Lake Louise; it's the hiking capital of the Canadian Rockies, home to 120 miles of trails. The hamlet itself, at 5,680 feet, is the highest town in Canada. We were feeling fine. As avid hikers, the 1,260-foot elevation gain of Lake Agnes trail was no sweat.
Except for one thing: Ice. "I shoulda worn skis!'' said a sneaker-wearing woman on the trail, unprepared for the fact that the trail, beyond the first few switchbacks, was lined with snow banks and covered with ice. The bad kind of ice, ice that looks like dirt, but with slippery stuff lurking below, made even slicker by the trickles of water running off the mountain and onto the trail. There seemed to be two choices: tromp through knee-high snow, or take our chances navigating the icy hump of the trail. One couple had made the smart move of attaching crampons to their boots for traction. "I'd give them a thousand Canadian bucks for those crampons!'' our companion said as he held onto a tree branch for support. Indeed.
"That had better be one fabulous cup of tea!'' we were thinking as we made our way to the teahouse. The log lodge was rustic, but comfy enough, with the waitstaff bearing tea, cookies, soup, and bread. We lingered awhile, because who wanted to go downhill on that surface? Could we hang around here until, say, July? "We'll just take our time and pick our way down,'' we agreed, at one point sliding down a slick hill on our backsides rather than risk breaking an ankle. Moral of the story: The summer season in Lake Louise actually starts in July. For the record, average summertime temperatures are in the 70s.
Lake Louise's other spectacular trails, including Big Beehive (7,448 feet), would have to wait. We had other plans, like driving the Icefields Parkway, heading north from Lake Louise toward the funky mountain town of Jasper. Considered one of the most scenic drives in the world, Icefields Parkway is 144 miles of looming peaks, shimmering mountain lakes, and waterfalls. Oh, and Columbia Icefield, a 130-square-mile glacier. Happily, there are overlooks galore, so even the driver can pop out of the car and grab photos along the three-hour tour. (Tips: Fuel up first. And bring food, so you can picnic someplace pretty. Plus, there are very few eats along the way.) What not to bring as a snack? Salmon jerky. It sounds so Canadian! Alas, "it tastes like a fish-flavored fruit roll-up. Nasty,'' according to our companion, who spit his jerky out on a napkin.
Day three, and our legs were still stiff and our feet still felt pulpy from the teahouse hike! But the joy was palpable as we slipped into the 104-degree outdoor mineral pool at Banff Upper Hot Springs ($7.30CAD); www.hotsprings.ca. Naturally heated springs on Sulphur Mountain feed an outdoor pool that looks like your basic town pool, but surrounded by lofty peaks. Railway workers discovered these springs in 1883; the first ones were found at nearby Cave and Basin National Historic Site. Disputed ownership led the Canadian government to take charge and crown Banff the country's first national park. There's a bathhouse, towel and locker rentals, even swimsuit rentals. It wasn't crowded during our visit, but we're told the pool fills up when summer gets rolling, so get there early or late (hours are 9 a.m. to 11 p.m.) for the best experience.
Like a baby Jackson Hole, the town of Banff is lined with mountain lodges, outdoorsy shops, and restaurants that cater to the ski/bike/hike crowd. Many of the streets are named after animals (Bear, Wolf, Lynx) just to underscore the point. It's no lie, either; this is grizzly country, and outfitters offer guided wildlife walks to see bears, mule deer, and other critters. An animal you're guaranteed to see, if on a plate, is bison. One of our favorite things to eat was the bison pizza at Bear Street Tavern (www.bearstreettavern.ca), topped with smoked bison, caramelized onions, edamame, and mozzarella; they serve it with cruets of hot chili oil and honey for drizzling or dipping. Even from Banff Avenue, the town's main drag, there are dazzling views in every direction.
Among the places to stay in Banff, one is a true landmark, an 1888 castle in the mountainside, the Fairmont Banff Springs hotel (www.fairmont.com; from $479 Canadian per night.) Stay there if you can swing it; the setting is jaw-dropping, and the property accesses a beautiful walking trail along the Bow River, past Bow Falls, and into town. For families, the best feature is a heated outdoor mineral pool with a backdrop of peaks. Even if you don't stay, stop in for a drink at Rundle's Lounge or the Lookout Patio to drink in the lofty views. There are also some low-key lodges in town.
So, go. Soak up the natural beauty, and the wonderful Canada-ness of this place. "Canada is nice,'' says the sign in the window at the Roots store in town. Oh, yeah. Canada is nice — and Banff National Park is way beyond nice.