Travel
100 things to do in Connecticut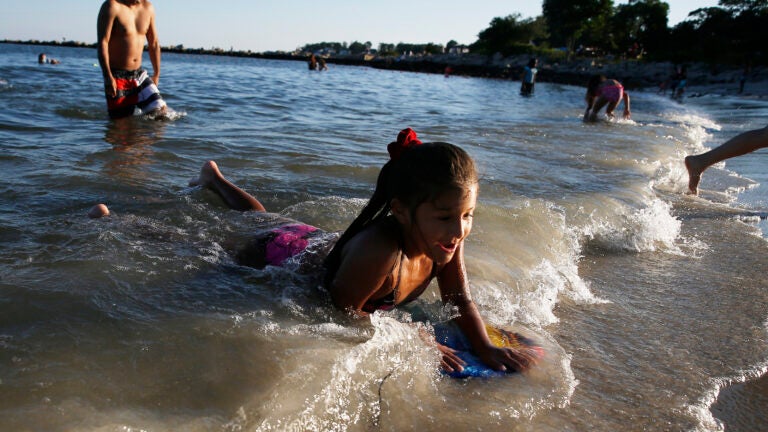 Connecticut is full of boats on boats on boats, plus pizza and a certain New Haven university. From swigging moonshine to waltzing through sunflower fields, here are 100 ways to make the most of the Constitution State.
(And for 900 things to do in the rest of New England, click here.)
• • •
1. Paddle down the Farmington River with Huck Finn Adventures
Explore the river via canoe or kayak, stopping at the Pinchot Sycamore, the state's largest tree, along the way. (21 Waterville Road, Avon)
2. Eat all the dairy at Arethusa Farm Dairy
The farm makes exceptional ice cream, cheese, and milk products at their Litchfield County property. (822 Bantam Road, Bantam)
3. Cruise along the shoreline on one of the Thimble Island Boat Tours
Hosts of the private charters or group tours will narrate history and old legends while you enjoy the picturesque islands. (4 Indian Point Road, Branford)
4. Crack open a cold one at Stony Creek Brewery
Sip on a selection of the house-brewed seasonal beers while taking in a view of Stony Creek. (5 Indian Neck Ave., Branford)
5. Feel a rush of adrenaline at Lake Compounce
This old amusement park has all the classics: thrill rides, water slides, bumper cars, oh, and a wooden roller coaster that reaches over 60 miles per hour. (186 Enterprise Drive, Bristol)
6. Experience a meal at Golden Lamb Buttery
Cocktails in the barn, hayrides around the thousand-acre farm, and a traditional prix-fixe meal await in a quiet corner of the state. (499 Wolf Den Road, Brooklyn)
7. Support local farmers at the Chester Sunday Market
Located right in the town center of Chester, you can shop at the surrounding stores after you pick up produce from local farms. (Main Street, Chester)
8. Sip a glass of Connecticut-made wine at Priam Vineyards
Take a picnic lunch to enjoy on the scenic vineyard grounds after a tour of this sustainable winery. (11 Shailor Hill Road, Colchester)
9. Support your local farmers at the Coventry Farmers' Market
One of the largest farmers markets in the state can easily become a full day trip thanks to a slew of food trucks, farmers, and artisans. (2299 South St., Coventry)
10. Visit William Gillette's former home at Gillette Castle State Park
The castle, built by the actor who portrayed Sherlock Holmes in the early 1900s, has a beautiful view of the Connecticut River Valley. (67 River Road, East Haddam)
11. Watch a show on the riverside at Goodspeed Opera House
See an award-winning musical performed at this riverside landmark, or simply get a tour of the architectural gem. (6 Main St., East Haddam)
12. Swig moonshine in a speakeasy at Onyx Moonshine
On weekends, you can taste samples of this hidden gem's locally distilled moonshine and whiskey in its vintage-themed tasting room. (64-D Oakland Ave., East Hartford)
13. Listen to the waves at Rocky Neck State Park
You can enjoy sparkling water, picnic areas, trail systems, and even crabbing at this sandy crescent beach. (244 W. Main St., East Lyme)
14. Take unlimited trolley rides at the Connecticut Trolley Museum
That's right: unlimited trolley rides. You can visit trolley and fire truck exhibits and see the museum's extensive streetcar collection, too. (58 North Road, East Windsor)
15. Ride through the Connecticut River Valley on the Essex Steam Train and Riverboat
Venture through quintessential New England countryside and quaint Connecticut towns on a two-and-a-half-hour journey. (1 Railroad Ave., Essex)
16. Reenergize in a sunken garden at the Hill-Stead Museum
Rejuvenate yourself among the blooms. If you want to do so during a poetry reading, attend the final day of the Hill-Stead's 2017 Sunken Garden Poetry Festival on Aug. 16. (35 Mountain Road, Farmington)
17. Window shop down the "Rodeo Drive of the East"
Lined with independent boutiques and high-end retailers, Greenwich Avenue runs through the town's historic district. (Greenwich Ave., Greenwich)
18. Eat ice cream among sunflower fields at Buttonwood Farm
Buttonwood grows 14 acres of sunflowers as a fundraiser each year for the Make-A-Wish Foundation. It also has some of the best ice cream in the state. (473 Shetucket Turnpike, Griswold)
19. Climb into naval history at the Submarine Force Museum
The museum's extensive collection includes a Revolutionary War submersible replica, as well as the world's first operational nuclear-powered submarine: the USS Nautilus. (1 Crystal Lake Road, Groton)
20. Put your rump on a stump at The Place
Sit on a tree stump while you eat simple grilled fare like barbecue clams and lobsters at this cash-only, seasonal outdoor dining venue. (901 Boston Post Road, Guilford)
21. Catch a Yard Goats baseball game at Dunkin Donut's Park
See future stars before they hit the big leagues at the shiny new stadium, which was just voted Best Double A Ballpark In America by Ballpark Digest. Important: The ballpark serves BLTs sandwiched between two glazed doughnuts. (1214 Main St., Hartford)
22. Catch a performance at Hartford Stage
Noted actors like Kevin Bacon and Angela Lansbury have performed in shows at the intimate regional theater. (50 Church St., Hartford)
23. Take a spin on the historic Bushnell Park Carousel
This vintage 1914 carousel is made of hand-carved wood and is open year-round in the middle of downtown Hartford. (1 Jewell St., Hartford)
24. Stretch it out at Hartford's Yoga in Our City
Free yoga classes rotate daily in Hartford's four major parks throughout the summer and fall months. (Hartford)
25. Be inspired at the Harriet Beecher Stowe Center
The home of the Uncle Tom's Cabin author is available for tours and hosts writing events and public discussions throughout the year. (77 Forest St., Hartford)
26. Watch the country's hottest acts at XFinity Theatre
In the summer and fall months, the lawn is a great place to catch acts like Sam Hunt, Zac Brown Band, and John Mayer. (61 Savitt Way, Hartford)
27. Excite your inner artist at the Wadsworth Atheneum Museum of Art
Located downtown, the museum has vast collections of contemporary and American art, including pieces by Connecticut's own Sol LeWitt. (600 Main St., Hartford)
28. Catch Broadway vibes at the Bushnell Performing Arts Center
Built in 1930, the landmark building's exterior features gorgeous Georgian revival architecture, while the avant-garde interior serves as the stage for musicals, symphonies, and comedy segments. (166 Capitol Ave., Hartford)
29. Engage with the millennial crowd at the Know Good Market
Catch food trucks, DJs, and artisan vendors at this open-air market on the second Thursday of the month from April through November. (30-50 Bartholomew Ave., Hartford)
30. Visit the Hartford home of Samuel Clemens
By Samuel Clemens, we, of course, mean Mark Twain. The historic Hartford home is where the author wrote his most important works, including The Adventures of Huckleberry Finn. (351 Farmington Ave., Hartford)
31. Buy beef patties at Scott's Jamaican Bakery
It's a longtime Hartford staple, and it also serves a mean curried goat. (Multiple locations in Hartford)
32. Feel like a kid again at Night Fall
Giant handmade puppets and actors are the stars of this theatrical community production, which takes place each year in October. (Bushnell Park, Hartford)
33. Go to Science Alley and Kidspace at the Connecticut Science Center
More than 165 hands-on exhibits make up this fun-filled center located on the Connecticut River. (250 Columbus Blvd., Hartford)
34. Indulge in traditional Italian pastries at Mozzicato DePasquale Bakery & Pastry Shop
Nestled in the Italian South End of Hartford, the family-run shop has been supplying customers with pastries and cakes for more than 40 years. (329 Franklin Ave., Hartford)
35. Have a musical awakening with the Hartford Symphony Orchestra
Experience The Music of David Bowie, the 50th Anniversary of Sgt. Pepper's Lonely Hearts Club, and Beethoven's classics. (Shows in Hartford and Simsbury)
36. Eat fried dough at the Hebron Harvest Fair
See livestock shows and listen to live music while eating your favorite fair foods at this family-friendly event in September. (347 Gilead St., Hebron)
37. Hike up to the waterfall at Kent Falls State Park
Walk through a classic New England covered bridge and under the falls to find the perfect place to have a picnic. (462 Kent Cornwall Road, Kent)
38. Sip a saison at Kent Falls Brewing Co.
Stop drooling over Kent Falls Brewing's Instagram and stop into the farmhouse brewery for funky, imaginative brews with a twist. (33 Camps Road, Kent)
39. Go leaf peeping at Macedonia Brook State Park
Hike the Blue Trail across Cobble Mountain in October, and be rewarded with expansive views of foliage along the Catskill Mountains. (159 Macedonia Brook Road, Kent)
40. Pick out a pastry at the Cozy Corner Bake Shoppe
Locals love the Swedish cinnamon rolls and Danish coffee rings at this charming bakery, which also has a stacked lineup of cupcake flavors. (183 Route 81, Unit 7 Killingworth)
41. Take in a day at the races at Lime Rock Park
One of New England's classic race tracks allows visitors the chance to watch — and drive in — high-speed events that span the whole year. (60 White Hollow Road, Lakeville)
42. Try Connecticut-made libations at Litchfield Distillery
This micro-distillery located in the Northwest Hills offers walk-in tours along with tastings of whiskey, gin, and vodka. (569 Bantam Road, Litchfield)
43. Sleep under the stars at Hammonasset Beach State Park
You can spend the day fishing, swimming, or simply soaking up the rays, but come nightfall, you'll definitely want to be stargazing — with optional assistance from the Meigs Point Nature Center's telescopes — before cocooning into your sleeping bag. (1288 Boston Post Road, Madison)
44. Have some burger with your fried cheese at Shady Glen
Old-school Americana oozes out of this diner, which is famous for its ice cream and fried cheese-topped burgers. (840 Middle Turnpike East, Manchester; and 360 Middle Turnpike West, Manchester)
45. Discover part of the state's history at the Pequot Museum
You can find out about the history of the Pequot tribe through exhibitions, films, hiking trails, and farmsteads. (110 Pequot Trail, Mashantucket)
46. Revel in a day of activities at Foxwoods Resort Casino
From golfing to fine dining, casinos to live shows, there's something for everyone. (350 Trolley Line Blvd., Mashantucket)
47. Taste a special take on the classic burger at Ted's Restaurant
This go-to in central Connecticut steams its burgers and cheese. (1046 Broad St., Meriden)
48. Pick your own fruit at Lyman Orchards
Pick seasonal fruits — strawberries, raspberries, and apples — from June through October at a 275-year-old, family-run orchard. (32 Reeds Gap Road, Middlefield)
49. Get a taste for whiskey at Krust Pizza Bar
It have its wood-fired pizza in its name, but it has more than 400 different whiskeys behind its bar. (686 Main St., Middletown)
50. Go wild at The Dinosaur Place
The family attraction has life-size dinosaurs scattered amongst its trails, along with a splash pad, moon bounce, and playground for kids. (1650 Hartford-New London Turnpike, Montville)
51. Slurp down oysters at Treehouse at Oyster Club
Open Memorial Day through Labor Day, the New England seafood shack serves fresh local seafood and libations. Go during happy hour for $1 oysters. (13 Water St., Mystic)
52. Step aboard the only remaining 19th-century U.S. whaler ship at the Mystic Seaport museum
One of the leading maritime museums in the United States allows visitors to tour a fleet of preserved vessels from a bygone era. (75 Greenmanville Ave., Mystic)
53. Check out the many species at the Mystic Aquarium
The huge aquarium includes the largest outdoor beluga whale exhibit in the United States, along with theaters where you can watch sea lions perform. (55 Coogan Blvd., Mystic)
54. Sail into the sunset on Argia Mystic Cruises
Relax aboard the 81-foot vessel while you sail down the coast of Fisher's Island Sound, passing lighthouses and islands along the way. (12 Steamboat Wharf, Mystic)
55. Order a basket of fried clams at Sea Swirl
You'll find a seasonal seaside shack that's known for fried clams and epic sunset views over the Mystic River. (30 Williams Ave., Mystic)
56. Try the gołąbki and kielbasa at Staropolska Restaurant
With a large Polish population, New Britain is known for its Polish cuisine and culture. The menu will make you feel like you're in Eastern Europe. (252 Broad St., New Britain)
57. Create your own flavor at Avery's Beverages
Avery's has been producing soda for more than 100 years. Tour the factory, mix your own flavors, and take home your custom creation. (520 Corbin Ave., New Britain)
58. Grab a hot dog at Capitol Lunch
Cheap and delicious, the popular downtown stop has been serving dogs with its famous chili sauce since 1929. (510 Main St., New Britain)
59. Gaze at, into, and through The Glass House
American architect Philip Johnson's glass masterpiece, as well as his studio and sculpture gardens, are open to the public May through November. (199 Elm St., New Canaan)
60. Buy a piece of the past at Collinsville Antiques Company
One of New England's largest antiques shops features more than 22,000 square feet of shopping, plus a cafe where you can take a break, then shop more. (283 Main St., New Hartford)
61. Beat the heat by tubing on the Farmington River
Relax and enjoy the state's scenic northwest corner while floating down the winding Farmington River on an innertube. (92 Main St., New Hartford)
62. Stroll through centuries of art on display at the Yale University Art Gallery
Yale's gallery offers a (free!) chance to view more than 200,000 objects, ranging from ancient to modern art. A couple of famous Picasso works are also on display. (1111 Chapel St., New Haven)
63. Go back in time at the Yale Peabody Museum of Natural History
Take a journey through Earth's history by exploring dinosaurs, mummies, and reptiles at this downtown New Haven fixture. (170 Whitney Ave., New Haven)
64. Be a book geek at the Beinecke Rare Book & Manuscript Library
Yale University's "principal repository for literary archives, early manuscripts, and rare books" houses the Gutenberg Bible, the first book printed in the West using movable type. (121 Wall St., New Haven)
65. Have a slice of famous New Haven-style Apizza at Sally's Apizza
Cooked in a brick, coal-fired oven, Sally's plain Italian tomato pie is worth waiting for in the constant line out the door. (237 Wooster St., New Haven)
66. Walk down the street for another slice at Frank Pepe Pizzeria Napoletana
The original location for the now-popular chain serves up pies that consistently rank among the state's best. (157 Wooster St., New Haven)
67. Eat invasive species at Miya's Sushi
You won't find spicy tuna rolls here. The world's first sustainable sushi restaurant has invasive species, like mugwort, Asian carp, and lionfish, on its menu. (68 Howe St., New Haven)
68. Find out where the hamburger came from at Louis' Lunch
Recognized by the Library of Congress as the birthplace of the hamburger in 1895, Louis' grinds its meat daily and cooks its burgers in the original cast iron pans. (261 Crown St., New Haven)
69. Wander through the gardens at the Connecticut College Arboretum
The botanical garden features 750 acres of trails, landscaped grounds, plant collections, and tropical greenhouses. (270 Mohegan Ave., New London)
70. Seek out the perfect deal at the Elephant's Trunk Flea Market
Thrifters arrive as early as 4:45 a.m. to stalk out vintage pieces and delicious eats. (490 Danbury Road, New Milford)
71. Enjoy a burger and birch beer at Clamp's
This quintessential summer spot, nestled away in rural New Milford, was recently named one of the state's 20 best burgers by Connecticut Magazine. (518 Litchfield Road, New Milford)
72. Peruse The Book Barn, one of the region's most unique booksellers
With over a half-million books in their collection, The Book Barn offers visitors several locations on a mile-long stretch. (41 West Main St., Niantic)
73. Devour a lobster bomb by the seashore at Ford's Lobster
The bread bowl filled with hot or cold lobster is Ford's specialty. Pro tip: Get it Connecticut style (hot), and top it with lobster bisque. (15 Riverview Ave., Noank)
74. Go under the sea at the Maritime Aquarium
Dedicated to sea life found in Long Island Sound, the aquarium's river otter and shark exhibit will keep the kiddos occupied for hours. (10 North Water St., Norwalk)
75. Eat so many tacos at Rincon Taqueria
Known for its tacos and empanadas, this unassuming restaurant is a necessary stop when traveling through Fairfield County. (493 Connecticut Ave., Norwalk)
76. Experience the "home of American Impressionism" at the Florence Griswold Museum
The center of the Old Lyme art colony boasts gardens and rotating exhibitions throughout the year. (96 Lyme St., Old Lyme)
77. Sip at the oldest steam-powered cider mill in the U.S.: B.F. Clyde's Cider Mill
The go-to order at the 136-year-old mill is freshly made apple cider and an apple cider doughnut. (129 N. Stonington Road, Old Mystic)
78. Sweeten your day at the PEZ Factory
In the '70s, the Austrian candy company moved its headquarters to Connecticut, where it offers tours of the largest collection of PEZ memorabilia in the world. (35 Prindle Hill Road, Orange)
79. Eat a bucket of "dirt wings" at J. Timothy's Taverne
Named on Thrillist's list of 21 best wing joints in the country, the tavern is famous for its twice fried wings — once before and once after saucing. (143 New Britain Ave., Plainville)
80. Float over the state with Adventure Balloon Rides
Spend an hour in the sky during a sunrise or sunset air-balloon ride above Hartford or Litchfield Counties. (Plymouth)
81. Jump off a cliff at Brownstone Exploration and Discovery Park
Channel your inner daredevil at this outdoor adventure center with 14 zip lines, three wakeboard runs, and one good ol' fashioned rope swing. (161 Brownstone Ave., Portland)
82. Literally visit Jurassic Park, aka Dinosaur State Park
Underneath a geodesic dome, look at actual fossil tracks believed to have been made by the Dilophosaurus 200 million years ago. (400 West St., Rocky Hill)
83. Gawk at the beauty of the Farmington Valley from the Heublein Tower
The observation point, which is the pinnacle of a one-mile trail in Talcott Mountain State Park, guarantees gorgeous panoramic views of the valley. (Parking located at Summit Ridge Drive, Simsbury)
84. Catch a flick at Southington Drive-In Theater
The town-owned theater shows movies every Saturday night at dusk during the summer and fall months, and donates all of its proceeds to charity. (995 Meriden-Waterbury Turnpike, Southington)
85. Grab a beer and a bite at The Beer Garden at Shippan Landing
It's an outdoor adult oasis featuring rotating craft beers, food trucks, live music, and lawn games that can keep you entertained for hours. (290 Harbor Drive, Stamford)
86. Experience a day in the life of a farmer at the Stamford Museum and Nature Center
Meet and greet animals and walk nature trails at the family-oriented museum. (39 Scofieldtown Road, Stamford)
87. Start your day with coffee and churros at Lorca
The signature churros with chocolate sauce at this quaint downtown coffee shop are enough to sweeten any morning. (125 Bedford St., Stamford)
88. Get lost in a corn maze at Ekonk Hill Turkey Farm
Meander through miles of paths while indulging in ice cream and visiting with farm animals. (227 Ekonk Hill Road, Sterling)
89. See a show and try your luck at Mohegan Sun
It's virtually impossible to be bored at a massive casino, entertainment venue, and resort that features concerts, comedians, WNBA basketball games, restaurants, and gambling, of course. (1 Mohegan Sun Blvd., Uncasville)
90. Play 18 holes at Riverfront Miniature Golf
The mini golf course sits right on the beautiful Farmington River; you can watch fly fishermen and kayakers while you play. (218 River Road, Unionville)
91. Geek out at the inn that inspired Gilmore Girls
Stars Hollow may be a fictional town, but according to The New York Times, creator Amy Sherman-Palladino based her famous Independence Inn on a real establishment: The Grace Mayflower. (118 Woodbury Road, Route 47, Washington)
92. Tour the house where the American Dictionary was written
In 1758, author and lexicographer Noah Webster was born in what's now called the Noah Webster House. (227 South Main St., West Hartford)
93. Visit the sculptures at the West Hartford Art League
A life-size wire bear and a giant head grace the grounds, while art exhibits rotate monthly in two galleries. (37 Buena Vista Road, West Hartford)
94. Send your kids' imaginations into overdrive at the Children's Museum
The decades-old institution is perfect for keeping the kids busy with hands-on exhibits, digital displays, and 3-D dinosaur models. (950 Trout Brook Drive, West Hartford)
95. Smell the roses at Elizabeth Park
In the summer, the rose garden is in full bloom, making it the perfect place for a picnic or bike ride. (1561 Asylum Ave., West Hartford)
96. Eat deviled eggs at The Whelk
Topped with locally harvested fried oysters, these eggs got a shout-out from GQ. (575 Riverside Ave., Westport)
97. Cool off with a scoop at Tulmeadow Farm
Sample from more than 50 homemade ice cream flavors, but you can't go wrong with the best-selling red raspberry with chocolate chips. (255 Farms Village Road, West Simsbury)

98. Earn some high-level aviation knowledge at the New England Air Museum
View more than 65 aircrafts and multiple exhibits that tell the story of aviation history in New England's largest aviation museum. (36 Perimeter Road, Windsor Locks)
99. Buy a dozen doughnuts at Dottie's Diner
The cake doughnut at this old-school diner was was named one of Saveur Magazine's 50 best doughnuts in America a few years back. (787 Main St., South, Woodbury)
100. See Connecticut through art during City-Wide Open Studios
In October, more than 350 of the state's artists will come together over multiple weekends to showcase their work in their own studios and in exhibition spaces. (Various locations)
What's your favorite thing to do in New England? Tell us on Facebook.
Alycia Chrosniak is a freelance writer and the blogger behind CT Eats Out. You can follow her food and travel adventures on Instagram @alyciachrosniak.