Travel
200 things to do throughout Massachusetts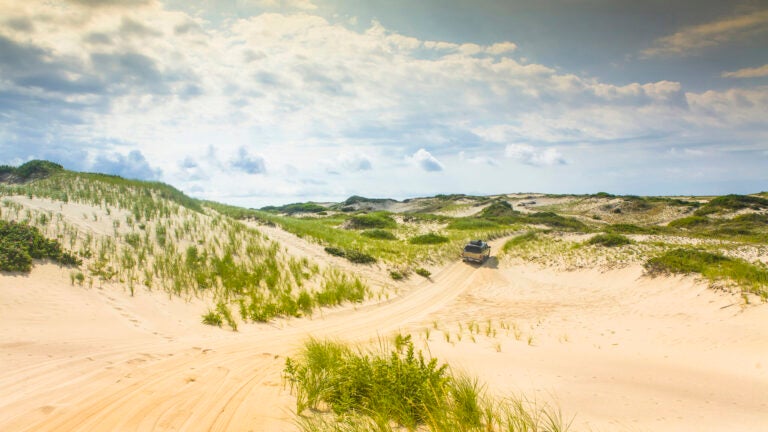 Call us biased, but we think Massachusetts is teeming with unparalleled charm. To soak it in, head over to peaceful towns in the Berkshires, down to quaint ones on the Cape and Islands, and around to a whole lot of everywhere in between.
(Oh, and for 800 things to do in the rest of New England — including 300 in Boston — head right this way.)
Western Massachusetts
1. Throw your hands in the air on Superman the Ride at Six Flags New England
One of the park's most notable rides, the Superman hypercoaster has a 221-foot drop and reaches speeds of 77 miles per hour. (1623 Main St., Agawam)
2. Attend a free fiction reading hosted by Amherst College
Meet award-winning authors and poets at the Amherst College Center for Creative Writing readings, which take place throughout the year at nearby Amherst Books. (8 Main St., Amherst)
3. Take the kids to the The Eric Carle Museum of Picture Book Art
The museum, which celebrates the work of The Very Hungry Caterpillar author and illustrator, offers hands-on art activities for kids, scheduled story times and short films, and plenty of picture book art. (125 West Bay Road, Amherst)
4. Walk along a famous stream at the William Cullen Bryant Homestead
The home of the late poet, journalist, and editor of The New York Evening Post is full of Colonial and Victorian pieces and exotic memorabilia. Outside, walk to the Rivulet, the stream Bryant wrote about in his 1823 poem of the same name. (207 Bryant Road, Cummington)
5. Eat at farm-to-table hotspot The Prairie Whale
Owner Mark Firth uses both meat and vegetables from his own farm at his Berkshires restaurant, named among the 38 best in New England by Eater. (178 Main St., Great Barrington)
6. Swing by the International Volleyball Hall of Fame
William G. Morgan invented the sport at Holyoke's YMCA in 1895. At the hall of fame, learn about the 130 men and women from 22 countries across the globe who have become inductees. (444 Dwight St., Holyoke)
7. Play in the trees at Ramblewild
Use zip lines, high wires, balancing logs, rope ladders, and suspension bridges to complete the courses at this tree-to-tree aerial park. (110 Brodie Mountain Road, Lanesborough)
8. Listen to the Boston Symphony Orchestra at Tanglewood
The summer home of the Boston Symphony Orchestra also hosts performances by the Boston Pops. (297 West St., Lenox)
9. Grab a grass-fed burger at Haven Cafe and Bakery
This cafe makes all items fresh, from French-rolled omelets and croissant French toast to grass-fed, hormone- and antibiotic-free burgers. (8 Franklin St., Lenox)
10. Wander through Edith Wharton's The Mount
Tour the writer's 1902 home and gardens, a National Historic Landmark. (2 Plunkett St., Lenox)
11. Live history at the Ventford Hall Mansion and Gilded Age Museum
Stroll through this Jacobean Revival-style mansion, built in 1893 for Sarah Morgan, the sister of J.P. Morgan. The building features lectures, exhibits, and theatrical performances. (104 Walker St., Lenox)
12. View a dramatic waterfall at Bash Bish Falls State Park
It drops about 60 feet into a sparkling pool and is the highest single-drop waterfall in the state. You can't swim, but you can exercise nearby on 30 miles of trails in Mount Washington State Forest. (Falls Road, Mount Washington)
13. Challenge your ideas of art at MASS MoCA
In addition to its exhibitions, the Massachusetts Museum of Contemporary Art features more than 75 performances each year. (1040 MASS MoCA Way, North Adams)
14. Eat a creative meal at Gypsy Apple Bistro
Run by a husband-and-wife team, the restaurant has been praised for its unique food and impeccable hospitality. It was named among the 38 best restaurants in New England by Eater. (65 Bridge St., Shelburne Falls)
15. See a show at CityStage
Watch a musical, comedy, or drama on two intimate theaters: the 479-seat S. Prestley Blake Theatre and the 83-seat Winifred Arms Studio. (150 Bridge St., Springfield)
16. Shoot baskets at the Naismith Memorial Basketball Hall of Fame
Take in more than 40,000 square feet of basketball history, then take part in hundreds of interactive exhibits, as well as live clinics and shooting contests. (1000 Hall of Fame Ave., Springfield)
17. Rhyme along at the newly opened Dr. Seuss museum
The Amazing World of Dr. Seuss Museum just opened in June and includes a Green Eggs and Ham rhyming station. (21 Edwards St., Springfield)
18. Walk the magnificent gardens at Naumkeag
Don't miss the famous Blue Steps — created by Fletcher Steele, known as the father of modern American landscape design — at this Gilded Age estate. (5 Prospect Hill Road, Stockbridge)
19. Do a Norman Rockwell deep-dive at his museum
Check out the largest collection of Rockwell's work, his studio, and more than 100,000 items in the museum's archives. (9 Glendale Road, Stockbridge)
20. Get some R&R at the Kripalu Center for Yoga & Health
Go for a day or a retreat to this serene getaway on 300 acres in the Berkshires, where activities include yoga, dance classes, hiking, swimming, and meditation. (57 Interlaken Road, Stockbridge)
21. Dine in a historic 19th-century house at Mezze Bistro + Bar
This farm-to-table restaurant, which serves American contemporary food, has received rave reviews from Food & Wine and Travel + Leisure. (777 Cold Spring Road, Williamstown)
22. Immerse yourself in the works of Winslow Homer, John Singer Sargent, and Renoir at the Clark
The Clark Art Institute opened to the public in 1955 and features works collected by Sterling and Francine Clark. (225 South St., Williamstown)
Central Massachusetts
23. Try strawberry rhubarb wine at Nashoba Valley Winery
You can try five varieties during the daily wine tastings. (100 Wattaquadock Hill Road, Bolton)
24. Traverse Tower Hill Botanic Garden's 132 acres
The property is comprised of 17 gardens and offers events throughout the year, such as tours, book signings, yoga, live music, story times, classes, and more. (11 French Drive, Boylston)
25. Shop at the Brimfield Antique Show
Billed as the largest outdoor antique show in the country, Brimfield takes place three times a year and attracts hundreds of thousands of visitors. The next show is in September. (Route 20, Brimfield)
26. Nab a rare beer at Tree House Brewing
Tree House, which brews three of the five best beers in America, according to BeerAdvocate, only sells its beer on location. Check the website for updates before making the drive. (129 Sturbridge Road, Charlton)
27. Peruse the country's first Shaker museum at Fruitlands Museum
Sprawled over 210 acres for walking and hiking, the campus includes the Fruitlands Farmhouse, the Shaker Museum, and a Native American Museum. (102 Prospect Hill Road, Harvard)
28. Catch movies at the Mendon Twin Drive-In
Two first-run features play each night at this drive-in, which opened in 1954. Don't miss the 5,000-square-foot beer garden. (35 Milford St., Mendon)
29. Go hiking at the Wachusett Mountain State Reservation
Tackle 17 miles of walking and hiking trails in a 3,000-acre reservation of forest, meadows, ponds, streams, and fields. (345 Mountain Road, Princeton)
30. Order the wings at B.T.'s Smokehouse
In 2017, Esquire magazine declared this the best wing joint in the state. Zagat wrote that it "could compete anywhere south of the Mason-Dixon line." (392 Main St., Sturbridge)
31. Step back in time at Old Sturbridge Village
Wander through a rural New England town when you stop by the largest outdoor history museum in the Northeast. (1 Old Sturbridge Village Road, Sturbridge)
32. Get up close with science and nature at the EcoTarium
This family-friendly museum offers three floors of interactive exhibits, live animal habitats, a digital planetarium, and a train ride across the grounds. (222 Harrington Way, Worcester)
33. Wine and dine at 111 Chop House
You can attend special wine dinners at this upscale steakhouse throughout the fall. (111 Shrewsbury St., Worcester)
34. Get hands-on at the Worcester Art Museum
Founded in 1896, this museum has more than 37,000 pieces of art spanning 51 centuries. Take part in free events in August and plenty of hands-on fun all year long. (55 Salisbury St., Worcester)
35. Ask for your hot dog with "the works" at George's Coney Island
With its famous neon sign, this iconic hot dog shop has been feeding generations of residents and visitors since the Tsagarelis family opened it in 1929. (158 Southbridge St., Worcester)
Northeast Massachusetts
36. Bite into fruit and doughnuts at Cider Hill Farm
Pick raspberries, blueberries, peaches, and apples, all of which are in season between July and November. Hot cider doughnuts are seasonally available, too. (45 Fern Ave., Amesbury)
37. See a musical, concert, or kid's show at the North Shore Music Theatre
Catch a performance at this theater, which has been in business since 1955. Beforehand, grab something to eat at the venue's theater-themed dining room. (62 Dunham Road, Beverly)
38. Have a literary freak-out at The Old Manse
Ralph Waldo Emerson and Nathaniel Hawthorne once lived here. Look for love-themed poetry between Hawthorne and his wife etched in the window panes. (269 Monument St., Concord)
39. Channel your inner Thoreau at Walden Pond
Made famous by Henry David Thoreau's Walden, the pond is surrounded by hundreds of acres of land to explore. (915 Walden St., Concord) 
40. Rub elbows with authors at The Concord Bookshop
This independent bookshop has signed books and a busy schedule full of events, visits from authors, and signings. (65 Main St., Concord)
41. Visit literary greats' final resting places at Sleepy Hollow Cemetery
See the graves of Nathaniel Hawthorne, Ralph Waldo Emerson, Louisa May Alcott, and Thoreau at this garden cemetery on the National Registry of Historic Places. (34 Bedford St., Concord)
42. Walk in the footsteps of Little Women at Louisa May Alcott's Orchard House
It's where the author wrote and set her classic novel in 1868, and about 80 percent of the furnishings have remained in place. (399 Lexington Road, Concord)
43. Take an intimate cooking class at the Saltbox Farm
Students who opt for classes at this old-world cottage pick fresh herbs and vegetables from the nearby garden, then eat their creations in the rustic dining room. (40 Westford Road, Concord)
44. Splash and play at Good Harbor Beach
During high tide, you can float down the estuary at Good Harbor Beach like it's a lazy river, writes Boston magazine, which named this beach among the best beaches in Massachusetts. (Thatcher Road, Gloucester)
45. Visit one of the oldest continuously operating art colonies in the U.S. at Rocky Neck Art Colony
Dozens of artists, from painters to jewelry makers to photographers to textile designers, display their work in Rocky Neck galleries throughout the year. (6 Wonson St., Gloucester)
46. Lounge on the grounds at Winnekenni Castle
This 1875 castle, the former summer home of chemist and agriculturalist Dr. James R. Nichols, hosts concerts, plays, workshops, craft fairs, and weddings. (347 Kenoza Ave., Haverhill)
47. Make furry friends at Russell Orchards
Pick your own berries and apples, and hang out with cute farm animals at this 97-year-old farm. (143 Argilla Road, Ipswich)
48. Spread a blanket at Crane Beach
The beach has more than five miles of trails through its coastal dunes. It's also a nesting site for piping plovers. (Argilla Road, Ipswich)
49. Walk among the outdoor sculptures at the DeCordova Museum and Sculpture Park
Take in more than 60 contemporary sculptures on park grounds before heading inside to view the rotating and interactive exhibits in the museum. (51 Sandy Pond Road, Lincoln)
50. Get your cup of joe with a side of live music at Coffee and Cotton
With its funky rustic decor, this community cafe was the editors' choice for best coffee shop by Northshore magazine last year. (250 Jackson St., Lowell) 
51. Catch a Lowell Spinners game on the banks of the Merrimack River
Head to LeLacheur Park to watch the Lowell Spinners, a Class A affiliate of the Red Sox. You might get lucky and catch a T-shirt from Canaligator, the team mascot. (450 Aiken St., Lowell)
52. Eat Vietnamese cuisine at Pho 88
Specials include snail salad and Vietnamese-salted soft shell crab. (1270 Westford St., Lowell)

53. Listen to an organ recital at the Methuen Memorial Music Hall
Built in 1902 to house "The Great Organ" — the first concert organ in America — the music hall features performances by local and international artists. (192 Broadway, Methuen)
54. Belly up at Bob Lobster
Communal picnic tables are scattered outside this classic shack, where lobster dinners, fried seafood platters, and clam rolls come out the back door in droves. (49 Plum Island Turnpike, Newbury)
55. Explore Plum Island
Plum Island is an 11-mile long barrier island offering miles of sandy beaches, restaurants, and the Parker River National Wildlife Refuge, a great place for birdwatching, kayaking, and fishing. (Plum Island Turnpike, Newburyport)
56. Spend time in nature at Maudslay State Park
Located on the Merrimack River, this state park has one of the largest naturally occurring stands of mountain laurel in the state. (74 Curzon Mill Road, Newburyport)
57. Ogle fine art at The Walsingham Gallery
The Walsingham has five major shows a year, art walks, and seasonal reception nights. (45 Merrimac St., Newburyport)
58. Choose your artistic pleasure at the Rogers Center for the Arts
Merrimack College's lively theater offers a little bit of everything: music, dance, comedy, films, and theater productions. (315 Turnpike St., North Andover)
59. Climb into the rafters at Jordan's Furniture's BeanStalk Adventure Ropes Course
You can go 24 feet high on Jordan's BeanStalk course, which includes a zip line among colorful lights, music, and fountains set to music. It all takes place beside an indoor jelly bean bridge and garden. (50 Walkers Brook Drive, Reading)
60. Spend a day on Thatcher Island
The true highlight at Thatcher Island, which is located about a mile off of Rockport's coast, is climbing the twin lighthouses at Cape Ann Light Station. Get there by shuttle boat or kayak. (1 mile offshore of Rockport)
61. Take a picture at Motif No. 1
After you stroll through Rockport's charming downtown, full of one-of-a kind boutiques, restaurants, and art galleries, stop at Bradley Wharf to photograph the town's iconic fishing shack: Motif No. 1. (Bearskin Neck, Rockport)
62. Window shop along Bearskin Neck
You'll find everything from jewelry to fudge along this quaint stretch on the water. (Bearskin Neck, Rockport)
63. Picnic on the rocks overlooking the ocean at Halibut Point State Park
Open year-round, the park also includes the former Babson Farm granite quarry and walking trails. (Gott Avenue, Rockport)
64. Learn the harrowing history of the witch trials at the Salem Witch Museum
Step back in time to 1692 and hear a reenactment of actual trial documents, then listen to a guide discuss the changing interpretations of witches, witch stereotypes, and modern-day witchcraft. (19 ½ Washington Square North, Salem)
65. Eat in a former bank at Ledger Restaurant & Bar
Sip a local craft beer and order a burger, lobster spaghetti, or salmon tartare at this former bank, which still features the original 1818 vaults and teller windows. (125 Washington St., Salem)
66. Drop by the Peabody Essex Museum
Tour art exhibits and historic homes, create art projects with your family, and dine at the cafe. (161 Essex St., Salem)
67. Play a classic video game at Joe's Playland
For more than 90 years, Joe's Playland has been a mainstay at Salisbury Beach. Play a game of Skee-Ball or air hockey and then cash in your tickets for prizes. (15 Broadway, Salisbury)
68. Bowl and play simulated golf at Wamesit Lanes
Choose between candlepin and 10-pin, then size up your golf swing inside a golf simulator. There's also an arcade, shuffleboard, indoor and outdoor dining, and comedy nights. (434 Main St., Tewksbury)
69. Go to the Topsfield Fair, America's oldest agricultural fair
Ride a ferris wheel, bite into some fried dough, watch racing pigs, and view the largest pumpkins in the land at this nearly 200-year-old fair, which will take place Sept. 29-Oct. 9. (207 Boston St., Topsfield)
70. Explore the Middlesex Fells Reservation just north of Boston
The reservation's 2,575 acres includes meadows, reservoirs, woods, and more than 100 miles of trails. (4 Woodland Road, Stoneham)
71. Test your appetite with ice cream at Kimball Farm
In Westford, this ice cream spot, known for its large portions, dates back to 1939 and has mini golf, bumper boats, a driving range, and more. (400 Littleton Road, Westford)
Southeast Massachusetts
72. Grab the wheel at F1 Boston
Fulfill your need for speed by driving carts around two European-style tracks: the city course and the country course. Just watch out for those corkscrew turns. (290 Wood Road, Braintree)
73. Play ball with the Brockton Rox
Watch the Rox play at the cozy, comfortable Campanelli Stadium against other local teams from an amateur league featuring college players. (1 Feinberg Way, Brockton)
74. Tour a cranberry bog at Flax Pond Farms
From Sept. 3 to Oct. 30, Jack and Dot Angley open their 100-acre farm to visitors, who learn the ins and outs of the cranberry harvest while sampling fresh juice and snacking on the dried, sweetened fruit. (58 Pond St., Carver) 
75. Ride the rails at Edaville Railroad
This family theme park features Thomas Land, with rides dedicated to the animated train series, as well as Dino Land, where life-sized, animatronic creatures flash their teeth among the treetops. (5 Pine St., Carver)
76. Get your knight on at King Richard's Faire
Billing itself as "THE New England Renaissance festival," King Richard's Faire recreates a 16th-century village and fills it with crafts, food, music, and more. (235 Main St., Carver) 
77. Attend a theater-in-the-round show at South Shore Music Circus
The audience sits in a circle around the stage in this entertainment venue, billed as one of only two continuously operating tent theater-in-the-rounds in the country. (130 Sohier St., Cohasset)
78. Soak in the sun at Duxbury Beach
Nonresidents can access this six-mile beach from a public parking lot, then while away the afternoon trying to spot piping plovers. (Gurnet Road, Duxbury) 
79. Drink a flight at Barrel House Z
Former Harpoon brewer Russ Heissner soaks his beers in used tequila, rum, and chardonnay barrels, letting the subtle flavors of the booze seep into these one-of-a-kind brews. (95 Woodrock Road, East Weymouth) 
80. Check out the USS Massachusetts at Battleship Cove
The World War II battleship is joined by a destroyer, Balao-class submarine, and other historic Navy vessels at "America's Fleet Museum." (5 Water St., Fall River)
81. Learn some football history at the Patriots Hall of Fame
The Pats are well into their second decade of dominance, but the team has a rich history before Tom Brady and Bill Belichick. (2 Patriot Place, Foxborough) 
82. Watch 40-year-old Tom Brady make moves at Gillette Stadium
In case you haven't heard, TB12 just had a big birthday. Watch Brady and company hit the gridiron during a preseason or regular season game. (1 Patriot Place, Foxborough)
83. Catch a flick in an old-fashioned movie house at Loring Hall Cinema
Grab a seat in the balcony for a show at this cinema, located inside an 1852 building that was transformed into a movie house in 1936. Movies cost just $5 on Tuesdays. (65 Main St., Hingham)
84. Take a hike at World's End
Designed by Frederick Law Olmstead, the 251-acre coastscape offers 4 ½ miles of carriage paths and footpaths, along with spectacular skyline views. (Martins Lane, Hingham)
85. Grab a double decker at Wahlburgers' original location
You may not run into a Wahlberg, but the first outpost of the now-national chain is nestled in Hingham Harbor, not far from its sister restaurant, Alma Nove. (19 Shipyard Drive, Hingham)
86. Spin on the carousel at Nantasket Beach
The Paragon Carousel, which was built in 1928, features 66 horses, two Roman chariots, and one dizzying view of the beach across the street. (205 Nantasket Ave., Hull)
87. Maybe spot Steve Carell at his general store
Make a pit stop at Marshfield Hills General Store, and you just might run into actor and Acton native Steve Carell, who owns it with his wife, Nancy. (165 Prospect St., Marshfield Hills)
88. Visit the largest model whaleship in the world at the New Bedford Whaling Museum
See five massive whale skeletons and step on board the Lagoda, the largest model whaleship in the world. For the kids, there's a 3,000-square-foot discovery center. (18 Johnny Cake Hill, New Bedford)
89. Dine (and party) dockside at Waterclub at Quincy's Marina Bay
Pair fried calamari with a Moscow Mule, then watch the sun go down and the club transform into a lively nightspot. (319 Victory Road, North Quincy)
90. Stop by the most famous rock in America
Head to Pilgrim Memorial State Park in Plymouth to find Plymouth Rock, which marks the place where the Mayflower Pilgrims began Plymouth Colony in 1620. (79 Water St., Plymouth)
91. Then experience 17th-century Plymouth Colony at Plimoth Plantation
Walk among costumed actors and learn what life was like at Plymouth Colony in the 1600s — the objects pilgrims used, homes they lived in, jobs they worked — at this living museum. (137 Warren Ave., Plymouth)
92. Tee off at Pinehills Golf Club
Pinehills consistently ranks as one of the best public clubs in Massachusetts. The sprawling club boasts two courses, each with five sets of tees to accommodate all levels. (54 Clubhouse Drive, Plymouth)
93. Sip wine and take in the view at Plymouth Bay Winery
This winery, awarded a certificate of excellence from TripAdvisor, has a big deck with a view of Plymouth Harbor and uses locally grown, native grapes and berries. (114 Water St., Plymouth)
94. Munch on a clam roll from The Lobster Hut
There's nothing fancy about The Lobster Hut — paper plates, big spigot squirting ketchup — but the seafood is fresh and lightly battered. You can look at the water when you eat it, too. (25 Town Wharf, Plymouth)
95. Go whale-watching with Captain John Boats
Sails from Plymouth into Cape Cod Bay and Stellwagen Bank quote a 99 percent success rate of seeing humpback whales, pilot whales, and other species. (10 Town Wharf, Plymouth)
96. Pick your own at Sauchuk Farm
The 100-acre farm grows strawberries in the spring, blueberries in the summer, and pumpkins in the fall, all of which you can pluck straight from the fields. (200 Center St., Plympton)
97. Get up close with aquatic life at Stellwagen Bank National Marine Sanctuary
Watch humpback whales feed on sand eels in protected waters. In 2016, USA Today named the aquatic sanctuary the best place to see aquatic life in the U.S. (Massachusetts Bay, Scituate)
98. Tour the cidery at Belkin Family Lookout Farm
Established in 1651, Belkin is one of the oldest continuously operating farms in the U.S. You can tour the facility on Saturdays and Sundays at 2 p.m. (89 Pleasant St. South, Natick)
99. Stroll around Wellesley College's Lake Waban
A jaunt around this tree-rimmed lake is a perfect chance for students (and non-students) to soak up the sun and see the foliage. (Wellesley College, 106 Central St., Wellesley)
100. Sip a Twix iced coffee at Marylou's
Keep an eye out for the iconic pink signs from Quincy to the Cape, then stop in for iced or hot flavors like banana nut cream, tiramisu, and raspberry mocha blast. (Various locations)
Cape Cod
101. Watch for whales on a Hyannis Whale Watcher Cruise
A 130-foot boat comes equipped with food, beverages, and plenty of seating so you can get comfy while looking out for humpback, finback, and minke whales in their natural habitat. (269 Millway, Barnstable)
102. Eat lobster bisque at The Brewster Fish House
Travel + Leisure says this eatery is famous for its "sweet lobster bisque." The restaurant doesn't accept reservations, so it's a good idea to get there early. (2208 Main St., Brewster)
103. Camp among the kettle ponds at Nickerson State Park
The 1,900-acre park features 400 campsites sprinkled around eight freshwater ponds. (3488 Main St., Brewster)
104. Get up close with a honey bee hive and archaeological artifacts at the The Cape Cod Museum of Natural History
Also on the premises: 400-plus acres of conservation land, which allow for an awe-inspiring hike. (869 Main St. (Route A), Brewster) 
105. Enjoy cocktails and an astonishing view of the sunset on the Chart Room's lawn
Heading to this storied go-to on Redbrook Harbor is a summer tradition for many. The lawn is lined with old Adirondack chairs, and the restaurant inside is always bustling. (1 Shipyard Lane, Cataumet)
106. Satisfy your sweet tooth at Four Seas Ice Cream
Four Seas has been in operation since the 1930s, making it one of the oldest ice cream shops in New England. Try the peanut butter chip chocolate. (360 South Main St., Centerville)
107. Catch a movie at the quaint Chatham Orpheum Theater
Sip a glass of vino and search for pop-culture icons in the lobby's hand-painted mural while you wait for the opening credits to roll. (637 Main St., Chatham)
108. Embrace the unofficial drink from the Cape's 'cocktail master' at the Chatham Bars Inn
Where better to sip a Cape Codder than in the region after which it was named? At the historic Chatham Bars Inn, the Cape's consensus best bartender Ian Kelley serves the cranberry-vodka drink with an ocean view. (297 Shore Road, Chatham) 
109. Scout future MLB stars at a Cape Cod Baseball League game
Featured in Summer Catch, the Chatham A's count Matt Harvey, Mike Lowell, and Jeff Bagwell as alumni. (702 Main St., Chatham)
110. Immerse yourself in nature at Monomoy National Wildlife Refuge
Birders will delight in this 7,600-acre refuge, which provides a resting, nesting, and feeding habitat for migratory birds. (30 Wikis Way, Chatham)
111. Peruse centuries' worth of diverse maps at Maps of Antiquity
Nestled in a historic building, this place stocks more than 4,000 maps dating back to the early 1600s, along with a slew of high-quality reproductions. (1409 Main St., Chatham)
112. Tour the centuries-old Godfrey Windmill
The 1797 windmill is set into motion during celebrations, such as the Festival of the Arts (Aug. 18-20), and offers tours Mondays, Wednesdays, and Fridays from 11 a.m. to 3 p.m. through Sept. 1. (125 Shattuck Place, Chatham)
113. Grab a lobster roll by the water at Sesuit Harbor Cafe
Voted one of the best lobster rolls on the Cape, Sesuit also has a charming view of its namesake harbor. (357 Sesuit Neck Road, Dennis)
114. Attend a live performance by world-class actors at the Cape Playhouse
Dubbed "Birthplace of Stars" (Humphrey Bogart, Bette Davis, Jane Fonda, and Betty White all performed here), the venerable institution has attracted professional summer theater to Cape Cod for more than 90 years. (820 Main St., Route 6A, Dennis)
115. Watch expert potters work the wheel, then purchase their creations, at Scargo Pottery
Started in the 1950s by legendary potter Henry Holl, this off-the-beaten-path workshop on Scargo Lake also has a lovely sculpture garden on the property. (30 Dr. Lords Road South, Dennis)
116. Get artistic at the Cape Cod Museum of Art
Besides artwork, the museum offers workshops and interactive classes, and hosts monthly screenings of classic movies between August and December. (60 Hope Lane, Dennis)
117. Take in the view of Cape Cod Bay from the 30-foot Scargo Tower
Located atop one of the tallest hills on Cape Cod, the cobblestone Scargo Tower was originally constructed of wood in 1874, then rebuilt after a fire in 1901. (152 Scargo Hill Road, Dennis) 
118. Dine with a view at the Ocean House Restaurant
The outdoor Beach Bar features a raw bar and live music. (425 Old Wharf Road, Dennis Port)
119. Discover the lighthouse on Cape Cod Potato Chips bags
Nauset Light dates back to 1877 and offers free tours. (120 Nauset Light Beach Road, Eastham)
120. Bring your appetite to Arnold's Lobster & Clam Bar
In addition to all the seafood — fried and otherwise — Arnold's has a mini-golf course and Richardson's ice cream. (3580 Route 6, Eastham)
121. Revel in spring and summer flora with a stroll through the grounds of Spohr Gardens
Perched on the edge of Oyster Pond, this six-acre woodland garden bursts with daffodils, azaleas, rhododendrons, and daylilies. (45 Fells Road, Falmouth) 
122. Dig into the legendary fried clams at The Clam Shack
The outdoor tables at this well-known shack are perfect for watching the boat traffic of Falmouth Harbor. (227 Clinton Ave., Falmouth)
123. Stroll the fragrant fields of the Cape Cod Lavender Farm
It's one of the largest on the East Coast: Farmers harvest more than 14,000 plants across 12 secluded acres. (Weston Woods Road, Harwich)
124. Have some fun at Grand Slam Family Entertainment
Squirt your friends from the bumper boats, soar through the air on a zip line, hit the batting cages, look for buried treasure, and spend time in the arcade at this family fun zone. (322 Main St., Harwich Port)
125. Learn all about those famous Cape Cod Chips
See how they're made on one of the famous company's tours, which take place Mondays through Fridays between 9 a.m. and 5 p.m. (100 Breeds Hill Road, Hyannis)
126. Find your favorite brew at Cape Cod Beer
The Cape's original craft brewery has a diverse selection on offer at its Hyannis beer garden. (1336 Phinneys Lane, Hyannis)
127. Order a sweet treat from Caffé Gelato Bertini
The owners of this sweet shop make their Italian ice cream from scratch and follow an old Florentine recipe. The Boston Globe recommends the almond-fig. (20 Pearl St., Hyannis)
128. Walk in the footsteps of the area's famous summer residents on the Kennedy Legacy Trail
This 1.6-mile self-guided trail, located in the heart of the HyArts Cultural District, consists of 10 sites that celebrate the Kennedy family's role in shaping the history of Hyannis. (397 Main St., Hyannis)
129. Dig into a lobster roll big enough for two at The Raw Bar
The Hyannis location is right at the ferry terminal, so you can eat while anticipating your trip to — or lamenting your return from — the islands. (230 Ocean St., Hyannis; and 259 Shore Drive, Mashpee)
130. Boost your wireless tech IQ at the Chatham Marconi Maritime Center
Learn about the evolution of wireless technology and the many antennas used since the station was constructed 103 years ago. (831 Orleans Road, North Chatham)
131. Have a vineyard adventure at Truro Vineyards
All in a day: Attend a wine tasting, take a tour of the vines and barrel room, sample rum from Hollow Spirits Distillery, and grab a meal from the food truck on the lawn. (11 Shore Road, Route 6A, North Truro)
132. Experience history with a trip to the Coast Guard Lifeboat CG-36500
In 1952, four Coast Guardsmen (lauded in the Disney film The Finest Hours) used this 26-foot wooden lifeboat during a massive snowstorm to rescue crewmen on the tanker Pendleton. (3 River Road, Orleans)
133. Fly a kite at Nauset Beach
When you hit the beach looking for strong winds, head south: Piping plover nests to the north are blocked to beachgoers. (250 Beach Road, Orleans)
134. View the masterworks housed at the Addison Art Gallery
This gallery, a classic Cape house overlooking Town Cove, could easily be the subject of a painting itself. (43 South Orleans Road, Orleans)
135. Shop for local items at the Orleans Farmers' Market
Buy produce, flowers, herbs, soap, pottery, and poultry at this market, open Saturdays from 8 a.m. to noon well into November. (21 Old Colony Way, Orleans)
136. Gear up for a ride over the Lower Cape's rolling sand dunes on one of Art's Dune Tours
On these off-road tours, you'll gain a different perspective of the Cape Cod National Seashore, dotted with famous "dune shacks" in which famous artists and writers create their art. (4 Standish St., Provincetown)
137. Crack open a lobster at the Lobster Pot Restaurant
If you don't feel like working for your meal, this restaurant's menu also lists lobster ravioli alfredo, lobster tacos, and lobster pot pie among the dishes with the crustacean in a starring role. (321 Commercial St., Provincetown)
138. Lounge near the tip of the Cape on Race Point Beach
It's one of six swimming beaches within the Cape Cod National Seashore. (Race Point Road, Provincetown)
139. Serve up aces like Roland Garros on the clay courts of Herring Cove Tennis Club
Just because you didn't qualify for the French Open doesn't mean you can't lace 'em up on the red clay. This Provincetown tennis club offers five such courts that are open to the public. (21 Bradford St. Ext., Provincetown)
140. Sip a cocktail at Aqua Bar
Relax with a drink on the large waterfront deck directly overlooking the beach and harbor at this scenic bar, which was awarded a certificate of excellence from TripAdvisor. (207 Commercial St., Provincetown)
141. View the entire Cape from atop the Pilgrim Monument
You can even see Boston on a clear day from the 252-foot building, built to commemorate the Pilgrims' signing of the Mayflower Compact in 1620 in Provincetown Harbor. (1 High Pole Hill Road, Provincetown)
142. Attend a Tea Dance at the Boatslip Beach Club
The outdoor dance runs through October and features resident DJ Maryalice spinning current hits, disco, and classics from the '80s. (161 Commercial St., Provincetown)
143. Watch the artisans work at Pairpoint, America's oldest glass company
Master glass blowers have been creating glassware here since 1837. The company's designs are featured in Boston's Museum of Fine Arts and New York's Metropolitan Museum of Art. (851 Sandwich Road, Sagamore)
144. Drink in adventure and culture at the Heritage Museum & Gardens
Five trails offer zip lining and climbing among the trees. After you've challenged yourself, stroll among the property's 70 acres of gardens, three art galleries, and stunning antique car collection. (67 Grove St., Sandwich)
145. Stock up on specialty foods and wine at The Brown Jug
Plus, the on-site café serves wood-fired pizza, sandwiches, and cheese plates. (155 Main St., Sandwich)
146. Stroll along the Sandwich Boardwalk
This 1,350-foot boardwalk (that's three and three-quarters football fields) meanders over sand dunes and marshland from the entrance of Sandwich Harbor toward Town Beach. (Town Neck Road, Sandwich)
147. Watch how cornmeal is made at the 17th-century Thomas Dexter's Grist Mill
You'll see how a windmill-powered wooden water wheel grinds organic corn into fresh cornmeal. You can sample some, too. (2 Water St., Sandwich)
148. Sink a hole-in-one at Pirate's Cove
This pirate-themed mini-golf stop — and Cape Cod landmark — features two 18-hole courses. (728 Main St., South Yarmouth)
149. Catch a movie at the Wellfleet Drive-In Theatre
The Wellfleet Drive-in Theatre, built in 1957, stays open through mid-September. (51 State Highway, Route 6, Wellfleet) 
150. Order a seafood plate at Kream 'n Kone
You'll find lobster rolls and fried seafood plates at one of the longest-running seafood joints on the Cape, according to Travel + Leisure. It debuted as a roadside stand in 1953. (961 Main St., West Dennis)
151. See a show at Cape Cod Theatre Company's Harwich Jr. Theatre
Take the family to productions like Charlotte's Web and Peter Pan and Wendy at this lively theater that's been entertaining folks for 65 years. (105 Division St., West Harwich)
152. Learn about a sunken 16th-century pirate ship at the Whydah Pirate Museum
The museum showcases artifacts rescued from the Whydah pirate ship, including cannons, pistols, buttons, buckles, along with the ultimate pirate treasure: pieces of gold. (674 MA-28, West Yarmouth)
153. Tire out the kids at the Cape Cod Inflatable Park
It bills itself as the largest wet and dry inflatable park in the world. There's also an arcade and challenge zone with a tightrope and trapeze for older kids. (518 Main St. Route 28, West Yarmouth)
154. Indulge in decadent, freshly baked goods and coffee brewed on-site at Pie in the Sky bakery
It opens at the crack of dawn, and closes long after sunset. If that's not convenient enough, it's just around the corner from the Steamship ferry service to the Vineyard. (10 Water St., Woods Hole)
155. Learn about sea creatures at the Woods Hole Aquarium
The oldest aquarium in the United States, this little institution is home to about 140 species of marine animals found in the waters of the Northeastern and Mid-Atlantic states. (166 Water St., Woods Hole)
156. Venture into Design Works for one-of-a-kind home accessories
The selection includes original artwork, rare vintage finds, refined linens, and much more. (159 Main St., Yarmouth Port)
157. Picnic at the historic Taylor-Bray Farm
You can also meet the animals and walk the boardwalk into Black Flats Marsh at this farm established in 1639. (108 Bray Farm Road, Yarmouth Port)
158. Walk around the Edward Gorey House
Peek into the home and check out the personal items of the quirky American author, illustrator, playwright, and costume designer. (8 Strawberry Lane, Yarmouth Port)
159. Bike from Dennis to Wellfleet along the Cape Cod Rail Trail
The 22-mile path hits the towns of Harwich, Brewster, Orleans, and Eastham along the way. (Trail map available here)
160. Take an afternoon jaunt along the Old King's Highway
Stop at many points of historical interest, brake for the gorgeous views, and make a beeline toward any farm stand propped up in someone's front yard. (Map available here)
Martha's Vineyard
161. View the captivating, multicolored cliffs from the iconic Gay Head Lighthouse
The brick 1854 lighthouse, one of the first in the United States to receive a Fresnel lens, is the only lighthouse with a history of Native American lighthouse keepers. (65 State Road, Aquinnah)
162. Appreciate the island's unspoiled charm at Lobsterville Beach
A favorite fishing destination in Aquinnah, the two-mile long stretch is quieter than many of the island's beaches and includes a seagull nesting habitat. (21 Lobsterville Road, Aquinnah)
163. Order the freshest seafood on the island at Menemsha Fish Market
Located near the pier in Menemsha, a working fishing village, the market also stocks a slew of creative sandwiches. (54 Basin Road, Chilmark)
164. Take pause in the serene natural setting of Cape Poge Wildlife Refuge
Its more than 500 acres are managed by the Trustees of Reservations. You'll see salt marshes, a grove of eastern red cedars, and scores of sea birds. (Dike Road, Edgartown)
165. Indulge in extraordinary New American cuisine in a converted antique sea captain's residence at Atria
The main restaurant is on the upper level, while on the lower level, a brick cellar bar offers a more relaxed atmosphere and an extensive bar menu. (137 Main St., Edgartown)
166. Take a tour of a working farm at the Trustees of Reservation's FARM Institute at Katama Farm
In addition to checking out the more-than-150 acres of farmland of cows, sheep, and turkeys, you can walk along the wooded trails on the grounds. (14 Aero Ave., Edgartown)
167. Have a carefree brunch at Among the Flowers Café
For more than two decades, this lovely cafe has served up waffles and omelets, lobster rolls, and grilled cheese. The coffee and espresso are also top-notch. (17 Mayhew Lane, Edgartown)
168. Try to grab the brass ring on the Flying Horses carousel
This platform carousel is the oldest in the United States, and it's a designated National Landmark. The horses have real horsehair tails and manes, but the best part has to be the chance to grab the brass ring for a free ride. (15 Oak Bluffs Ave., Oak Bluffs) 
169. Get your hands dirty as you devour the signature chicken wings at Coop de Ville
Located on the harbor, this open-air restaurant also serves fried clams and steamers. (12 Circuit Ave. Ext., Oak Bluffs)
170. Find nautically inspired clothes and accessories at Slip 77
While this boutique opened in 2012, it was named for 1977: the year Martha's Vineyard and Nantucket considered becoming their own state after losing their seats in the State House. (19 Circuit Ave., Oak Bluffs)
171. Get up close with alpacas at Island Alpaca
Take a tour of the farm, and attend a seminar or lecture about the furry, fleece-producing animals. (1 Head of the Pond Road, Oak Bluffs)
172. Stroll among the vibrantly painted Carpenter Gothic-style cottages of Wesleyan Grove
The National Historic Landmark District began as a Methodist summer campground in the 1800s. Today, the ornate "gingerbread" cottages are privately owned, meticulously maintained, and definitely Instagrammable. (80 Trinity Park, Oak Bluffs)
173. Choose your scoops at Mad Martha's Ice Cream
An island fixture since the 1970s, Mad Martha doles out creative flavors, such as sinful chocolate, mint Oreo, and lobster. Yes, lobster. (12 Circuit Ave., Oak Bluffs)
174. Enjoy a great meal and a great beer at Offshore Ale Company
Several craft beers are always on tap, and the menu includes excellent wood-fired pizzas and burgers. (30 Kennebec Ave., Oak Bluffs)
175. Sip frozen drinks and snack on seafood at Nancy's
The Obamas are big fans of this island institution. (29 Lake Ave., Oak Bluffs)
176. Get inspired by striking weathervanes at Tuck & Holand Metal Sculptors
Founder Travis Tuck fabricated his first weathervane design for the set of the movie Jaws in 1974. Since then, the company has crafted them for Steven Spielberg, the Clintons, and James Taylor. (275 State Road, Vineyard Haven)
177. Head to the independent Bunch of Grapes Bookstore to meet readers and writers
It's known for its broad selection and author events. (23 Main St., Vineyard Haven)
178. Savor a meal at the legendary Black Dog Tavern overlooking Vineyard Haven Harbor
The menu at this tavern, open since 1969, features American classics with a twist. Think: roast beef on Ciabatta with homemade Boursin cheese and onions. On the way out, stop into the attached store for a T-shirt with the iconic Black Dog logo. (20 Beach St., Ext. Vineyard Haven)
179. Check out Polly Hill Arboretum, a horticulturist's dream
Listed on the National Register of Historic Places, the arboretum — comprised of 20 cultivated acres and 40 acres of woodland — was developed by horticulturalist Polly Hill in the 1950s. (809 State Road, West Tisbury)
180. Step back in time at Alley's General Store
The oldest operating business on the island, Alley's offers a wide array of items including beach essentials, food staples, tools, and gifts. (1045 State Road, West Tisbury)
Nantucket
181. Eat at Millie's
Get a table, and you'll munch on tacos and po' boys while rubbing elbows with the locals. Order from the window, and you'll have sandwiches and salads on Madaket Beach as the sun sets. (326 Madaket Road, Nantucket)
182. Rent two wheels and explore this corner of the world
Young's Bicycle Shop dates back to the 1930s, but the appeal remains: Throw a towel and some snacks into the basket, and go get lost for a while. (6 Broad St., Nantucket)
183. Join the food-loving community at the Nantucket Culinary Center
Joy and Greg Margolis are building a think-tank, demonstration kitchen, and restaurant hybrid right in the middle of town. Choose from a daily lineup of classes and special events. (22 Federal St., Nantucket)
184. Request a song from the pianist at The Club Car
The fun atmosphere, stiff drinks, and sophisticated interior make this spot one of the liveliest in town most nights of the week. (1 Main St., Nantucket)
185. Learn about the island's whaling history
The Whaling Museum features exhibits, artifacts, and a 46-foot sperm whale skeleton. Upstairs, there's an observation deck with a killer view of the harbor. (13 Broad St., Nantucket)
186. Get a board, wetsuit, and lessons from the Nantucket Island Surf School
Expert instructors will help you catch a few of the island's best waves off Cisco Beach in no time. (1 Dirt Road, Nantucket) 
187. Throw together a picnic from Bartlett's Farm
Head to the farm stand — which, conveniently, is right next to Cisco Brewery — or score from the trucks in town and 'Sconset. (33 Bartlett Farm Road, Nantucket)
188. Chill at the Sandbar on Jetties Beach
The laid-back vibe at this hangout includes frozen cocktails, cans of beer, and buck-a-shucks during the afternoon. (4 Bathing Beach Road, Nantucket)
189. Visit the place Captain George Pollard called home
It's now an art gallery, but the astounding story of the Essex captain who once lived there helped to inspire Herman Melville's classic Moby-Dick. (46 Centre St., Nantucket)
190. Sail Nantucket's waters aboard The Endeavor
Captain James Genthner, who built his sailboat by hand, charters daily trips covering the island's maritime history as well as views of local landmarks. (Slip #1015, Straight Wharf, Nantucket)
191. Treat your good dog to something special from Cold Noses
Right after you make landfall, take your pup to this little shop for treats and toys. You can usually snag a free tennis ball outside the barbecue joint next door, too. (16 Straight Wharf, Nantucket)
192. Kick back at Galley Beach
Choose a table — preferably a lounge-y one atop some sand — and meander your way through a stacked menu of classic fare, regional delicacies, and beautiful wines. (54 Jefferson Ave., Nantucket)
193. See the stars from Loines Observatory
On cloudless nights, stargazers can enjoy prime viewing of planets, comets, and more with help from a couple of telescopes. (59 Milk St., Nantucket)
194. Find some quiet time at the Nantucket Atheneum
Whether you're after books, music, or art, the atheneum offers a serene escape when the fog rolls in. (1 India St., Nantucket)
195. Pick up a keepsake from Nantucket Looms
The stunning textiles are handwoven with cotton, mohair, wool, and alpaca, and the cozy showroom features an eclectic mix of home goods and jewelry. (51 Main St., Nantucket)
196. Indulge with something sweet from the Nantucket Candy Company
You'll find homemade chocolate turtles and jars of gooey sea-salt caramel nestled among old-school classics like hard-tack candy. Out front, an ice cream scooper piles cones sky-high. (48 Centre St., Nantucket)
197. Adventure out to the Coskata-Coatue Wildlife Refuge
This rugged peninsula is most easily accessible by boat or oversand vehicle, and many guided tours leave right from town. (107 Wauwinet Road, Nantucket)
198. Go for a scenic stroll along the 'Sconset Bluff Walk
You'll have to peer in between a few houses to find the start, but once you do, it's nothing but sweeping vistas and ocean views along this quiet footpath. (Pick up between Front and Bank streets, Siasconset)
199. Make your way over to Sankaty Head Light
The iconic lighthouse, which dates back to 1850, is postcard-like every time you come upon it. Visitors over Columbus Day weekend have a special chance to climb the 60 spiral stairs to the top. (Baxter Road, Siasconset)
200. Appreciate the scenery of the Middle Moors
The Moors are the largest expanse of undeveloped land on Nantucket, and include destinations like Altar Rock, the Serengeti Trail, and the Prout Ponds. (Find location info at nantucketconservation.org)
What's your favorite thing to do in New England? Tell us on Facebook.
Jaci

 

Conry

, a Cape Cod native and frequent
Boston Globe
contributor, writes about design, travel, and lifestyle for a variety of publications. View her work at www.jaciconry.com.
Nik DeCosta-Klipa and Kevin Slane also contributed to this article.