Travel
60 things to do on the Cape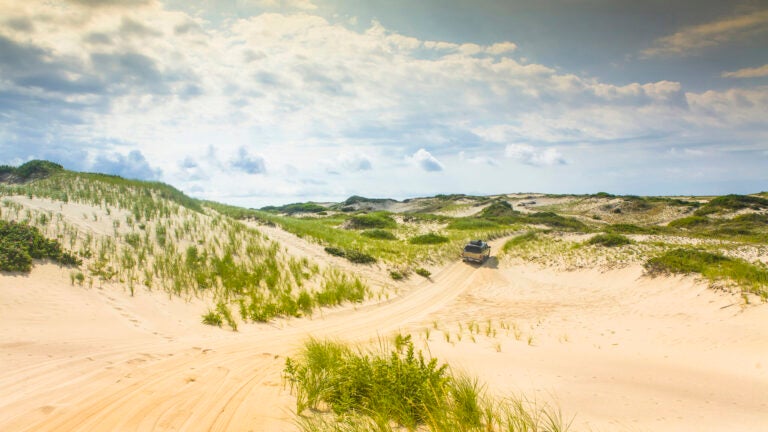 Want to hoard that summer feeling? Take a trip to quaint, beautiful Cape Cod.
(Oh, and for 1,000 things to do throughout New England — including 200 throughout Massachusetts and 300 in Boston — head right this way.)
1. Watch for whales on a Hyannis Whale Watcher Cruise
A 130-foot boat comes equipped with food, beverages, and plenty of seating so you can get comfy while looking out for humpback, finback, and minke whales in their natural habitat (269 Millway, Barnstable)
2. Eat lobster bisque at The Brewster Fish House
Travel+ Leisure says this eatery is famous for its "sweet lobster bisque." The restaurant doesn't accept reservations, so it's a good idea to get there early. (2208 Main St., Brewster)
3. Camp among the kettle ponds at Nickerson State Park
The 1,900-acre park features 400 campsites sprinkled around eight freshwater ponds. (3488 Main St., Brewster)
4. Get up close with a honey bee hive and archaeological artifacts at the The Cape Cod Museum of Natural History
Also on the premises: 400-plus acres of conservation land, which allow for an awe-inspiring hike. (869 Main St. (Route A), Brewster) 
5. Enjoy cocktails and an astonishing view of the sunset on the Chart Room's lawn
Heading to this storied go-to on Redbrook Harbor is a summer tradition for many. The lawn is lined with old Adirondack chairs, and the restaurant inside is always bustling. (1 Shipyard Lane, Cataumet)
6. Satisfy your sweet tooth at Four Seas Ice Cream
Four Seas has been in operation since the 1930s, making it one of the oldest ice cream shops in New England. Try the peanut butter chip chocolate. (360 South Main St., Centerville)
7. Catch a movie at the quaint Chatham Orpheum Theater
Sip a glass of vino and search for pop-culture icons in the lobby's hand-painted mural while you wait for the opening credits to roll. (637 Main St., Chatham)
8. Embrace the unofficial drink from the Cape's 'cocktail master' at the Chatham Bars Inn
Where better to sip a Cape Codder than in the region after which it was named? At the historic Chatham Bars Inn, the Cape's consensus best bartender Ian Kelley serves the cranberry-vodka drink with an ocean view. (297 Shore Road, Chatham) 
9. Scout future MLB stars at a Cape Cod Baseball League game
Featured in Summer Catch, the Chatham A's count Matt Harvey, Mike Lowell, and Jeff Bagwell as alumni. (702 Main St., Chatham)
10. Immerse yourself in nature at Monomoy National Wildlife Refuge
Birders will delight in this 7,600-acre refuge, which provides a resting, nesting, and feeding habitat for migratory birds. (30 Wikis Way, Chatham)
11. Peruse centuries' worth of diverse maps at Maps of Antiquity
Nestled in a historic building, this place stocks more than 4,000 maps dating back to the early 1600s, along with a slew of high-quality reproductions. (1409 Main St., Chatham)
12. Tour the centuries-old Godfrey Windmill
The 1797 windmill is set into motion during celebrations, such as the Festival of the Arts (Aug. 18-20), and offers tours Mondays, Wednesdays, and Fridays from 11 a.m. to 3 p.m. through Sept. 1. (125 Shattuck Place, Chatham)
13. Grab a lobster roll by the water at Sesuit Harbor Cafe
Voted one of the best lobster rolls on the Cape, Sesuit also has a charming view of its namesake harbor. (357 Sesuit Neck Road, Dennis)
14. Attend a live performance by world-class actors at the Cape Playhouse
Dubbed "Birthplace of Stars" (Humphrey Bogart, Bette Davis, Jane Fonda, and Betty White all performed here), the venerable institution has attracted professional summer theater to Cape Cod for more than 90 years. (820 Main St., Route 6A, Dennis)
15. Watch expert potters work the wheel, then purchase their creations, at Scargo Pottery
Started in the 1950s by legendary potter Henry Holl, this off-the-beaten-path workshop on Scargo Lake also has a lovely sculpture garden on the property. (30 Dr. Lords Road South, Dennis)
16. Get artistic at the Cape Cod Museum of Art
Besides artwork, the museum offers workshops and interactive classes, and hosts monthly screenings of classic movies between August and December. (60 Hope Lane, Dennis)
17. Take in the view of Cape Cod Bay from the 30-foot Scargo Tower
Located atop one of the tallest hills on Cape Cod, the cobblestone Scargo Tower was originally constructed of wood in 1874, then rebuilt after a fire in 1901. (152 Scargo Hill Road, Dennis) 
18. Dine with a view at the Ocean House Restaurant
The outdoor Beach Bar features a raw bar and live music. (425 Old Wharf Road, Dennis Port)
19. Discover the lighthouse on Cape Cod Potato Chips bags
Nauset Light dates back to 1877 and offers free tours. (120 Nauset Light Beach Road, Eastham)
20. Bring your appetite to Arnold's Lobster & Clam Bar
In addition to all the seafood — fried and otherwise — Arnold's has a mini-golf course and Richardson's ice cream. (3580 Route 6, Eastham)
21. Revel in spring and summer flora with a stroll through the grounds of Spohr Gardens
Perched on the edge of Oyster Pond, this six-acre woodland garden bursts with daffodils, azaleas, rhododendrons, and daylilies. (45 Fells Road, Falmouth) 
22. Dig into the legendary fried clams at The Clam Shack
The outdoor tables at this well-known shack are perfect for watching the boat traffic of Falmouth Harbor. (227 Clinton Ave., Falmouth)
23. Stroll the fragrant fields of the Cape Cod Lavender Farm
It's one of the largest on the East Coast: Farmers harvest more than 14,000 plants across 12 secluded acres. (Weston Woods Road, Harwich)
24. Have some fun at Grand Slam Family Entertainment
Squirt your friends from the bumper boats, soar through the air on a zip line, hit the batting cages, look for buried treasure, and spend time in the arcade at this family fun zone. (322 Main St., Harwich Port)
25. Learn all about those famous Cape Cod Chips
See how they're made on one of the famous company's tours, which take place Mondays through Fridays between 9 a.m. and 5 p.m.(100 Breeds Hill Road, Hyannis)
26. Find your favorite brew at Cape Cod Beer
The Cape's original craft brewery has a diverse selection on offer at its Hyannis beer garden. (1336 Phinneys Lane, Hyannis)
27. Order a sweet treat from Caffé Gelato Bertini
The owners of this sweet shop make their Italian ice cream from scratch and follow an old Florentine recipe. The Boston Globe recommends the almond-fig. (20 Pearl St., Hyannis)
28. Walk in the footsteps of the area's famous summer residents on the Kennedy Legacy Trail
This 1.6-mile self-guided trail, located in the heart of the HyArts Cultural District, consists of 10 sites that celebrate the Kennedy family's role in shaping the history of Hyannis. (397 Main St., Hyannis)
29. Dig into a lobster roll big enough for two at The Raw Bar
The Hyannis location is right at the ferry terminal, so you can eat while anticipating your trip to — or lamenting your return from — the islands. (230 Ocean St., Hyannis; and 259 Shore Drive, Mashpee)
30. Boost your wireless tech IQ at the Chatham Marconi Maritime Center
Learn about the evolution of wireless technology and the many antennas used since the station was constructed 103 years ago. (831 Orleans Road, North Chatham)
31. Have a vineyard adventure at Truro Vineyards
All in a day: Attend a wine tasting, take a tour of the vines and barrel room, sample rum from Hollow Spirits Distillery, and grab a meal from the food truck on the lawn. (11 Shore Road, Route 6A, North Truro)
32. Experience history with a trip to the Coast Guard Lifeboat CG-36500
In 1952, four Coast Guardsmen (lauded in the Disney film The Finest Hours) used this 26-foot wooden lifeboat during a massive snowstorm to rescue crewmen on the tanker Pendleton. (3 River Road, Orleans)
33. Fly a kite at Nauset Beach
When you hit the beach looking for strong winds, head south: Piping plover nests to the north are blocked to beachgoers. (250 Beach Road, Orleans)
34. View the masterworks housed at the Addison Art Gallery
This gallery, a classic Cape house overlooking Town Cove, could easily be the subject of a painting itself. (43 South Orleans Road, Orleans)
35. Shop for local items at the Orleans Farmers' Market
Buy produce, flowers, herbs, soap, pottery, and poultry at this market, open Saturdays from 8 a.m. to noon well into November. (21 Old Colony Way, Orleans)
36. Gear up for a ride over the Lower Cape's rolling sand dunes on one of Art's Dune Tours
On these off-road tours, you'll gain a different perspective of the Cape Cod National Seashore, dotted with famous "dune shacks" in which famous artists and writers create their art. (4 Standish St., Provincetown)
37. Crack open a lobster at the Lobster Pot Restaurant
If you don't feel like working for your meal, this restaurant's menu also lists lobster ravioli alfredo, lobster tacos, and lobster pot pie among the dishes with the crustacean in a starring role. (321 Commercial St., Provincetown)
38. Lounge near the tip of the Cape on Race Point Beach
It's one of six swimming beaches within the Cape Cod National Seashore. (Race Point Road, Provincetown)
39. Serve up aces like Roland Garros on the clay courts of Herring Cove Tennis Club
Just because you didn't qualify for the French Open doesn't mean you can't lace 'em up on the red clay. This Provincetown tennis club offers five such courts that are open to the public. (21 Bradford St. Ext., Provincetown)
40. Sip a cocktail at Aqua Bar
Relax with a drink on the large waterfront deck directly overlooking the beach and harbor at this scenic bar, which was awarded a certificate of excellence from TripAdvisor. (207 Commercial St., Provincetown)
41. View the entire Cape from atop the Pilgrim Monument
You can even see Boston on a clear day from the 252-foot building, built to commemorate the Pilgrims' signing of the Mayflower Compact in 1620 in Provincetown Harbor. (1 High Pole Hill Road, Provincetown)
42. Attend a Tea Dance at the Boatslip Beach Club
The outdoor dance runs through October and features resident DJ Maryalice spinning current hits, disco, and classics from the '80s. (161 Commercial St., Provincetown)
43. Watch the artisans work at Pairpoint, America's oldest glass company
Master glass blowers have been creating glassware here since 1837. The company's designs are featured in Boston's Museum of Fine Arts and New York's Metropolitan Museum of Art. (851 Sandwich Road, Sagamore)
44. Drink in adventure and culture at the Heritage Museum & Gardens
Five trails offer zip lining and climbing among the trees. After you've challenged yourself, stroll among the property's 70 acres of gardens, three art galleries, and stunning antique car collection. (67 Grove St., Sandwich)
45. Stock up on specialty foods and wine at The Brown Jug
Plus, the on-site café serves wood-fired pizza, sandwiches, and cheese plates. (155 Main St., Sandwich)

46. Stroll along the Sandwich Boardwalk
This 1,350-foot boardwalk (that's three and three-quarters football fields) meanders over sand dunes and marshland from the entrance of Sandwich Harbor toward Town Beach. (Town Neck Road, Sandwich)
47. Watch how cornmeal is made at the 17th-century Thomas Dexter's Grist Mill
You'll see how a windmill-powered wooden water wheel grinds organic corn into fresh cornmeal. You can sample some, too. (2 Water St., Sandwich)
48. Sink a hole-in-one at Pirate's Cove
This pirate-themed mini-golf stop — and Cape Cod landmark — features two 18-hole courses. (728 Main St., South Yarmouth)
49. Catch a movie at the Wellfleet Drive-In Theatre
The Wellfleet Drive-in Theatre, built in 1957, stays open through mid-September. (51 State Highway, Route 6, Wellfleet)
50. Order a seafood plate at Kream 'n Kone
You'll find lobster rolls and fried seafood plates at one of the longest-running seafood joints on the Cape, according to Travel + Leisure. It debuted as a roadside stand in 1953. (961 Main St., West Dennis)
51. See a show at Cape Cod Theatre Company's Harwich Jr. Theatre
Take the family to productions like Charlotte's Weband Peter Pan and Wendyat this lively theater that's been entertaining folks for 65 years. (105 Division St., West Harwich)
52. Learn about a sunken 16th-century pirate ship at the Whydah Pirate Museum
The museum showcases artifacts rescued from the Whydah pirate ship, including cannons, pistols, buttons, buckles, along with the ultimate pirate treasure: pieces of gold. (674 MA-28, West Yarmouth)
53. Tire out the kids at the Cape Cod Inflatable Park
It bills itself as the largest wet and dry inflatable park in the world. There's also an arcade and challenge zone with a tightrope and trapeze for older kids. (518 Main St. Route 28, West Yarmouth)
54. Indulge in decadent, freshly baked goods and coffee brewed on-site at Pie in the Sky bakery
It opens at the crack of dawn, and closes long after sunset. If that's not convenient enough, it's just around the corner from the Steamship ferry service to the Vineyard. (10 Water St., Woods Hole)
55. Learn about sea creatures at the Woods Hole Aquarium
The oldest aquarium in the United States, this little institution is home to about 140 species of marine animals found in the waters of the Northeastern and Mid-Atlantic states. (166 Water St., Woods Hole)
56. Venture into Design Works for one-of-a-kind home accessories
The selection includes original artwork, rare vintage finds, refined linens, and much more. (159 Main St., Yarmouth Port)
57. Picnic at the historic Taylor-Bray Farm
You can also meet the animals and walk the boardwalk into Black Flats Marsh at this farm established in 1639. (108 Bray Farm Road, Yarmouth Port)
58. Walk around the Edward Gorey House
Peek into the home and check out the personal items of the quirky American author, illustrator, playwright, and costume designer. (8 Strawberry Lane, Yarmouth Port)
59. Bike from Dennis to Wellfleet along the Cape Cod Rail Trail
The 22-mile path hits the towns of Harwich, Brewster, Orleans, and Eastham along the way. (Trail map available here)
60. Take an afternoon jaunt along the Old King's Highway
Stop at many points of historical interest, brake for the gorgeous views, and make a beeline toward any farm stand propped up in someone's front yard. (Map available here)
Nik DeCosta-Klipa and Kevin Slane also contributed to this article.