Travel
A night in a lighthouse keeper's house is the ultimate getaway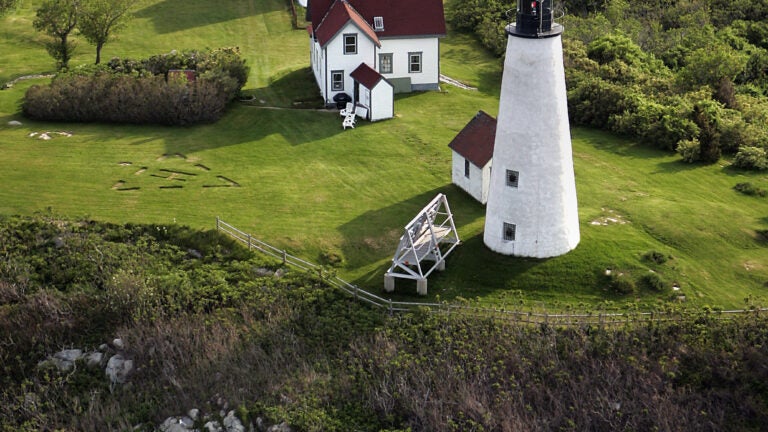 Every summer, I dream of my ultimate beach house.
Nothing elaborate. Just a simple cottage, smack dab on the ocean and somewhat secluded — yet close enough to make neighbors jealous.
Then I found one, and it's almost in my backyard: the assistant keeper's house on Bakers Island Light Station. Located in Salem Sound, it's long been closed to the public until now.
"It's rustic,'' warned Annie Harris, Essex Heritage president. "We stress that it's like camping, but you do get a bed and roof over your head, so it's a little bit better.''
"But don't expect a bed and breakfast,'' she added.
A 60-acre private island, Bakers Island has a summer colony dating back to the 1700s. Residents in the roughly 55 summer cottages also maintain private ownership of the Bakers Island Wharf.
Since 1798, the 10-acre light station on the island's northwest corner has been owned and operated by the federal government.
In August 2014, the deed to the historic light station, including the lighthouse built in 1820, two keepers' houses, and oil and lantern buildings, was transferred from the US government to the Essex National Heritage Commission (www.essex­heritage.org). The public can access the light station, but only through escorted, guided boat tours by Essex Heritage.
Last year, the nonprofit started offering one-night stays in the three-bedroom assistant keeper's house for up to four people (ages 4 and older; no dogs) on Fridays and Saturdays, from July to September. Two volunteer keepers stay nearby in the keeper's house. The $295 flat rate includes a roundtrip boat ride from the Blaney Street Dock in Salem.
Among the first guests were Stephen Barbarisi, a resident of Ipswich, and his wife, Kathleen. She learned of the opportunity through her job as the activities director for Brightview Senior Living in North Andover.
"I love the ocean and love lighthouses,'' said Stephen. Though they live nearby, "I thought, if we could stay over, why not?'' They invited another couple to join them.
Nahant residents Robin Woodman and Joan Brennan ventured out last August. Woodman planned it as a surprise birthday present for her wife, Joan, complete with a picnic dinner of lobster rolls and champagne.
"We were both born and raised in Salem, so we knew about Bakers Island,'' said Brennan. The historical aspect of the island appealed to Woodman, a cofounder of the Salem Historical Society. (Fun fact: During the War of 1812, Bakers Island's keeper, Joseph Perkins, saved the USS Constitution. Spotting a pair of British ships pursuing Old Ironsides, Perkins rowed out, boarded, and guided the warship to the safety of Marblehead Harbor.)
Brennan admits it was a lot of work packing all the bedding and food, then lugging it up a hill from the boat ramp to the house. Guests must bring their bedding, food — even their own drinking water. The house is off-the-grid, solar-powered with limited lighting. Water comes from a well.
Yet Brennan said staying overnight on the island was "incredible.''
"It was a clear sky. You could see the stars and planets,'' said Brennan. "The volunteer keepers made us chocolate chip cookies. We sat on the bench by the lighthouse and had a glass of wine with them. It was a once-in-a-lifetime thing.''
Imagining what life must have been like for the keepers and their families is what attracted Raj and Ann Das of Melrose. After discovering the unique stayovers during an online search about lighthouses, they joined Essex Heritage and invited longtime friends along for a July visit. (Membership, required for the stayovers, ranges from the $65 for the family "Voyager'' membership and up.)
"We like to visit lighthouses, but there are very few where you can stay,'' Raj explained. "You get insight into what life must've been like for the keepers. To me, it's one of the draws. Back then, there was no running water or electricity. How did they live here?''
The sparse setting in the assistant keeper's house hints of a simpler time. Furniture is basic and functional — beds, LED lamps, chairs. Well water means showers are limited and cold. The kitchen is outfitted with a propane stove, dorm-size fridge, and French-press coffee maker.
One surprise? The house has Wi-Fi, for communication with the volunteer keepers and security cameras on-site, Harris explains, though most guests prefer to unplug.
After a dinner of cold chicken and salads, the Das family and their friends, Kathy Baskin and Lenny Albano of Belmont, watched the sunset on one side of the lighthouse, while sitting on the wooden boat landing on the rocky beach.
"It was so relaxing,'' Ann said. They rose early to catch the 5:30 sunrise.
Mother Nature factors into the stays, yet inclement weather, Harris says, can add to the experience.
"You can see the shadows of clouds and rain,'' she said. "Rainstorms can be exciting. What's so different on an island is the sounds. You don't hear cars. You hear songbirds. And the stars are really sharp.''
Volunteer keepers Dave Tompkins and Janet Kosinski said island living this summer has been "quite the adventure.''
Around Memorial Day, before guests arrived, they experienced two Nor'easters, plus a freak wind storm that "took our rowboat and threw it up on the rocks.''
Already, Essex Heritage reports they are accepting first and second preferences for 2018.
"Everybody should do this,'' Barbarisi said. "People should come out and see what's in their backyards.''