Travel
This family-owned Maine landmark now offers live entertainment and lobster rolls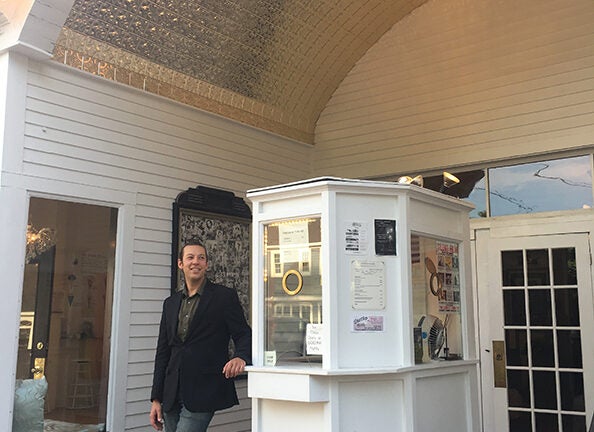 OGUNQUIT, Maine — The Leavitt Theatre is a well-known landmark in Ogunquit. It's one of the oldest movie theaters in southern Maine, the only surviving cinema in this seaside resort town, and now under new management.
Well, sort of new. Max Clayton is the latest owner-operator of this iconic movie house, and he's worked there since he was a kid. He started when he was 4 years old, sitting with his father in the box office booth selling paper tickets to movie-goers. As time went on, he tried just about every job in the theater, from cleaning up to taking customers' tickets to selling candy and popcorn at the concession stand. He even learned how to operate the projectors.
Clayton, 31, officially took over the business from his father this year, and he's already making his mark on the movie house. He recently transformed the back of the theater into a bar and restaurant. It's a brand-new concept for this historic venue — now you can watch a movie while nibbling on brown sugar bourbon roasted chicken and sipping a craft cocktail made with house-infused vodka or coconut rum. Seating options abound: There are comfy couches, hi-top tables, as well as original wooden seats that date back to the 1920s.
The theater now stays open until 1 a.m. with music playing while drinks and late night food are served to patrons at the bar, which is known as the Leavitt Lounge.
Running an old-time, single-screen, independent movie theater is not without its challenges. Clayton acknowledges that, but he's optimistic about the Leavitt's future. He and his partner, Emily Knight, 24, have plenty of ideas, and they're not afraid to implement them.
In addition to first-run films, the Leavitt offers regular screenings of "Jaws,'' surf films, and cult classics. Clayton has also made a push toward hosting more live events. The theater hosts an annual music festival (aptly titled Leavittfest) and other interesting programs, including silent movies accompanied by live music, jazz performances, DJs, comedians, local bands, and the occasional big-time headliner like David Sedaris.
Clayton and Knight are determined to keep the Leavitt alive for years to come.
"I love this place,'' Clayton said. "I grew up here.''
The Leavitt occupies a special place in the hearts of many residents and visitors. It's provided relief to countless vacationers looking for something to do on a rainy evening.
"It's not just a movie theater, that's for sure. . . . it's a beloved, historic icon in the center of Ogunquit that has been able to adapt with the times,'' said Sarah J. Potter, president of the Ogunquit Chamber of Commerce. "We love having it in town.''
According to its website, it was built by Frank and Annie Leavitt in 1923 and opened its doors the following year with a screening of the controversial silent film "Dante's Inferno.''
The Leavitts continued to operate the theater through the Great Depression and World War II. Since then, the movie house has changed hands only twice. After the Leavitts, the theater was run by Dan Levenson, and then it was purchased by Peter Clayton (Max's father) in 1976. It's been in his family ever since.
When the movie industry began to transition toward digital projection, the Leavitt was in a tough spot. When movies no longer arrived as a spool of film, but instead as a hard drive, the Leavitt's projectors became obsolete. But residents and visitors who loved the Leavitt stepped up to help. In the fall of 2013, the Claytons turned to the crowd-funding website Kickstarter to raise money to replace the projectors. Within a matter of weeks, hundreds of supporters (516 backers in all) pledged $70,800 to upgrade the Leavitt's equipment to state-of-the-art digital picture and sound.
Being old does have its advantages: Because it was built during the silent film era, the Leavitt was designed to accommodate a live orchestra that would play music during silent films. So the space is blessed with "perfect acoustics,'' said Clayton.
In addition to renovating the balcony section and introducing the Leavitt Lounge, Clayton has installed stage lights and built infrastructure to support live performances more easily.
"I've tried to push in the direction of more live stuff,'' said Clayton.
By hosting an array of programming, and offering food and drinks in the Leavitt Lounge, "I believe it can be a viable business again,'' he said.
Clayton and Knight have assembled a solid team, with Taylor Bair as the projectionist, Mark Brown in the kitchen, and Abe Henderson-Brown as Leavitt Lounge's beverage director. Together they've developed a lounge menu that includes shrimp cocktail, pulled pork sandwiches, lobster rolls, spinach salad, and chocolate dipped strawberries. The bar serves beer, wine, and specialty cocktails with fun names like "A Bigger Boat'' (made with house infused fig vodka, muddled lemon, fresh basil, agave, and soda) and "The Mancherry-ian Candidiate'' (a concoction consisting of whiskey, cherry oolong syrup, and bitters).
Thus far, the Leavitt Lounge has proved to be a hit with patrons.
"We've been getting great feedback, everyone seems very positive,'' said Knight. "People keep coming back.''
The Leavitt Theatre is located at 259 Main St. and is open from May through October. For a schedule of events, visit www.leavittheatre.com.
Free parking is available across the street after 5 p.m.; the box office opens at 6 and movies start at 7. Dinner and drinks are served in the balcony starting at 6:30 and during and after the show. Admission to the Leavitt Lounge entrance is free after 9.