Travel
Quebec City isn't just a smaller Montreal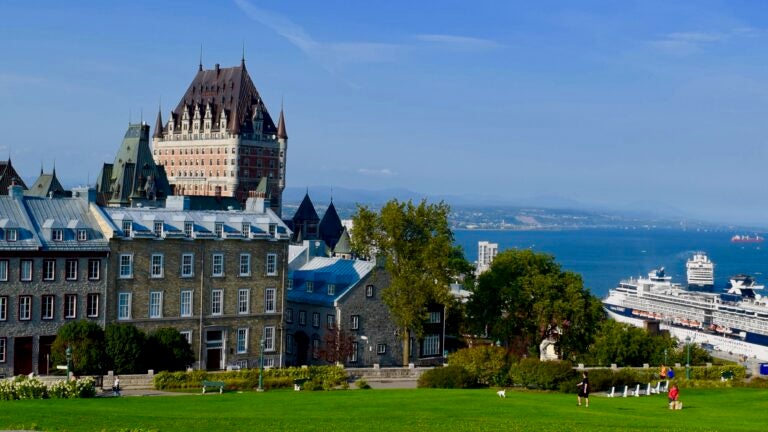 QUEBEC CITY — The champagne flutes filled with glowing liquid were everywhere. It looked as if hundreds of revelers were walking the streets of Old Quebec sipping nuclear-tainted, multi-colored unicorn tears.
Naturally I wanted in on the action.
It wasn't, as I first suspected, a nuclear unicorn tears tasting night, but an annual outing called Nuit des Galleries (Night of the Galleries). The multitudes were tippling in the streets and browsing art in nearly 40 galleries. Those galleries were also serving wine in LED champagne flutes, hence the glow.
What I picked up quickly during the Night of the Galleries — and the rest of my stay here — is that Quebec City is a delicious ecosystem of old and new. Inside the walls of Old Quebec, some of the European-influenced architecture dates back 400 years. These old streets have a decidedly French accent. You almost expect to see Belle from "Beauty and the Beast'' swinging a basket and trilling along with the sparrows along the sidewalk.
The rest of Canada may be celebrating its 150th birthday this year, but Quebec has the rest of the country beat. It was founded in 1608.
Outside the walls of Old Quebec were less polished neighborhoods, some still dusting themselves off after decades of decay. They're now filling with interesting restaurants and a few boutiques. That's code for gentrification and hipsters. These are the neighborhoods where you'll find the highest per capita number of man buns and tattoos in Quebec City.
The cruise ship passengers, adorned in unironic fanny packs and sensible walking shoes, filled Old Quebec by the thousands but didn't seem to travel past Old Quebec and into man bun country. It's a shame because I spent many afternoons both inside and outside the old walls, which where built to protect French settlers from the English.
I'd head outside Old Quebec, and after a brisk 20 minute walk I'd be in areas such as the Saint-Roch District and Saint-Jean, which are filled with secondhand stores, boutiques, cafes, and chic bistronomy eateries that spill over onto the sidewalks.
I could tell I had found an authentically cool Quebec lunch experience one afternoon at Le Cercle on Saint-Joseph Street. because the menu was French-only and written on a small chalk board. I went back to Le Cercle that night to listen to DJs and sip a Le Letha (vodka, thyme pepper syrup, and sparkling cider).
Before I continue with tales of where to go and what to do, I have a confession to make. This was my first trip to Quebec City. I've traveled to Montreal so many times that I didn't see the need to go any further north. In Quebec City, they speak French and eat poutine just like in Montreal. It was a petite Montreal, no?
"No,'' I was told by an artist named Mike Gagnon, who I met at Night of the Galleries. I wasn't fully convinced he was an authority on the subject because he told me he had consumed seven glasses of those omnipresent glowing unicorn tears that everyone else called wine. "Quebec City is more pure. You don't hear as much English here as you do in Montreal. I think we've maintained our heritage.''
I later posed the question to Dagmar Lombard, general manager of the hotel Auberge Saint-Antoine. She confirmed that Quebec City is far different from the province's largest city. The pace is slower, Quebec City is far more compact, and for years there has been a fierce rivalry between the two cities. Some attribute the rivalry to the days when Quebec City had its own professional hockey team. The whole thing reminded me of a New York-Boston rivalry, but in French and with better croissants.
One of the first things I did to acclimate myself shortly after arrival was hop on the Quebec City-Lévis Ferry at sunset. This is the best way to view Cap-Diamant, the iconic Château Frontenac, and Dufferin Terrace. It's also under $10. Château Frontenac, which is featured on about 90 pecent of Quebec City postcards, may look like a 17th century French palace looming over the center of Old Quebec, but it's a grand hotel (still in operation) built in 1893.
For first-timers, such as myself, there were a few essentials that needed to be checked off the list. Start with Palace Royale and Petite Champlian in Old Quebec. Here you'll find Notre-Dame-des-Victoires, the oldest stone church in North America. Not far away is the Museum of Civilization.
When you've finished in this area, which is called Lower Town (Basse-Ville), take the funicular to the aptly named Upper Town (Haute-Ville). If you're feeling athletic, you can skip the funicular and climb the Breakneck Stairs, a painfully accurate name for the mega-steep staircase. The higher you walk in Upper Town, the better the views. The Citadelle de Quebec is one of your best vantage points.
You can duck down streets lined with 19th century granite homes. The window boxes are so bursting with color that you'll think that geraniums are weeds in this city. They're everywhere.
Because it was my first visit, allow me to speak in generalities and stereotypes for a moment. Old Quebec is one of the most European cities in North America. It's far more French than Montreal in architecture and language. The culinary scene hasn't caught up to Montreal, but there are can't-miss meals at the farm-to-table Légende par la Tanière, the beer-loving La Korrigane, and the casually gourmet L'affaire est Ketchup. Don't let the fact that obnoxious travel bro Anthony Bourdain featured L'affaire est Ketchup on his show keep you from trying it.
When you start carefully planning your evening meals, you'll quickly notice that nearly all the buzzy restaurants are located outside the walls of Old Quebec. The majority are in the up-and-coming Saint-Roch District and Saint-Jean. You'll need to grab a cab to those far-flung restarants in the Limoilou, a working-class neighborhood on the other side of the Saint-Charles River.
One of the best pieces of advice I receieved came from Paule Bergeron of Quebec City Tourism. When I asked how to conquer the city, she told me to get lost. Not in the way that most people tell me to get lost. She meant to wander without a map and just explore.
My wandering took me to Marché du Vieux-Port de Québec (the Old Port Farmer's Market), and the nearby cat cafe, Café Félin Ma Langue Aux Chats. I've been to many cat cafes, and I ranked this high on the list.
Aimless wandering took me to two festivals. At the Quebec City Film Festival I watched the documentary "Becoming Bond.''At the Saint-Roch Experience, a culinary and cultural neighborhood festival, I saw Canadian pop star Karim Ouellet. Wandering was most interesting in Saint-Roch and Saint-Jean. This is where you can find restaurants and bars tucked away in unlikely places. On my way to dinner at L'affaire est Ketchup I came across a near-hidden bar/restaurant called Maelstrøm Saint-Roch. It's famous for coffee, but it's also a prime spot for cocktails. I continued walking and saw Le Clocher Penché, where I was drawn to the gazpacho. Finally, I made it to L'affaire est Ketchup.
I spent an afternoon visiting Montmorency Falls, the impressive waterfall that drops 270 feet over a cliff. Like eating poutine or looking in the T-shirt shops in the Old City, it's something that all first-timers should do. It's about eight miles from the city, so this is one of the few places you can't get to by walking.
I was too overwhelmed with dinner options my final night, so I starting asking around to narrow the list. The suggestion I heard repeatedly was iX Pour Bistro in Limoilou. Vincent Ozilleau and chef Benoît Lemieux turned the tiny place into a sensation. I was still undecided until I heard that iX Pour Bistro is famous for a dessert that is rumored to taste like unicorn tears. It was a sign. My trip started with unicorn tears, and it should end the same way.