Travel
Vancouver is Canada's West Coast foodie heaven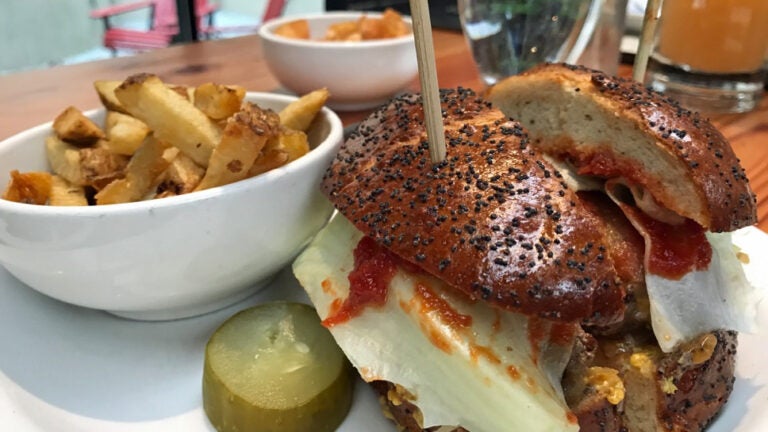 Foodies, listen up. If you're planning to visit Canada for the confederation's 150th birthday this year, put Vancouver on the top of your list. "This is a real restaurant town. It's what we do,'' says Amber Sessions of Tourism Vancouver. Conde Nast Traveler readers named Vancouver one of the world's best food cities last year, smitten with the city's East (Asian expats)-meets-West (Pacific Coast) allure. It's Canada, with a Cali vibe. Plus, "Restaurants are affordable compared to the states,'' Sessions adds, even if you don't factor in the current favorable rate of the US dollar to Canada's. Thus, you can take a big bite out of Vancouver's food scene without taking a huge chunk out of your wallet.
Sure, closer-to-home Montreal is a dandy place to eat, but Vancouver leans toward lighter, seafood-focused fare. "Vancouver cooking is much lighter than Montreal's. It's a healthier lifestyle, which extends to the food,'' says Kasey Wilson, a Vancouver-based writer and co-host of the "Best of Food and Wine'' radio program. If you're longing to sample, say, Japanese-Italian cuisine, Aburi-style sushi, native spot prawns, elk salami with juniper berries, or canned sea lion — anything, really — you've come to the right place. Here's a look at some intriguing edibles you can find in Canada's West Coast food capital.
"Did you know we can get 10,000 bison burgers out of 8½ animals?'' said Margot Baloro of Timber Restaurant (www.timbervancouver.com). Chef Chris Whittaker, who also helms Forage restaurant, believes in zero waste. He also employs three foragers plus a "rock star fermenter-in-residence,'' Baloro says. This makes a visit to one of Whittaker's restaurants a dandy introduction to the local food scene. In addition, they're doing something special for Canada's 150th birthday at Timber: a traditional Canadian long table supper. This experience is designed for groups of friends; you get a custom menu of Canadian comfort food favorites, served family-style, perhaps elk tourtiere (pie), bison salad, deep-fried cheese curds, or the wildly-popular bison burger (one of the best burgers we've ever tasted), and a local craft beer or a Caesar, the Canadian take on the Bloody Mary, made with Clamato juice. For dessert, there's a DIY s'mores station around an outdoor campfire. Wear plaid, play cribbage, watch some hockey, and get in touch with your Inner Canadian here.
Go back even further — say, thousands of years — for a taste of First Nations foods. There are 203 First Nations communities living in British Columbia, connected to their ancestral lands. Sample traditional fare at Salmon n' Bannock Bistro (www.salmonandbannock.net), such as bannock bread with cedar jelly and candy made from wild salmon. This restaurant pairs especially well with First Nations events planned for Canada's 150th: the Gathering of Canoes festival July 14, and The Drum is Calling Festival at Larwill Park, July 22-30. For information, visit www.Tourismvancouver.com/canada150.
Ask a dozen Vancouverites to name their favorite restaurant, and you're likely to get 12 different responses. One name that everyone seems to agree on: Miku (www.mikurestaurant.com). There's a location on the waterfront, and a sister restaurant in Gastown, and both are a hive of happy diners. To try: their selection of Aburi-style sushi, lightly flame-seared to release the oils in the fish, paired with their signature sauces. Dessert is as tasty as it is gorgeous — ours was a confection of green tea genoise, matcha butter cream, dark chocolate ganache, azuki bean cream, hazelnut wafer, and a dab of matcha ice cream.
While Miku is a fine-dining sushi experience, you can find good, cheap Asian fare in hole-in-the-wall spots in Vancouver's Chinatown, nearly everyone told us. The city's food scene is incredibly diverse, says restaurant publicist Sophia Cheng. "We're well past farm-to-table. Everyone should be doing that already,'' Cheng noted. Chefs are fusing the organic, healthful, and local with a cultural mash-up of cuisines. On Canada's West Coast, "there are so many different cultures, and they really meld together on the plate,'' she says. Ramen was everybody's favorite food crush last year. Now, "People are looking for West Coast local style,'' Cheng noted. Japanese-Italian food — think pasta in Asian-style broth — is an emerging food trend here. Sample these culinary soul mates at Kissa Tanto (www.kissatanto.com) in Chinatown. And even Anthony Bourdain is a fan of Japadog, one of the city's original food trucks, where that hotdog might be sprinkled with seaweed and slathered with wasabi mayonnaise. You'll also find lines, nearly any time of day, at Tacofino's Burrito Bar (www.tacofino.com) in Gastown. If you see Tacofino's food truck, don't resist; their Baja-style fish taco with crispy lingcod (similar to sablefish) is one of the best you'll find anywhere.
With such culinary bounty, it's easy to feel overwhelmed in Vancouver. One easy way to cheat: Hop on a food tour. If you can stomach puns like, "Have some leftover tea — don't be chai!'' you'll adore the Granville Island Market Tour (www.foodietours.ca., about $42). It's a great excuse to explore Granville Island, the second most-visited tourism site in all of Canada (Niagara Falls is first), a former industrial zone that has been home to a sprawling public market since 1979. On a tour with these folks, you'll meet food purveyors and enjoy two hours of tastings. Our favorite stop was Oyama Sausage, considered one of the best charcuteries in North America. Shoppers wait in line for half an hour or more to purchase these organic meats. On the tour, guides pass around platters of elk salami with juniper, bison bresaola, black truffle salami, and Okanagan (BC's wine region) red wine prosciutto. The last stop on the tour is Edible Canada, devoted to culinary tourism with a shop and a bistro; count on extremely local ingredients like Pacific giant octopus and sustainable mussels.
As for those BC spot prawns: The season begins in May, and lasts just a few weeks. With a delicate flavor and firm texture, they're typically served whole and lightly poached with fresh herbs, lemon, and butter. Consider them BC's answer to lobster. Heavenly.
And lest we forget that you might want to drink, too, we'll give a shout out to Keefer Bar (www.thekeeferbar.com) in Chinatown. It's no secret — the place has been named one of the "Top bars to visit before you die'' by Buzzfeed — but there's no better place to toast Canada's big birthday.