Travel
The drive to Saguenay Fjord pays off in cheese curds, views, and kindness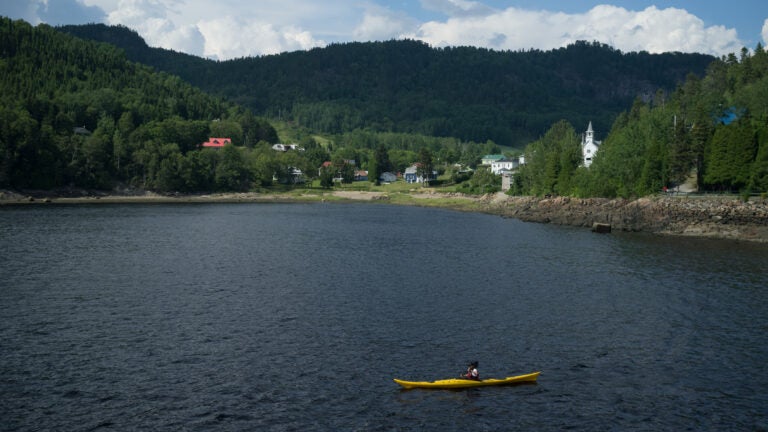 L'Anse-Saint-Jean, QUEBEC — There was something different about our server's French accent. We expected a Quebecois cadence, but this was not what I'd heard in Paris, or even other parts of Canada.
"Have a nice, nice, nice day,'' she said, collecting our crepe plates at the three-level bistro.
Right. This is how a friendly French accent sounds.
And around the Saguenay Fjord at summertime, who wouldn't be in a good mood? Formed thousands of years ago by glaciers, the fjord extend 65 miles from the Saint Lawrence River, creating a microclimate of a playland for kayaking, boating, whale watching, and taking in sparkling water views.
Even better: Canadians are everywhere. Throughout our road trip around the fjord — just a few hours of drive time — we did not see another US state license plate for three days (and this was the high tourist season). More than 365,000 tourists visit the Saguenay Fjord annually, mainly from Europe, the United States, and Canada, local tourism officials said. But the cliff-side panoramas are so vast, you'll never notice the crowds.
From Quebec City, two scenic car trips will take you to the fjord. The shorter route, just over two hours to the north, ventures through the Parc national de la Jacques-Cartier, a smooth but rolling ascent through the mountains, where the trees seemingly stretch taller with every kilometer.
There's also the longer-but-more picturesque route along the Saint Lawrence, with views akin to a less-developed Pacific Coast Highway and picnic tables at nearly every overlook. During your four-hour journey, grab cheese curds at St-Fidele's Fromagerie and Bar Laitier (translation: dairy bar) to enjoy on a seaside detour through Saint-Irénée.
I recommend an SUV with some oomph for the trip: Our Mazda made it up the 20 percent grade hills, but it was perhaps the greatest challenge that 2006 sedan has ever faced. For the most part, the region's roads were well maintained and toll free.
We kicked off the trip by driving north via the woodsy route from Quebec City to La Baie, an industrial spot on the fjord's southern side that served as our central point for exploration for two nights. But if the outdoors are more your thing — and if you're coming to the fjord, they probably are — the region is dotted with Auberges (inns) and Gîtes (bed and breakfasts or rentals) stationed along waterside towns or enveloped in evergreen forests.
From La Baie, drive an hour east on a pavement rollercoaster to L'Anse-Saint-Jean, where a dockside outpost, Fjord en Kayak, offers adventures on the water. The three-hour kayak tour is well suited for beginners. Across the "street'' is Café du quai, which serves flavorful, paper thin (in a good way) buckwheat crepes and a well-priced picnic lunch.
Drive west from La Baie, you'll cross two more urban centers, Saguenay and, eventually, Alma, on Lac Saint-Jean. If you're short on time, I recommend crossing at a bridge at the former and making 90-minute drive along QC-172, which traverses the northern side of the fjord to Tadoussac.
Your first stop should be Saint-Fulgence, where a small farm, La Vielle Ferme, and its smaller market (Au P'tit Marché), serve rhubarb lemonade, homemade pâté and local cheese plates. It's an ideal stop for families, with feeding stations for sheep and pigs and a greenhouse table where adults can graze while watching the water.
Further down a bumpy road from La Vielle Ferme, there's the Parc Aventures Cap Jaseux, an outdoor adventure park with a ropes course, hiking and sea kayaking. Accommodations include tree houses and suspended spheres.
Travel east 30 minutes on QC-172, and you'll get to Sainte-Rose-du-Nord, a fjord-side town with a sweet, dockside gazebo and artisan shops. Bring a picnic or an appetite as you look out on the fjord.
Another hour east through tree-lined roads take you to Tadoussac, the town perched above where the Saint Lawrence meets the fjord. In much of the fjord, a layer of freshwater moves over colder, dense saltwater from the ocean, creating a unique habitat for marine life. The temperature mix in the water tempt the whales, making it a premiere launch point to see belugas and minkes by boat or Zodiac.
Tadoussac is relatively tourist-centric compared to the rest of the fjord. But even in the heavy season of late July, it didn't feel swarmed. I only noticed the "crowds'' when I gauged hotel availability.
Take a drink (or a night) at the stately Hotel Tadoussac, overlooking the bay. Or grab dinner at the colorful Cafe-Bar Le Gibard, where a $22 (Canadian!) bottle of wine buys you the town's best view of the bay. Imbibe at sunset, while the Zodiacs come back in.
Before departing Tadoussac, don't miss the sand dunes on the edge of town. The more adventurous travelers will descend to the undeveloped beach below.
We completed the waterside road loop with the big finale — a scenic ferry ride from Tadoussac to Baie-Sainte-Catherine.
As our friendly motel receptionist guided us, "It is free. It is our road.''