Travel
7 Airbnbs for spectacular views of New England foliage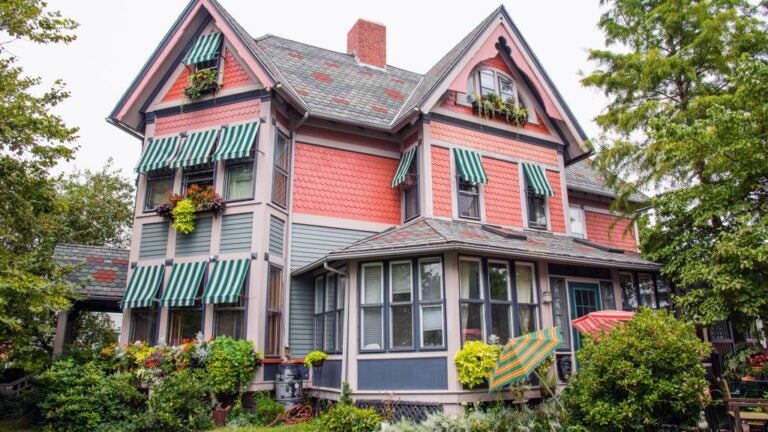 While New England is famous for summers on the Cape and winters at mountain ski resorts, trips to view the region's autumn foliage might give those other treks a run for their money. Any location on the list below would make for an excellent leaf-peeping day trip, but if you're looking for a weekend getaway this fall, check out these Airbnb listings.
While many flock to the Berkshires during the warmer months, the fall is another chance to enjoy the area's nature, without the hassle of the crowds. This three-bedroom renovated barn has an extensive library of books and an outdoor fire pit. A stay here provides the ideal backdrop to a weekend of hikes, campfires, and relaxing on the deck while listening to the rushing sounds of the property's trout-filled brook.
The reviews say: "This place is truly unique and simultaneously authentic, rustic and chic. Impeccably decorated great flowing space. Rays of morning light illuminate the old timber beams like in a photo. The kitchen encourages group cooking, and the library holds a great selection of nearly 1000 titles. We also enjoyed the mountain stream (you can hear it from the house), old log cabins and hiking trails nearby. Jane and Ian are prompt with communication and really want your stay to be memorable. We highly recommend staying here and look forward to coming back!"

Cost per night: $265 for four guests; $20 for each additional guest, up to eight.

Distance from Boston: 2 hours and 30 minutes.
This Maine home offers guests a luxurious stay not often associated with wooden cabins. The single-bedroom home is located within minutes of both Camden and Belfast, which both have scenic trails and walking paths, and less than two hours from Acadia National Park's 47,000 acres.
The reviews say: "Iveta's Cottage could not have been more lovely! We enjoyed our stay immensely. The location allows for easy access to Camden, ME, but is secluded enough for a peaceful and relaxing stay. We loved turning off the lights at night and looking up at the stars, without the lights of a city in the way. The area seems to be very safe as well. As for the cottage itself, it is extremely beautiful and pleasant to be in! The bedroom upstairs has plenty of windows for fresh air, the kitchen is equipped with anything you should need, and the living room is cozy for a night of TV or games. The cottage overall is so well designed, with an aesthetic that is simple yet elegant. Iveta herself also made our stay very pleasant. She is sweet, accommodating, and attentive. Even though she had a family emergency during our stay, she made sure we had everything we needed, and was always responsive via email. We would absolutely stay here again, and highly recommend."
Cost per night: $185 for up to seven guests.
Distance from Boston: 3 hours.
The Vermont farm sits only a mile from the U.S. and Canadian border, at the base of Pinnacle Mountain. The three-bedroom itself is located on a 4-acre stretch of land with views of the Green Mountains, but guests can venture farther to enjoy the canoeing, hiking, and wineries and cideries of the area. For a new take on fall foliage viewing, head to Au Diable Vert, and literally bike through the trees.
The reviews say: "I couldn't have asked for more with this experience. Todd was incredibly helpful and responsive, providing plenty of documentation and reminder emails as the date of my reservation came closer on the calendar. The home was lovely and very clean. The kitchen was truly outfitted with everything we needed to cook a few large meals for my husband, two small children, my parents, and myself. There was also ample seating for such a large crew–three comfy couches, and three different dining tables (outdoor picnic table, kitchen table, dining room). It was easy to relax and enjoy our time in Vermont while staying in such a warm home."

Cost per night: $185 for up to seven guests.

Distance from Boston: 3 hours.
Those looking for an urban autumn getaway should consider Providence. Take a stroll through Roger Williams Park during your stay for stretches of red, yellow, and orange landscapes — if you can manage to tear yourself away from this stylish Victorian, complete with a museum-like collections of colorful antiques.
The reviews say: "This Victorian house has been lovingly and beautifully refurbished and decorated with an astonishing number of gorgeous vintage pieces. Lamps, chandeliers, china, furniture- all spectacular. We were away for a weekend with another couple and the space we had was more than ample. We enjoyed our own rooms and a sitting room and an eat In kitchen. Chip provided us with a delicious, hot breakfast and clearly enjoyed chatting with us and sharing some of the local history. We do hope to return sometime soon."
Cost per night: $125 for two guests; $25 for each additional guest, up to four.
Distance from Boston: 1 hour.
Staying close to home does not mean sacrificing prime foliage views, especially if you post up near the 2,200 acre Middlesex Fells Reservation just north of Boston. The rustic yet clean vibe of this two-bedroom home is perfect for nature lovers looking to spend a weekend exploring the reservation's 100 miles of trails before retreating to a cozy crash pad.
The reviews say: "I would highly recommend staying here. It was absolutely beautiful, naturally well-lit, and in a very nice neighborhood. Gretchen and Harvey were very friendly and sociable hosts who gave us great recommendations of what to do in the local area. It was very nice to meet them! Staying in Gretchen's home could warrant a vacation in itself and I was very sad that I had to leave. Whenever I need to stay in the area in the future, I will definitely seek out this place first!"

Cost per night: $140 for up to five guests.

Distance from Boston: 20 minutes.
While Stowe, Vermont, may be famous for its winter skiing, its picturesque village and tree-covered mountains make for a wonderful autumn getaway. This two-bedroom is located within 3 miles of the village, a sweet deal for guests who want to both hike and enjoy the shopping and dining amenities of the resort town. The property is surrounded by woods, with its own walking trail.
The reviews say: "We loved everything about Stowe stay at Caitlin's place. The place is quiet, clean, cozy and yet just 3 miles away from the downtown. Catlin was very responsive and made us feel at home. She even left us umbrellas for the rain and kept us posted about local events. Also loved the special treats they left for us. Would live to go back again!"

Cost per night: $175 for weekend nights for up to four guests.

Distance from Boston: 3 hours and 15 minutes.
Whether you're seeking hiking trails, apple picking, kayaking, or just simple relaxation, you'll find it at this Conway chalet. The four-bedroom is located near North Conway and its multitude of attractions, including Storyland Amusement Park and the Conway Scenic Railroad. The home itself has a cozy reading nook and a deck for chilling out and spotting the colors of the changing leaves.
The reviews say: "The perfect getaway in the White Mountains. It's very close to the Swift River along the Kancamagus Highway where we went swimming and hiking. The house was a great size for the 7 adults we had staying there. The amenities in the house were some of the best I've seen while renting through Airbnb. We grilled and used the fire pit in the yard at night. Great for dogs, they even have a fenced off area around the grill so you don't have to worry about them wandering off on you. All in all a great house to stay at and Katie was a great host, very accessible through messaging when questions arise."

Cost per night: $187 for up to eight guests.

Distance from Boston: 2 hours and 30 hours.