Travel
Why holiday travelers shouldn't panic about the American Airlines pilot shortage
"No airline wants to be the Grinch that stole Christmas."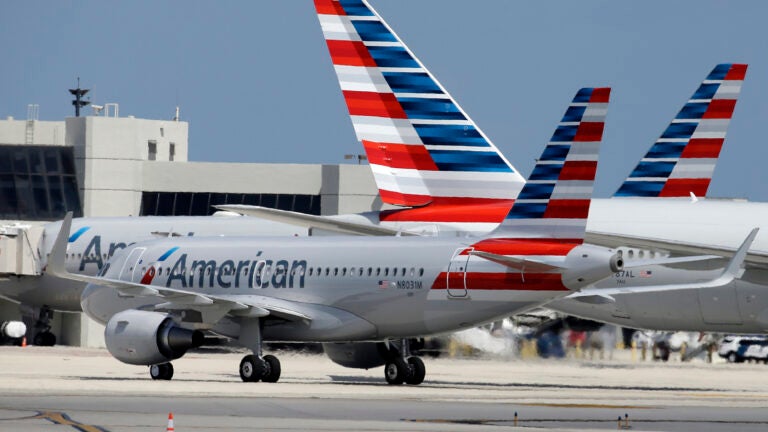 A day after news broke that thousands of American Airlines flights could be canceled during the busy holiday travel period due to a software glitch, the airline announced Thursday that only a few hundred of the 200,000 flights it operates in December remain without pilots.
The airline's software system had inadvertently granted holiday time off to too many pilots, initially leaving thousands of scheduled flights without anyone at the controls from Dec. 17 through Dec. 31. Since the problem was discovered, American has offered pilots overtime pay to forgo their days off and will tap into its team of reserve pilots on standby to fly many of the trips that are still uncovered.
"We have not canceled any scheduled flights in December and will continue to work to ensure both our pilots and our customers are cared for," the airline said in a statement.
That's good news for holiday travelers in the impacted cities, which include Boston, New York, Dallas, and Chicago, among others. But travelers aren't out of the woods yet. Here's what to know about this holiday travel headache.
How did this happen?
Airlines rely on sophisticated computer systems in order to ensure that each aircraft arrives at the gate with the necessary flight crew on board, said John Cox, CEO of Safety Operating Systems, an aviation consulting firm based in Washington, D.C.
"What they're saying is, it was a computer error," said Cox, who is a retired US Airways pilot. "And it means that, when the computer went through the vacation bids, it didn't take into account all the trips."
While a software glitch on this scale is unusual, it's not unprecedented. In January, for instance, a computer outage stranded Delta flights across the country for several hours. And in August 2016, Delta's operations center in Atlanta lost power and sparked a system failure that forced the cancellation of thousands of flights.
While American Airlines hasn't said what caused this glitch, it could be connected to the airline's ongoing efforts to integrate its software systems with that of US Airways, which merged with American Airlines in 2015, said Henry Harteveldt, a travel industry analyst at Atmosphere Research Group, a travel industry research firm in San Francisco.
The system that failed is the flight operating system, or the overarching software that handles crew scheduling, Harteveldt explained.
"That is one of the last systems that American is working to integrate," he said.
Can American Airlines avert a crisis?
"If you're holding a ticket on American Airlines, go ahead and exhale," Harteveldt said. "There's a very good chance your flight will operate."
Aviation experts say the airline will likely be able to cover the vast majority of the pilot-less flights. Airlines are often forced to shift around flight crews due to unforeseen circumstances and are well-equipped to recover from this type of problem, Cox said.
The airline would suffer a serious blow to its reputation — and its finances — if it failed to operate most of these flights.
"No airline wants to be the Grinch that stole Christmas," Harteveldt said.
If a winter storm strikes during the holidays, however, the airline could be in trouble. While a storm would hobble air travel across the nation, American would be more vulnerable because it is already dipping into its pool of reserve pilots, who are called into action when the skies are ensnared in calamitous weather events.
"If a bad storm hits and American is caught unaware, it may struggle to recover," Harteveldt said.
I'm traveling on American over Christmas. What can I do now?
If your flight is ultimately canceled, you probably won't find out until about 48 hours before it's scheduled to depart, Cox said.
"It's usually within about 48 hours that they really know what the airline is going to look like the following day," he said.
However, you should make sure that American Airlines has all of your contact information, including your email address and your cell phone number, so that it can contact you immediately in case your flight is delayed or canceled.
If you booked your trip through a travel agency, make sure it has that information, too. And continue to monitor your reservation in the days leading up to your scheduled departure date.
What should I do if my flight is canceled?
American Airlines could offer you a voucher or a full refund, or it could try to re-book you on another flight to the same destination operated by one of its partners, which include United Airlines and Alaska Airlines. (American does not have a ticketing agreement with JetBlue, Southwest Airlines, or Delta Airlines.)
But re-booking on another airline is only possible if those carriers have seats to sell, which may not be an option during the busiest travel season of the year.
If all else fails, when faced with a holiday travel headache, try to stay calm. It's more in keeping with the holiday spirit, and it will only improve your chances of getting where you need to go. 
"The ticket agent cannot snap her or his fingers and produce a crew or an airplane," Harteveldt said. "And if you lose your cool with the ticket agent, they're not exactly going to want to be inclined to help you. But if you're respectful, these folks will go to the ends of the earth sometimes to be of assistance."