Travel
North of Miami, this small Florida town boasts a glam Hollywood hotel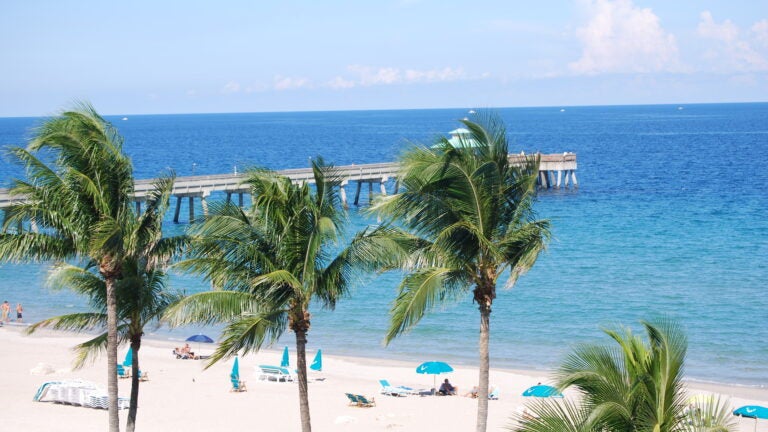 DEERFIELD BEACH, Fla. — Deerfield Beach is an hour north of Miami, but it might as well be in another state. While South Beach can resemble a caipirinha-drenched, Art Deco after-hours party, Deerfield Beach is the kind of town where families go to the beach with sandwiches (carbs in South Florida!), have a drink at the end of the day, and then head to Flanigan's for a plate of ribs and curly fries (more carbs in South Florida!).
It's a traditional bit of Americana — no high-rises allowed and nary a Missoni microkini in sight.
But the casual, family-friendly beach is also home to a glamorous jewel of a boutique hotel with Hollywood lineage. Royal Blues Hotel was opened three years ago by Hollywood producer Edward Walson. He was a producer of the Woody Allen films "Blue Jasmine'' and "Magic in the Moonlight,'' and had a hand in Broadway shows such as "An American in Paris,'' "Bullets Over Broadway,'' and "Big Fish.''
In other words, this is a man who knows what it takes to pull in an audience, and he did it quite well at Royal Blues. One of the biggest statement pieces on the property is the 1,500-gallon saltwater aquarium mounted in the ceiling of Chanson, the hotel's restaurant. It was featured on the Animal Planet show "Tanked.'' It's an effective bit of showmanship in the property's impressive seafood restaurant.
The unlikely location of Royal Blues can be traced back to Walson's childhood. His family vacationed in the surfer-friendly town. The $5 million-plus Royal Blues Hotel, which was designed by West Palm Beach architect Jorge Garcia, borrows yacht-like details. The nautical comparison is a natural because each of the hotel's 12 rooms has an ocean view.
What I enjoyed most about the experience was the dichotomy between the hotel and the town. It felt like the best of both worlds. I had a low-key, stress-free day lounging on the beach and then walking on the nearby pier. I came back to Royal Blues, which is part of the posh Relais & Châteaux group of hotels, and felt a bit spoiled with a glass of wine.
Staying at the hotel is a splurge (rates start at $449 a night during the winter season), but the location feels like a vacation from Miami for those seeking a more laid-back luxury escape.
45 NE 21st Ave., Deerfield Beach, www.royalblueshotel .com. 954-857-2929