Travel
5 Rhode Island destinations where the Christmas-shopping game is strong
Spend the day shopping, dining, and playing in these charming Rhode Island locales.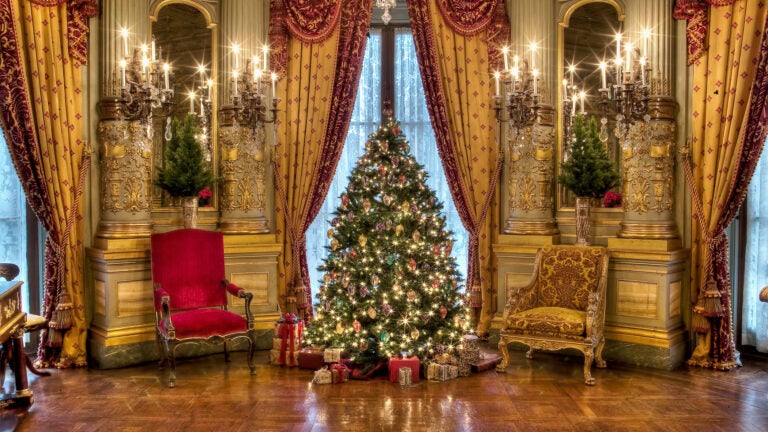 Rhode Island's quaint waterfront towns and cities evoke a lifetime's worth of holiday charm, with festive decorations, scenic streets, locally minded shops, and excellent restaurants offering limitless exploration throughout the season. 
If you're visiting for just a day or weekend, here are five Rhode Island locales with an abundance of Christmas spirit. Here you'll find plenty of seasonal diversions, including breakfast with Santa for the kiddos, a beer tasting for adults, and more for the whole family.
1. Newport

There's enough holiday cheer in the "City by the Sea" to necessitate a full weekend visit. Through January 1, the evergreen-, poinsettia-, and wreath-bedecked Gilded Age Newport Mansions, including the Elms, Marble House, and the Breakers, are a must-see for any newbie. Afterward, spend the day shopping along Thames Street. Preppy women's clothing store Pink Pineapple (380 Thames St.), kid-centric Groovy Gator (479 Thames St.), and the nautical jewelry shop Lemon and Line (421 Thames St.) await.
Bring or rent skates for the Newport Skating Center's grand opening and annual tree lighting at 5 p.m. Dec. 9 at the Newport Yachting Center (20 Commercial Wharf), then head for a BYOB dinner of fried chicken and Southern sides at Winner Winner (677 Thames St.). Or, book a reservation at the White Horse Tavern (26 Marlborough St.), where Rhode Island-sourced seafood and meats are turned into meals worthy of a holiday feast.
2. Warren

This artsy waterfront town features tree-lined streets brimming with restaurants, art galleries, and shops. Plan a visit around the Breakfast with Santa event at the Central Fire Company (1 Joyce St.) from 7 to 11:30 a.m. on Dec. 10, or the Atwater-Donnelly family-friendly concert at 2 p.m., Dec. 16, at the George Hail Library (530 Main St.), featuring Christmas carols and songs that celebrate the winter solstice, Hanukkah, and Kwanzaa.
Back up your visit with a vintage shopping adventure at the Flashback Vintage Emporium (450 Main St.), where you'll find trinkets, toys, and some really neat vintage bikes for sale. Down the street, In Your Ear! record shop (462 Main St.) stocks some of the greatest albums of all time. Swing by Made in Warren (476 Main St.), a collaborative shop of artists, and nearby Muse (279 Water St.) for handcrafted jewelry from Rhode Island designers. Across the street from the latter, slurp down $1 oysters on Mondays at the cozy seafood restaurant Bywater (54 State St.), or go for waterfront views and upscale cuisine at Trafford (285 Water St.).
No trip is complete without hot wieners served all the way at Rod's Grill (6 Washington St.) and a famous coffee cabinet (a Rhode Island-style milkshake made with house-made coffee syrup) from Delekta's (496 Main St.), a former pharmacy turned soda fountain and gift shop.
3. Bristol

Giant twinkling stars and bright white lights line Bristol's streets, where visitors stop in cute little shops and admire decorated Colonial homes. But first — brunch: Head to the kid-friendly Beehive Café (10 Franklin St.), where servers hand out toy animals at the front counter to mark orders while guests wait for freshly baked pastries and dishes like butternut squash cornbread hash served with eggs.
Next up is some shopping: Mosey over to Harbor Bath and Body (251 Thames St.) for skincare products from Rhode Island-based brands like Farmaesthetics and Rhode Island Soapworks, then swing by Kate and Company (301 Hope St.) for gourmet food products, clothing, and luxe vegan handbags.
Cap off the day by admiring yuletide finery at the Linden Place Museum (500 Hope St.), where there's a Holiday Family Day from 1 to 3 p.m. on Dec. 16 that includes photos with Santa, scavenger hunts, and treats. The decked-out Blithewold mansion, gardens, and arboretum (101 Ferry Road) also hosts live holiday music in the living room on Saturdays and Sundays from 3 to 4 p.m.
4. Providence

Providence's friendly neighborhoods overflow with jolly personality. Skate with Santa at the Providence Rink at the Alex and Ani City Center (2 Kennedy Plaza) on Dec. 16 and 23 from noon to 2 p.m., then hit up Westminster Street to shop at stylish women's boutique Queen of Hearts (222 Westminster St.), or Craftland (212 Westminster St.), which is a hub for artists to sell wares like hand-drawn holiday cards and quirky onesies. On Dec. 10, 16, and 17, the Providence Flea Holiday Markets fill Hope High School (324 Hope St.) with 60-plus artists, vintage vendors, and a rotating lineup of the city's most popular food trucks.
Hope Street is a foodie mecca, too. Stock Culinary Goods (756 Hope St.) touts everything from heirloom-worthy copper pots and pans from East Coast Tinning to nifty cookie cutters in all shapes and sizes, and Olive del Mondo (815 Hope St.) pours tastes of artisanal olive oil and balsamic vinegar from around the world.
Back downtown, top off a day of shopping with a theater-friendly prix fixe at Gracie's (194 Washington St.), followed by a showing of A Christmas Carol at Trinity Repertory Company (201 Washington St.), showing Wednesday through Sunday nights through Dec. 31.
5. North Kingstown and Wickford Village

Backdropped by the harbor, Wickford's decked-out 18th-century homes and historic churches create a holiday scene worthy of a Christmas card. So do the village's Christmas-themed window displays and doorways hung with holly. Step into the setting of a bygone era when you shop for handcrafted jewelry from designers at JW Graham (26 Brown St.), unusual Christmas ornaments at Different Drummer (7 West Main St.), and toys and designer kids' duds at Teddy Bearskins (17 Brown St.).
Once your arms are heavy with shopping bags, slide into a table at neighborhood hotspot Tate's (64 Brown St.) for Italian food, or grab a sandwich and coffee at friendly Shayna's Place (45 Brown St.).
Finish the day off down the road in South Kingstown for Whalers Brewing Company's Field of Artisans Holiday Markets (1174 Kingstown Road, South Kingstown) on Dec. 10 and 17 from 11:30 a.m. to 4:30 p.m. Sip Rhode Island-brewed craft beers while shopping for locally made art, jewelry, and gifts.
Jamie Coelho is an associate editor at Rhode Island Monthly magazine, where she edits the local food newsletter, The Dish. You can follow RI Monthly at @RIMonthly and @TheDishRIM.