Travel
The answer to dirty hotel hair dryers (and other great gifts for travelers)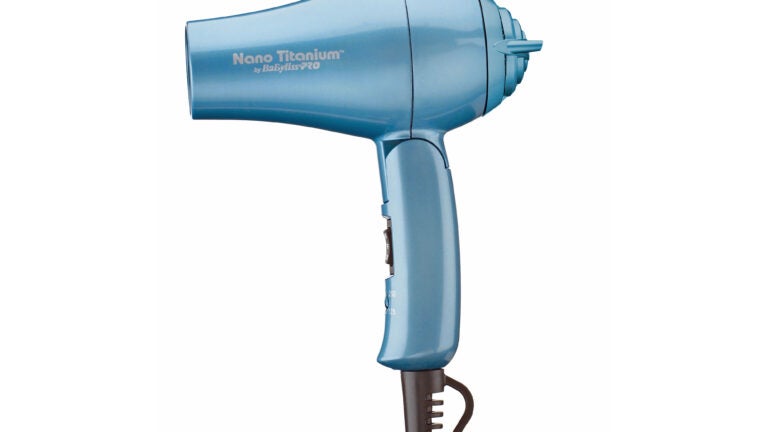 Even experienced travelers have epic fails — leaving the passport at home, over-packing a roller bag to the point that its wheels fall off (yes, that was us, schlepping the unrollable bag in our arms like a big plastic baby), forgetting that the time zone changed and missing a connecting flight. While the right gear can't eliminate all of this, it definitely helps road warriors stay organized, comfortable, and connected — at least most of the time. (Sometimes, stupidity prevails.) Here's a look at things we discovered this year that will delight the avid traveler on your gift list.
In the grand tradition of soap-on-a-rope
Packing those tiny bottles of shampoo and conditioner can be majorly annoying; they leak, they don't hold enough goop for a long trip, and you have to be sure they meet the TSA's 3-3-1 rule (only 3.4 ounces, please). That's why shampoo bars and solid conditioners are our favorite stocking stuffer. Lush makes a line of these that smell great and work well—a safer bet than some random product offered by your hotel or Airbnb. Their palm-size shampoo bars, like "Jason and the Argan Oil'', are made with exotic butters, essential oils, fruits, and herbal infusions, designed for various hair types. (Buy the soap tin, sold separately, to avoid a mess.) You can get 18 washes out of one bar, they say. The solid conditioners are equally gentle and fresh smelling, with ingredients like cocoa butter, coconut oil, and (for beachy hair) sea salt. Bonus: You're not tossing all of those plastic bottles. Shampoo bars from $11.95; solid conditioners from $12.95; www.lushusa.com.
The teeny-tiny hair dryer
Earlier this year, an ABC News investigation reported that hotel hair dryers are often dirtier than toilet seats. Apparently, hair dryers are frequently used but are not high on the list of housekeeping priorities. Cue a collective "yuck'' — and the rush to find a good travel-size hair dryer. We found a couple of ultra-lightweight, inexpensive models for the well-groomed, hygienic types on your gift list. The dual-voltage BaByliss Pro Nano Titanium travel dryer (around $32) has a folding handle and will tuck into a tiny corner of a carry-on bag. They also make a mini hair dryer without a folding handle, the Nano Titanium Bambino, available at Ulta Beauty (www.ulta.com) for $29.95. At 1,000 watts, these aren't the most powerful hair dryers on the planet, but they'll do the job. And no more worries about a gross-out blowout. For stores visit www.babylisspro.com.
Showcase a fabulous travel pic
Of course your phone is overwhelmed with photos — whose isn't? According to a study by InfoTrends, 1.2 trillion photos will be taken in 2017, the bulk of them by smartphones. Chances are, a few really fabulous vacation pics are just languishing in that digital heap. Why not turn one into a piece of art — and gift it to your favorite travel buddy? We sent a scenic photo from a Nova Scotia trip to an outfit called CanvasPop, based in Las Vegas, and couldn't believe the result: It looks like a painting. They create high-quality canvas prints, photo collages, custom photo pillows, and magnets using customers' downloaded images. With Canon professional equipment, CanvasPop prints the photo, and then laminates it by hand with a scratch-resistant UV coating. It comes ready to hang (with a hanger) and is designed to last 100 years. Before you know it, you'll be ordering throw pillows with your pooch's face on 'em. Print prices start at $30 (8-inch-by-10-inch photo, no frame), www.canvaspop.com.
Just say no to bulky snow pants
Heading on a ski trip or other cold-weather destination? Skip the bulky snow pants (they'll take up half of your carry-on's real estate anyway) in favor of L.L. Bean's Power Stretch Tights. We took a pair of these body-hugging little numbers on a recent trip to the arctic, and they kept us toasty warm. In addition, they are snug enough that they can pull double-duty as streetwear. No wonder these pants (leggings, really) are worn and loved by the US Ski Team (says L.L. Bean). Made from Polartec fleece with a durable shell, the fabric is stretchy and wicks moisture. There's a bit of reflective tape on the leg hems, and a small zippered pocket on the waistband, signs that these pants are designed for sporty pursuits. But they feel so comfy that you (or the gift recipient) will want to throw them on just for lounging, when all you're exercising is your fingers on the remote. In black, navy, and granite (gray), $89; www.llbean.com.
The solar-powered backpack
If there was ever a time to trade up from that decrepit college book bag/backpack, it's now. Backpacks can do everything these days, like charge your devices and protect themselves from thievery. At the head of the pack: the Solgaard Lifepack. This genius backpack comes with a removable solar power pack with Bluetooth speakers; the 4G solar panels generate power in both direct and indirect light so you can charge your devices (2 USB ports) and play music. There's a retractable combination lock and anti-shock foam that'll protect a laptop from bumps and drops. Lots of handy pockets inside, even a bottle opener, and a reflective-print rain cover. All of this, and the pack is actually comfy, thanks to spongy padding on the back and straps. It weighs 2.47 pounds and measures 19.5 inches high by 12.4 inches wide by 6.9 inches deep. While other people fight for outlets in the airport, you sit back smugly and charge away. $199, www.solgaard.co.
A Fitbit for swimmers
We were late to the fitness tracker party. But the new Fitbit Ionic — a timepiece with fitness tracking and guidance and music storage — won us over. It looks sharp, has up to five days of battery life, and is remarkably easy to use, even for the techno-challenged traveler. It tracks steps, distance, calories burned, floors climbed, active minutes, and hourly activity. (You now have proof that you walked more than three miles between gates at the airport. Sigh.) This one is aces for travel because it tracks activities like swimming — it's water-resistant — and biking. Tap the heart icon and you'll see your heart rate. Plus, it can store and play 300-plus songs as well as Pandora playlists. You can also get instant alerts for calls, text, and calendar. (the Ionic synchs wirelessly to iOS, Android, and Windows devices.) OK, so we haven't actually used the coaching feature with timed on-screen workouts, but it's good to know it's there. Your fitness-minded partner will love it. $299. www.fitbit.com.
Like a warm hug on a chilly airplane
Why are airplane cabins so cold? According to the America Society for Testing and Materials, it's to decrease your chances of fainting by overheating. To stay warm without piling on bulky layers, here's a chic solution: Smartwool clothing. You probably know its socks, but you may not know that Smartwool makes a sassy little crewneck dress of 100 percent Merino wool, in a soft jersey knit. It's thermo-regulating (keeps you warm but not too warm), and odor-resistant. (Packs up thin, too.) New in 2017, this slim-fitting dress (modeled at left by Morgan Dzicek of Boston) comes in four colors, sizes XS to XL, and is machine-washable. Throw on a scarf and some tights or leggings and you'll be smashing — not shivering. For guys, they make a men's Merino 150 polo that's odor-resistant ($90.) Merino 250 dress, $130; www.smartwool.com.