Travel
Tiny New Zealand keeping up with huge demand for its wines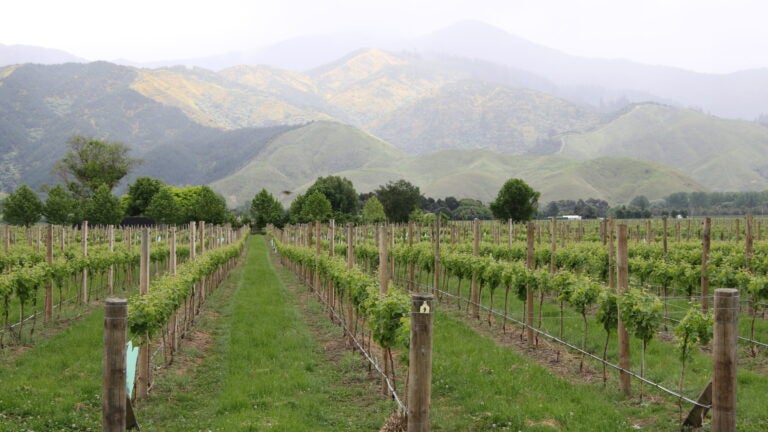 RAPAURA, New Zealand — Chris Yorke, the chipper spokesman for industry group New Zealand Winegrowers, spins it boldly.
"It's very hard to get a bad bottle of New Zealand wine. It sounds like kind of an arrogant thing to say,'' he said.
It is a pretty arrogant thing to say.
"But it's true,'' he affirmed.
One day last month, a Globe reporter made a valiant attempt to disprove this surely spurious claim.
The reporter failed. The white wines are all quite good — crisp, clean, well-balanced. The reds, especially the Pinot Noirs, are life-changingly excellent.
If you come here to the heart of New Zealand wine country, you may well fail at debunking that assertion, too.
• • •
Fields of grapes and grass dotted with sheep stretch toward the clouds hanging low on the horizon. Rain showers sweep through intermittently and blow out to sea, just six miles away. And, in the middle of some fields, there are rows of massive, 132,000-gallon blending tanks that stretch up from slick concrete, and still others under construction.
The distinctive scent of sauvignon blanc perfumes the air.
This place — Drylands Winery, in the heart of New Zealand's Marlborough Region, which is the engine of New Zealand wine production — is the very spot where grapes get turned into brands like Kim Crawford, which Americans love to drink.
By volume, the wine industry here is a minor player internationally, responsible for only about 1 percent of the world's wine production in 2016. There are wineries in Australia bigger than all 700 New Zealand vineyards combined.
But this small island nation punches far above its weight, powered by wine that consumers are willing to pay more for and that matches current lifestyle trends. (People are eating healthier, and Sauvignon Blanc goes well with salad and fish.) Last year, the tiny New Zealand ranked number three on value of wine imported by the United States, behind only juggernauts Italy and France.
That's right. The monetary value of New Zealand wines imported into the United States in 2016 outpaced Australia, Argentina, Chile, and South Africa.
New Zealand's wine behemoth is Constellation Brands, a Victor, N.Y.-based company that owns beer brands like Corona and is the country's largest exporter of wine to the United States. At their Marlborough Region headquarters, New Zealand chief winemaker Wendy Stuckey walked a reporter through their massive but quiet-for-now industrial operation.
Stuckey, an Australia native, has a laid-back demeanor.
She talked about the different parts of region — more clay in the soil in one part of the valley makes for much better pinot noir; stonier soil in the vineyards gives a different flavor profile, and the increased wind in another area means the wine is "a little bit more herbaceous,'' with more acidity.
But Stuckey seemed to tense up as she talked about the pace of harvest season, a few months from now.
"You've got essentially four weeks to get all that fruit off,'' she said, gesticulating. "You've got to harvest it and get it off the vine, because to maximize that flavor profile, you have to be picking that fruit when it's at its peak.''
During harvest, usually in April, a truckload of grapes arrives every 20 minutes for 24 hours a day, seven days a week at Drylands. These are dumped into hoppers, where the grapes are separated from the stems and leaves, beginning the process of turning the fruit into wine.
The grapes are crushed and pumped into tippy tanks (yes, that's what they're called), where the fruit is given up to three hours of "skin contact'' (yes, that's the term of art). The juice is then drained off and clarified prior to fermentation.
At Drylands, fermentation happens in more than 200 huge stainless steel tanks over a 21-day period. Scores of extra people are brought in to help with the rapid expansion of operations during the harvest season.
In late May or early June, there are more than 200 different variations of the wine for winemakers to blend. Over the course of a week, winemakers taste all of these and decide which wines go into Kim Crawford, Nobilo and other brands.
One key, Stuckey said, is to make sure each brand tastes very similar — effectively the same — vintage to vintage.
So a bottle of Kim Crawford Sauvignon Blanc bought this year in Winnipeg (it's Canada's top selling wine in any category) tastes the same as a Kim Crawford Sauvignon Blanc bought next year in Worcester.
All of the wine from the Drylands vineyard is bottled offsite.
Some is put in screwtop bottles at a facility in Auckland, on the North Island of New Zealand. Much is stored in huge sacs, put on a container ship, and bottled at a Constellation Brands' winery in California.
"For the same amount of space, you get a lot more wine. It's cheaper,'' Stuckey said of the bottling of New Zealand wine in the United States.
Stuckey is a winemaker, yes, and she speaks lovingly of the grapes. But she's also a logistician, figuring out how to get the grapes into wine most efficiently and cost effectively. She works for a Fortune 500 company, which has a fiduciary responsibility to its shareholders.
Constellation's stock was up to about $220 last week, from about $35 on Christmas Eve 2012.
Looking out at the new fermentation tanks under construction, Stuckey smiles. The company is the midst a massive expansion of Drylands.
• • •
The Hans Herzog estate is just a seven-minute drive from Drylands, but it feels a world away.
A small, family-run company, everything happens on its 28-acre vineyard and winery: growing about 27 types of grapes, making the wine, bottling it, and serving it to guests at its top-notch, white tablecloth restaurant. It's all organic certified and has the feel of an Old World European chalet.
Hans Herzog has the weathered face of someone who works constantly. In Switzerland, his family has been in the wine business since the 1600s. And he, too, made wine outside of Zurich. His wife, Therese, opened a restaurant that won a Michelin star.
But New Zealand beckoned. They moved to the island nation in 1994, planted grapes in 1996, and had their first vintage in 1998.
Lucky for us.
Arthur Griffoul, a sommelier who left a restaurant and winemaking gig in France to work at the Herzog estate, walked through a light rain on a recent day giving a tour of the vineyard.
Here we grow Pinot Noir, here we grow Chardonnay, he said. Then he showed off the cellar, barrels of French oak stacked in back end of the big room. A sole worker labeling bottles by hand nearby.
Griffoul took out several wines to taste. First, a bone-dry Gewürztraminer that sings on the palate. Then a Pinot Gris with a hint of strawberry and a finish that seems to insist you take another sip. And another.
He and a reporter taste several other wines. All are wonderful. Some are transcendent.
Then Griffoul, who speaks with a slight French accent, brings out "a treat.'' A 2000 Pinot Noir.
The pour. The swish. The taste.
He savors it, closing his eyes briefly. A look of contentment passes over his face.
He offers a splash. Viticulture angels flutter around the reporter's head. It's heaven. A smooth taste that contains multitudes, that forces a smile.
But, alas! You can't buy any of Hans Herzog's wines in the United States because he doesn't export there — too much cost and hassle for too small a return given their modest production volume.
But you can in New Zealand.
Which is to say, you can't really, truly, profoundly enjoy New Zealand wine without making the schlep.