Travel
See how the massive New Hampshire ice castles are built
A crew of 40 grew 5,000 to 12,000 icicles per day to create the attraction.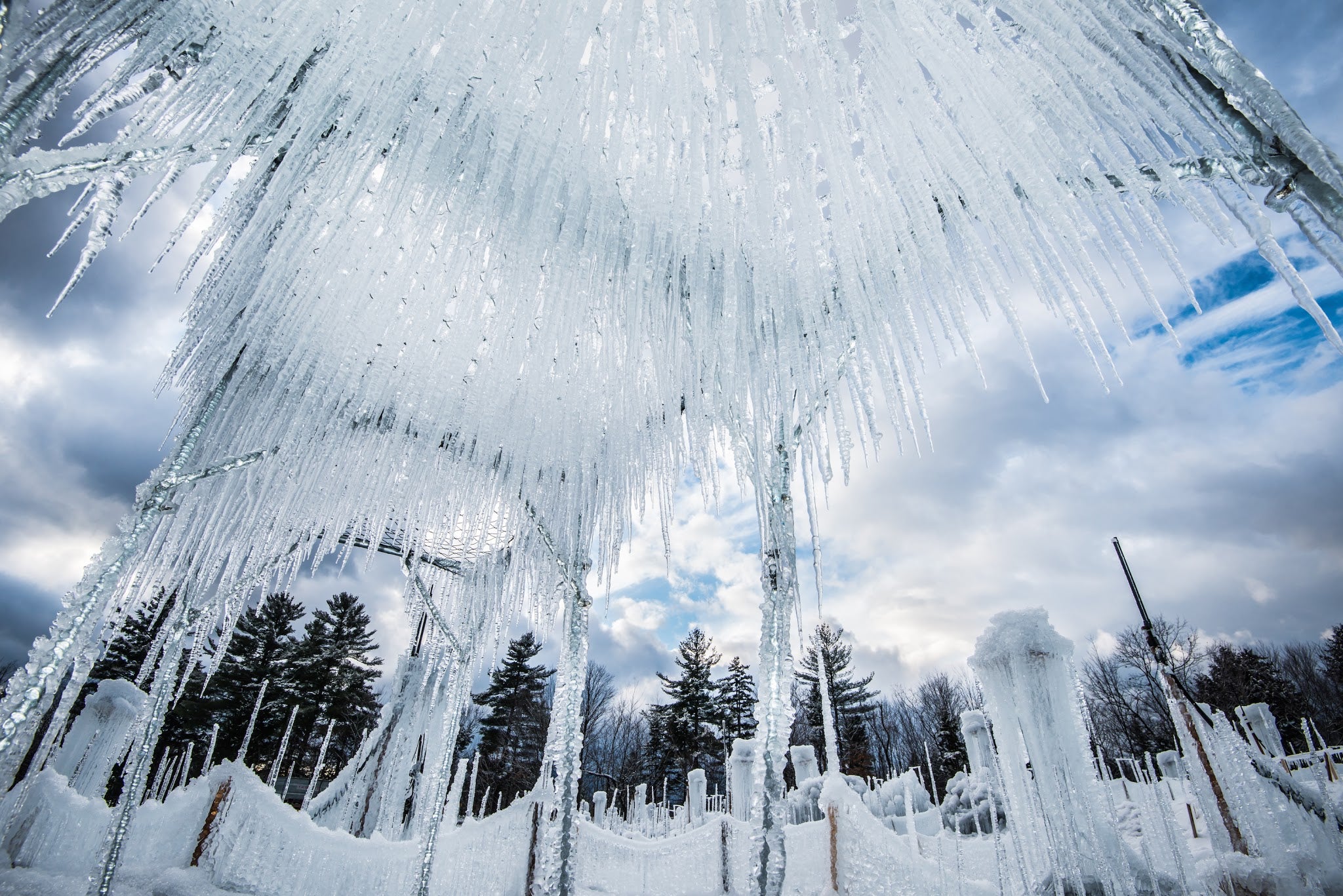 The 25 million-pound Ice Castles opened this past weekend in Lincoln, New Hampshire, welcoming visitors to a winter wonderland of icy slides, frozen thrones, fountains, and tunnels, and LED lights that twinkle to music.
If you had visited that same spot in Lincoln just over two months ago, you simply would have found a field.
The making of the castles is a six-month process that begins with the drawing up of blueprints, paving the way for a crew of about 40 artisans to handcraft the attractions using hundreds of thousands of icicles, said Ice Castles CEO Ryan Davis in an interview last month.
"We're the only people on earth that build ice castles the way we do it," Davis said. "So we're inventing the whole thing from scratch. We spend our summer planning."
Davis said his crew arrived in Lincoln armed with blueprints around Halloween.
"Every year is an entirely new and unique design from scratch," he said. "And it all entirely changes. We're always trying new things and designs and new features."
This year, for example, there are more slides in New Hampshire than ever before.
Any Ice Castles visitor (or Instagram admirer) knows that guests walk between walls of ice that reach 20 to 30 feet into the sky. The building of those walls begins with the installation of LED lights and a sprinkler system painstakingly spread across an acre — sprinkler heads linked to a fire hydrant and aimed just so — and with a temporary metal structure that's sprayed with water so that the water freezes into icicles. Artisans then harvest those icicles and use them to build the castles "100 percent by hand," Davis said.
In fact, the crew grows and harvests between 5,000 and 12,000 icicles per day, sticking the harvested icicles to an icy base created by the sprinkler system and carefully arranging the icicles so that they eventually grow into the LED-filled sculptures, arches, and tunnels with which visitors are familiar.
"We'll place the icicles in the path of that spray pattern," Davis said.
Think of this like an icicle garden: At first, the icicles are the size of a candy bar; by two days in, they grow to the size of a gallon of milk, Davis said.
"After about three days, you can't tell where those icicles were because they just all grow together with water freezing on them," he said.
From icicles to castles, the process takes about four weeks.
"We design the structure, but Mother Nature is what creates the beauty and we can't control that," Davis said. "It's one of the most beautiful things you can see in the winter."
You can also see fire performances at the castles on Friday and Saturday nights and nab a photo opp with an ice princess on weekends.
Adult admission in Lincoln is $13.95-$21, and admission for kids ages 4-11 is $9.95-$16, depending on the day of the week and whether the ticket is booked online or purchased at the door. Door tickets may be unavailable if online tickets are sold out.
The castles typically close for the season in March, but the end date will depend on the weather, Davis said.
You can also find the 2018 Ice Castles in Midway, Utah; Dillon, Colorado; Stillwater, Minnesota; and Winnipeg, Manitoba, and Edmonton, Alberta in Canada.