Travel
Tourism and sports win big by teaming up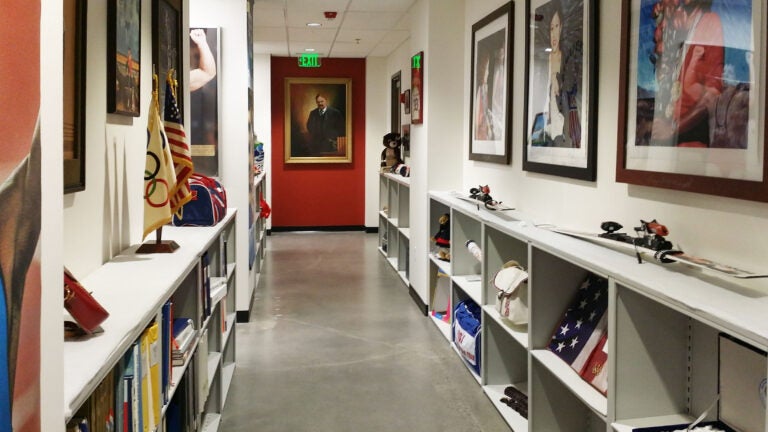 COLORADO SPRINGS, Colo. — With white cloth gloves, Teri Hedgpeth gingerly opens a box and lifts out a memento of an international drama.
It's the jersey that was worn by Gordon Adam when he served as Number 3 oarsman on the eight-man University of Washington crew that won the gold medal for the United States in the rowing competition at the 1936 Summer Olympic Games in Berlin, a heart-stopping event made famous to a new generation by the best-selling book "The Boys in the Boat.''
Beneath it, in the same box: the swastika-adorned jersey of a German rower who, in the custom of the time, surrendered it to the winners.
Icons like these are kept behind the locked doors of the archives Hedgpeth oversees in the guarded US Olympic Committee headquarters in downtown Colorado Springs.
Among countless other treasures, this collection includes the skis, skates, running shoes, racing wheelchairs, bobsleds, and other equipment used by American and Paralympic competitors, a Rio 2016 basketball signed by the US team and a hockey jersey autographed by Winthrop's Mike Eruzione, captain of the young US hockey team that upset the Soviet team in 1980 in Lake Placid, N.Y.
In an even more secure vault are medals, pins, patches, uniforms, and Olympic torches. The walls are papered with photos of Olympic moments familiar to the hundreds of millions worldwide who watched them on TV.
Some of these artifacts are bound for a new US Olympic museum now under construction nearby. And while it won't be ready in time for this year's Winter Games, which begin on Feb. 9, the museum is expected to start welcoming visitors by late 2019 or early 2020.
The $80 million project is a symbol of how sport has taken such a hold on popular interest that athletics venues, events, and exhibits have collectively become tourism destinations in themselves.
And not just the ones that are Olympic related. There are more than 130 halls of fame covering sports from horse racing to NASCAR, rodeo to swimming. Baseball devotees aspire to visit every major league ballpark; when they're finished, they start in on minor league ones.
European soccer fans embark by the thousands to watch their home teams play abroad. And a growing number of US travel companies will arrange for well-heeled enthusiasts to attend events up to and including next month's Super Bowl, including handling the transportation and accommodations; Super Bowl packages this year start at about $14,000 per couple.
Already a $1.41 trillion industry worldwide, sports tourism is projected to shoot up to a projected $5.72 trillion by 2021, according to the media and entertainment research firm Technavio.
"It's definitely growing,'' said Kiki Kaplanidou, associate professor in the Department of Tourism, Recreation, and Sport Management at the University of Florida. "For some people, there's a deep connection to sport, especially as sport matures in terms of history, accomplishments, the athletes, the teams, the successes and losses.''
Nearly 40 percent of American adults each year go 50 miles or more to a sporting event, the Travel Industry Association of America reports. In Australia, the proportion is 55 percent, that country's Bureau of Tourism Research says. Some 779,000 people annually travel to see Union of European Football Associations Champions League games, the UEFO estimates, spending 237 million euros, or $283 million.
All of this is being driven by more than solely the passion of sports junkies. Visitor bureaus and travel providers have begun aggressively promoting sports tourism, while teams and events increasingly look to out-of-towners to fill seats — particularly Major League Baseball, whose attendance has been falling.
"That sports tourism bulge has gotten the attention of almost every market in America that wants to get a share of it,'' said Al Kidd, president and CEO of the National Association of Sports Commissions. "They're trying like crazy to bring fans to their marketplace.''
One of the fastest-growing revenue sources for major league athletics, Kidd said: tours of stadiums and ballparks. "Diversification of product strategy,'' Kaplanidou calls this.
Amelia Costa doesn't focus on the economic aspects of traveling to sports venues, though. For her, "It's like a journey through American history.''
An 85-year-old retired English teacher who grew up walking to Red Sox games at Fenway Park, Costa has visited every one of the nation's major league ballparks since her husband died — even Yankee Stadium. ("I don't hate the Yankees,'' Costa said. "I dislike them, but I don't hate them.'')
Her passion for baseball "is something that never leaves you,'' said Costa, who now lives in Florida. But that's not the only thing that draws her to these places. So does the nostalgia of remembering those games at Fenway, which she attended with her father, and the interest she shares with the people she meets now.
"They know baseball. We have a common language. It joins us together,'' she said.
Not just retirees are doing this. Parker Bell, a 20-year-old Red Sox fan from Tennessee, has been traveling to ballparks since he was 10, with his grandfather, who is 73. They also have attended the College World Series and have plans to someday go to the Rose Bowl, " because we want to see the parade,'' Bell said.
"We both love baseball so much, we just wanted to see every park,'' he said. "And we get to meet so many people along the way that after our first trip we didn't want to stop. It's about the park, it's about the people, it's about the whole atmosphere. It's not just about a game.''
Travelers like these "are combining their vacation with their passion,'' said Jay Smith, owner of Sports Travel and Tours in Hatfield, which arranges package tours to everything from baseball stadiums to golf and tennis tournaments and offers an "induction ceremony'' at the Baseball Hall of Fame in Cooperstown for its customers who have been to every ballpark — 130 so far, including 42 who were "inducted'' last year.
"There is a degree of, if you want to call it that, kind of a pilgrimage, because some of these folks are into the history and some of the others, their ultimate goal in life is to see a game in every stadium,'' Smith said.
Back in Colorado Springs, the US Olympic Museum may not yet be open, but there's another way to get up close with Olympic athletes and hopefuls: by taking a little-known tour of the high-security, college campuslike US Olympic Training Center.
There, where Olympians are trained, fed, and otherwise prepared, a former administration building has been overhauled into a visitor center with a respectable gift shop, from which tours begin hourly Sept. 1 through May 31 and every half hour in the summers.
They follow the Olympic Path, lined with the flags of every country that participates in the Olympic Games, and pass the wall of sponsors — a reminder of both the corporate connection to sports, and the fact that the American Olympic team gets no government funding.
But the highlight is seeing the athletes themselves, in the state-of-the-art strength and conditioning center or the shooting ranges or the wrestling gym or the aquatics center where Michael Phelps trained. Four resident athletes are among the tour guides. Others often stop to say hello. One, Paralympian swimmer Tharon Drake, is known to carry around his silver medal to show to any tour groups that pass.
"Each of us has our own sliver of that athletic experience or athletic motivation or interest. So it's inspirational. It's the stories of these individuals and how their journeys are and have been inspiring, and they're compelling stories to tell,'' said Peter Maiurro, interim chief operating officer of the US Olympic Museum.
"It's this idea for each of us individually that we can watch elite athletes and for a brief moment they may appear to be those immortal beings. And obviously they aren't. But what they can accomplish on the field, in the pool, on the track, is extraordinary. That's part of what attracts us to sports.''