Travel
What's old is new (but not too new) as the Francis Hotel opens in Portland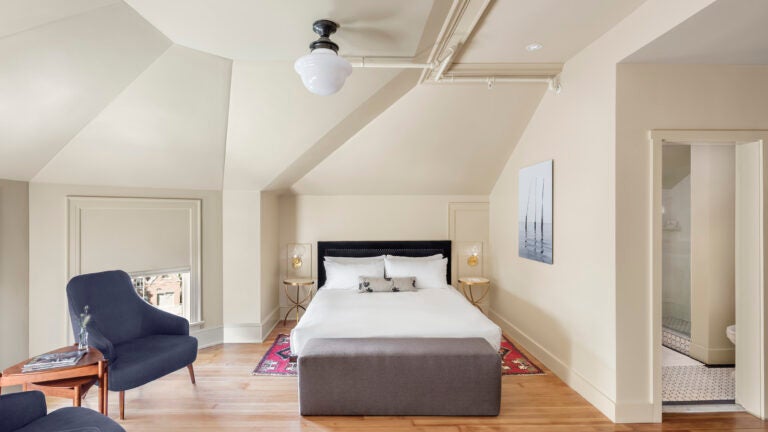 Room number 303 at the new Francis Hotel is a favorite. It was probably a former servant's quarter, renovated and enlarged to fit in a modern bath, sitting area, and small granite built-in bar. The floors are maple, the ceiling is a series of angles, the gray and tan tones are contemporary, the linens are lush. Rooms 102 and 101 have small outdoor decks — not so important this time of year, but come warm weather, they're fine spots for evening drinks and watching sunset views over the city. The ground floor room 002 is where the owner likes to stay. It has a snug, tucked-in sleeping nook and a comfy sitting area — very intimate and cozy.
Every space in The Francis, a 15-room boutique hotel located in the burgeoning West End of Portland, Maine, is unique and stylish, an expert blend of original details with just-enough contemporary contrasts (think: rooms with tile showers, custom-built modern furniture, free Wi-Fi, 40-inch HD TVs, Cuddledown quilts, and plush Frette robes).
We like that they haven't overdone the re-do. The 1881 four-story, brick Mellon E. Bolster mansion, which sat empty for more than a decade and underwent a sensitive, two-year restoration, still retains its good bones (and soul). So much so that when it re-opened its doors in late 2017, the National Park Service quickly put it on the National Register of Historic Places.
The hotel is named after Francis Fassett, the well-known Maine architect who originally designed the home and rebuilt much of Portland after the Great Fire of 1866. Most of his touches have been preserved. Take the front foyer: it still has original stained-glass windows, beautiful oak woodwork, massive oak doors, high ceilings, and a steep staircase leading to the upper floors. The parlor, a nice place to relax with a book or have a drink before dinner, has the original parquet floor with a gorgeous herringbone-design, and a working tiled fireplace.
On-site, and already creating a buzz, is Bolster, Snow & Co. restaurant, helmed by executive chef Nicholas Verdisco, who most recently worked at the Inn at Pound Ridge in New York's Hudson Valley with acclaimed chef Jean-Georges Vongerichten. The dining room is small and sparse, with seven or so tables and a four-person chef's bar. When we were there, the place was hopping. We grabbed stools at the chef's counter and ordered carrot fries, which were crunchy and soft and instantly addictive; a bowl of parsnip chips served with spicy togarashi, and fennel fritters with harissa aioli. We followed the snacks with two appetizers, both large enough to share: tender, long-cooked braised lamb with potato puree and an elegant scallop crudo with pink peppercorn and chili oil, topped with tobiko. Entrees included the creamy, house-made pappardelle, with squash, radicchio, walnuts, bacon, and crispy fried sage, and seared duck breast, served with bok choy, pistachios and gouchujang. We ended the evening with homemade milk and cookies.
Lucky those who booked a room; their cushy beds were only a few steps away.
747 Congress St., Portland, Maine, 207-772-7485; www.thefrancismaine.com. Room rates start at $99 in low season, $299 in high season. Free parking.