Travel
You can treat your dog to a snowy vacation in Vermont
Consider these the dog days of winter.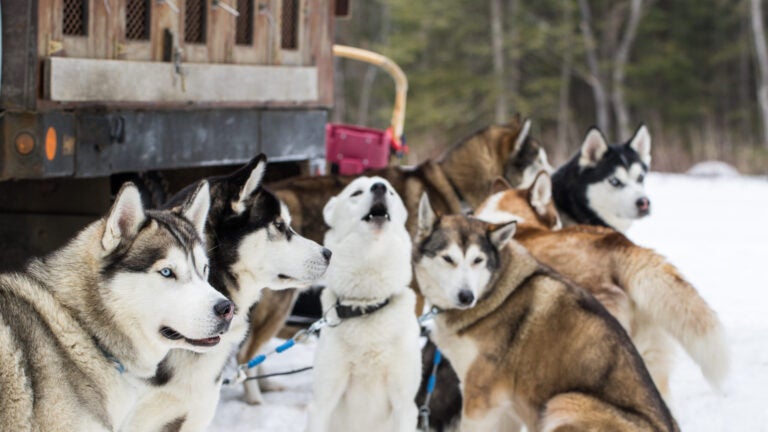 When drifts of fluffy snow bury New England, it's time to plan a winter escape — and there's no need to leave canine companions behind. Vermont's Green Mountains are a snowy wonderland of rolling peaks, full of cozy inns and trails that are as fun for pets as humans.
For some, the first stop is the Paw House Inn, a Rutland, Vermont, bed and breakfast that's designed for doggy whims. Guests dine on "woofles" in the dog-friendly dining room or stay warm with their pets in the dog-friendly beds, which are equipped with staircases for easy entry. Rooms at the Paw House Inn are available from $155, with a $10 surcharge if you don't bring a dog.
Another favorite for dog owners is the Kimpton Taconic hotel in Manchester, Vermont, where canine guests are greeted with locally-made, organic dog treats from Wagatha's, a bakery that whips up dog biscuits in seasonal flavor. Rooms, which start at $169 with no pet fee, come furnished with comfy pet beds and bowls, and concierge services include pet walking and pet sitting.
But should you bring your dog along for the day, the mountains are full of canine-friendly activities.
"For winter, there's just so many places to go," said Paw House Inn co-owner Mitch Frankenberg. "Our guests take their dogs on snowshoeing trails, hiking trails, fat biking trails, and to some of the cross-country ski areas that allow dogs."
Fat bikers and cross-country skiers put pets through their paces on 26 kilometers of trails at Mountain Meadows XC Ski & Snowshoe Center. Trail passes start at $19, with rental skis and bikes available onsite.
For an ice skate that's worthy of a side trip, head to Lake Morey Resort in Fairlee, which has the longest maintained ice skating trail in the U.S., with rental skates available from $10. While people gear up with a pair of skates, dogs come ready-made to hit the ice, skittering across the frozen surface alongside their humans.
Not all dogs are content to simply go along for the ride. There's a thriving skijoring community in Vermont, with skiers who kick and glide in tandem with their dogs, linked to the animals with a sturdy harness. Participants can bring their own skijoring equipment to Mountain Meadows, then take off across the trail system using the combined speed of skier and dog.
Even would-be dog owners have the chance to experience a snowy canine adventure by dogsledding through Vermont's rolling forest trails. Deep in the state's Northeast Kingdom, award-winning dogsled racer Jim Blair runs Eden Dogsledding, using "free range," never-chained Alaskan huskies for tours of a custom-built trail system. Private dogsledding tours start at $495 for two to four people. In the more southerly mountains of central Vermont, Peace Pups Dogsledding explores the forest near Lake Elmore with a team of Siberian huskies, and even offers dogsledding lessons for would-be mushers. Peace Pups dogsledding outings start at $300 per sled, which accommodate up to three passengers, with mushing lessons from $550 per person.
Whichever activity you choose, Frankenberg insists that bringing your dog on vacation is a win for both of you.
"And when you go back home," he said, "your dog should be more tired than you."