Travel
These photos of the frozen water in Acadia National Park are breathtaking
Visitors are ice skating through the trees.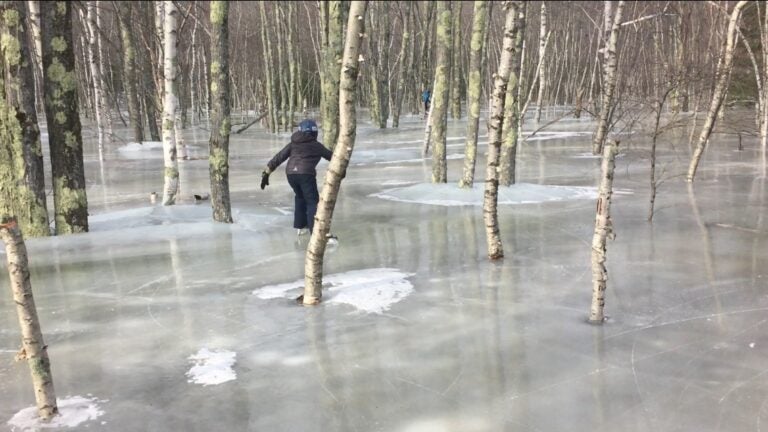 Typically, those who visit Maine's Acadia National Park expect steep hikes and stunning sunrises. But visitors this month have been treated to an additional rare experience, as flooding and freezing have turned the park's Sieur de Monts area into a forest skating path.
"The way the ice has played out there is you have this amazing opportunity to literally ice skate through the Great Meadow forest," said Christie Anastasia, public affairs specialist for Acadia National Park.
The area, which is currently under more than a foot of ice, rarely sees this type of flooding. It may happen once every 25 years, Anastasia said.
"Now it's happened twice in the span of a month," she said.
Anastasia said the ice conditions are due to an increase in both intensity and frequency of winter rain falling on frozen, snowy ground, plus a plummeting of temperatures.
About 100 people went ice skating on the forest skating path on Saturday, and visitors took a turn on it the previous weekend too, Anastasia said.
Sieur de Monts and the Great Meadow area of Acadia National Park are experiencing unusually high water levels due to last week's rain and snowmelt during the thaw last weekend. Because temperatures went from the upper 50's to single digits in one day, the flooded area froze–creating almost perfectly smooth ice that was ideal for skating. A few lucky park visitors were able to experience ice skating down the Jesup Path hiking trail before this week's snow covered the ice.Video: Friends of Acadia//Julia Walker Thomas

Posted by Friends of Acadia on Friday, January 19, 2018
People also have been posting photos to social media of the area's Jesup Path boardwalk. Anastasia said the boardwalk is at least two feet above the forest floor, but photos show it just peeking out from the ice.
Maine photographer Edward Muennich tweeted out the following picture, calling the conditions "unbelievable."
Unbelievable conditions in the Great Meadow in Acadia National Park. Flooded and frozen and awesome ice skating conditions.
.@FriendsofAcadia @visitmaine @VisitBarHarbor pic.twitter.com/IoD3M0oTvc

— Edward Muennich (@EdwardMuennich) January 28, 2018
The entire Sieur de Monts/Jesup Path area in Acadia is flooded and frozen, so today we went ice skating in the woods. pic.twitter.com/GGTB4cPQRM

— Cherie the Mainer (@cheriethemainer) January 27, 2018
However, Anastasia warned that visitors should keep in mind that the area's conditions can change quickly.
"It's a rapidly evolving situation," she said. "You might get there and it might be perfect for ice skating. Or you might get there and it might be miserable."
For example, Anastasia said Monday's ice skating conditions are not great because there's a lot of water on the ice.
"You have to exercise caution and use good judgment on the ice," she said.
The park warns visitors on its website that more than a foot of ice surrounds the Sieur de Monts Nature Center, bathroom structures, Spring House, Wild Gardens of Acadia, and parking lot. Anastasia noted that, while the trails in the Sieur de Monts area of the park are open, the park closed the parking lot on Friday due to the flooding. As you turn into the Sieur de Monts area, there are places to park outside of the closed area, she said.