Travel
'The Bachelor Winter Games' was filmed at an exclusive Vermont resort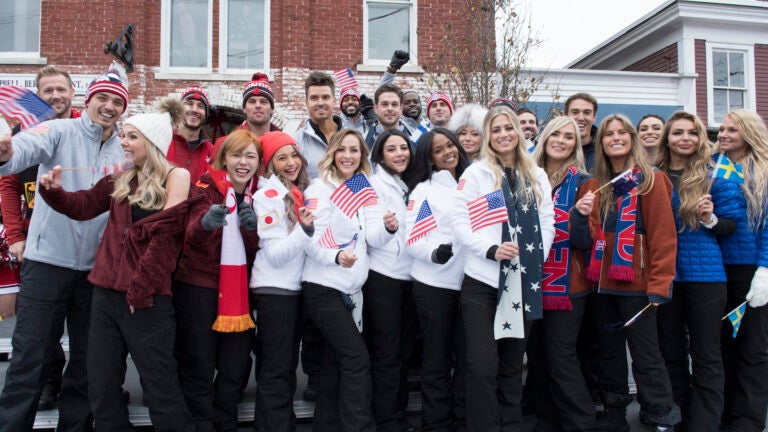 On Tuesday, "The Bachelor Winter Games"  debuts on ABC. For the first time ever, contestants from around the world will look for love in between bouts of ice dancing and biathlon, the Olympic sport that's a mashup of cross-country skiing and sharpshooting.
When that group of 26 contestants gathered in November and December of 2017 to film, they did so at the exclusive Hermitage Club, a private ski resort in southern Vermont.
Climbing the slopes of Haystack Mountain, the ski resort opened in 2012 with the promise of no lift lines, all-day powder, and freshly groomed runs that stay smooth well into the afternoon. Lift tickets aren't for sale at any price, as only members, their guests, and prospective members are allowed on the hill or in the clubhouse.
When members pull up to the clubhouse, whose soaring interior features post-and-beam construction and a profusion of antler chandeliers, they step onto heated sidewalks, handing off their keys to a cadre of valets.
Inside, leather-upholstered chairs are clustered around a glassed-in fireplace, and uniformed servers deliver meals to a light-filled great room. Just downslope, the ski-in Hermitage Inn has a wine cellar stocked with bottles from around the world, and members are assigned a personal wine locker to store their favorites, which can be delivered to any dining room on the property.
Much of the programming is oriented to families, with a kid-friendly games room, bowling alley, and movie theater, but the Hermitage Club offers some tailor-made romantic experiences that would be hard to find in a public resort. Guests can take a nighttime snowcat ride to the Haystack Summit Cabin, then dine and sip cocktails by a roaring fire, skiing back to the clubhouse under the stars. The old-fashioned dining room at the Hermitage Inn serves French-inspired Vermont country cuisine and features an outdoor fireplace that's ideal for after-dinner drinks and s'mores.
It all comes with a hefty price tag. Lifetime memberships at the Hermitage Club are $65,000, recently reduced from $85,000, with annual dues of $9,500. For those who prefer a trial run, a "limited exclusive membership" that covers accommodations, club access, and lift tickets comes at $10,000 a week. Access to the even more exclusive slope-side dressing room costs members an additional $100,000 for the use of mahogany lockers with gorgeous views of Haystack Mountain.
During the filming of "The Bachelor Winter Games," contestants stayed in the luxurious Stag's Leap, according to Bobbi Resek, the Hermitage Club's membership advisor. It's an 8,000-square-foot property that rents for $3,000 a night.
But despite the lavish perks and rarified clientele, the Hermitage Club has faced challenges and controversy in recent years. According to founder Jim Barnes, the mountain became embroiled in permitting issues for two years, slowing growth and limiting cash flow. The situation was amplified by the warm winter of 2015, which hurt ski resorts around the East. The Hermitage Club has been late on payments to vendors, local utilities, and the town of Wilmington, and in fall of 2017, asked club members for a one-time fee of $10,000 dollars to help catch up.
And while the resort still offers private slopes and glamorous perks, the experience can be bumpy for a destination that's defined by exclusivity and luxury. Beyond the clubhouse's glittering entrance hall, a slight dissonance emerges: threadbare carpet, a cafeteria clogged with diners, lines at the lifts where according to the club's website, you'll "never, ever, wait in a lift line." The resort's accommodations, which are open to the public, are existing properties that have been purchased and renovated over several years, sometimes with uneven results. At the top end, guests sleep in luxurious suites at the historic Hermitage Inn and the White House Inn, but the downtown Wilmington Vermont House has the basic feel of a nicely maintained, midrange ski condo.
Not that any of the Hermitage Club's occasional lumps will be on display on "The Bachelor," whose sets and contestants alike are bathed in generously soft lighting. When the first episode of "The Bachelor Winter Games" goes head-to-head with the Olympic games in Pyeongchang, a new season of drama and romance will unfold in a series of four episodes.
If past seasons are any indication, there's sure to be plentiful tears and intrigue as the 26 contestants go for the brass ring of life-long love (or at least some lucrative endorsement deals). For the rest, Bachelor Nation, stay tuned.