Travel
Skating on the world's largest naturally frozen rink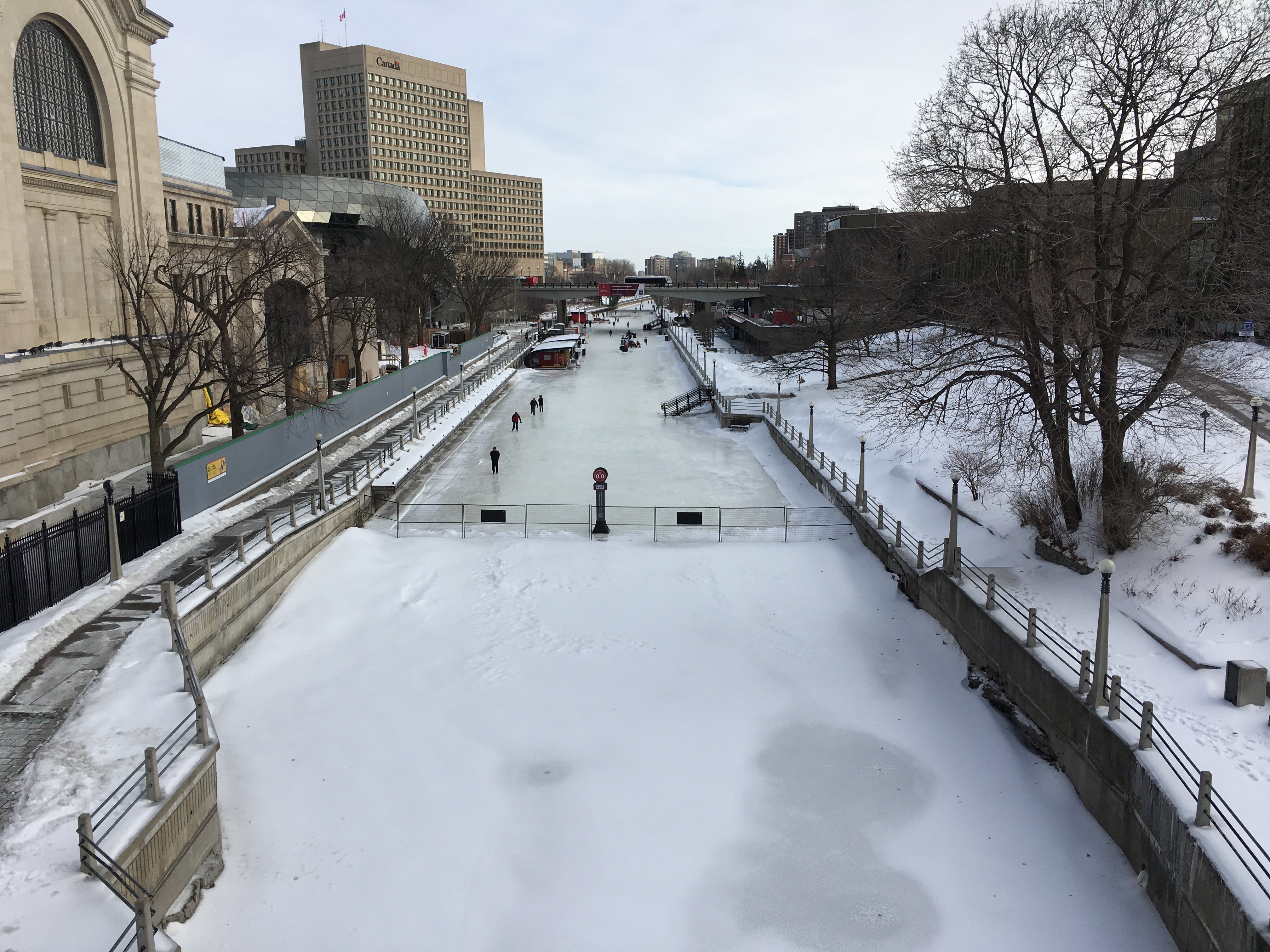 Consider the seemingly absurd:
• Fishing through my wallet for a $5 Canadian bill to pay for a beaver tail at a concession stand plopped atop a frozen canal.
• Teetering while waiting for my snack, on legs wrecked from an hour-plus twirl, on skates.
• Head steaming from the exertion of said skate in 14-degree weather.
• Standing on a block of frozen water that is five feet deep in warmer times.
This is a skater's life atop Ottawa's Rideau Canal.
Every winter, the canal turns to ice. Under the stewardship of the National Capital Commission, a 7.8-kilometer stretch (approximately 4.8 miles) freezes to become the Rideau Canal Skateway. It measures 165,621 square meters, about the size of 105 National Hockey League rinks. Once the ice's thickness reaches its 12-inch minimum threshold, skaters are free to glide onto the canal — for free, at that.
Transformation from water to skate-safe surface, however, is not solely nature's responsibility.
Ottawa is cold. As a Boston Bruins reporter, I have visited Canada's capital to cover games for 12 seasons. I have never been more uncomfortable than during a 50-yard wind-lashed stagger one year from the parking lot to the entrance of the Senators' rink.
Ottawa's breathtaking cold comes alive. It is mean, biting, and relentless, the kind you would decline to encounter in a dark alley. The natives shrug it off by wrapping extra scarves around their necks and continuing their routines, most of them outdoors.
Even Ottawa's frigidity is not enough to turn the canal into a rink. According to the NCC, the average season over the last five years is 48 days, usually from mid-January to late February or early March. Last winter, the skateway was open for skating for 25 days of its 36-day season. One day prior to my arrival, the canal was closed because of poor ice conditions.
"If I recall right, we had mild weather a bit before, followed by a little bit of rain and snow,'' said skateway senior manager Bruce Devine. "So our strategy was to close the skateway for a day and a half. Since the cold weather was kicking in quite nicely after the rain and snow, we waited for everything to freeze properly.''
Snow, rain, and warmth degrade ice. The worry is not about skaters plunging into the drink. Cracks, caused by the ice's expansion and contraction, can snake around the surface. Bubbles form when air gets trapped between layers.
Such blemishes act like magnets for skate blades to enter, causing their wearers to splatter onto the deck. Nature's hands-free touch requires assistance from on-site human care to ensure a smooth and skateable sheet.
So even in January, crossed fingers are required to time a twirl right. I packed my skates in my carry-on, curious about two things: whether TSA would clear my blades for boarding, and if the approaching cold (highs in the teens the next day) would allow the canal to reopen.
My skates sailed through the X-ray machine. By the time I landed in Toronto, my connection to Ottawa, the NCC had flashed the green light for skating at noon the next day. I celebrated by grabbing an extra handful of free shortbread cookies and a second Coke Zero at Billy Bishop Airport's inimitable Porter Airlines lounge.
While I was traveling to Ottawa, nature and the canal's personnel were working to reopen the skateway. The plunging temperature gave the ice a good freeze. Meanwhile, pumps, via holes drilled into the ice, were circulating 35,000 gallons of the canal's free-flowing water onto the surface from under the ice to create a skate-safe layer. The finishing touch was a canal-length pass by the Froster, the NCC's custom version of a Zamboni. That night, the Froster, which is equipped with two three-foot wings, would apply a final frosting-like sheet of ice.
The morning of my skate was frigid, wind-blown, and dry. Or Thursday, as they call it in Ottawa. It was 1 degree. My usual reaction is vulgar. This time, I pumped my fist.
After a morning of work at Canadian Tire Centre, Ottawa's NHL rink, I grabbed my skates and drove downtown. Kilometer 0.0 is at the Rideau Locks, a slap shot away from Parliament. I entered one of the heated changing stations along the pathway, tucked my sneakers into a cubby, tied on my skates, and began my first outdoor skate.
I did not stay upright for long. As a rookie, I expected the smoothness of an indoor sheet. It took one pass, either over a pimply patch or into a crack, to send me tumbling. From then on, my eyes, for the most part, focused on the ice ahead to scan for hazards.
It was impossible, however, not to let my gaze drift. The scenery was gorgeous — the hazy sun shining through clouds, the richly dark hues of natural ice, even the underpass of Highway 417, the region's major motorway. Students from nearby Carleton University skated back to campus. Natives clambered down the walkways along the canal and changed into their skates. Even a mother skated past while pushing her child's stroller.
At Jim Roche Community Arena, my neighborhood rink in West Roxbury, finding open ice is not easy. On weekends during public skating, it's like rush hour on Route 128. High-speed sprints are impossible. Collisions take place, especially with young and oblivious waterbugs flitting about. After a good 10 strides, it's time to turn and continue your counterclockwise loop. The din is relentless, from the laughing and screaming to the tunes that echo off the metal bleachers.
In comparison, I would imagine that driving on a deserted Montana interstate is a good comparison for skating on the canal on a weekday afternoon. There are no boards, only the banks of the canal to guide your trajectory. You skate and skate and skate. It is an experience of isolation, barely disrupted by fellow skaters.
I felt every puff of smoky air I exhaled. I skated to the metronomic skritch, skritch, skritch of my blades digging into the ice. When my ears throbbed from the cold, I put back on the hat I had removed to cool my steaming head.
It was an exercise of temperature modulation. Long underwear, two more layers, parka, hat, and gloves made me overheat. But after several minutes, I was re-zipping my jacket and reaching for my hat. I tried to take a picture near Kilometer 7.8, the skateway's southern terminus. My phone, tucked into an outer pocket, blipped off when I opened the camera. I slipped my phone into a warmer pocket and resumed skating. When I turned it back on, the battery, which started near full power, had dropped to 6 percent.
After taking a few crossovers at Dows Lake near the end point, I pivoted north for a hard return leg. My skate into the wind to Kilometer 7.8 was tough, nothing like an effortless indoor glide. But as I skated back to Rideau, the tailwind, which usually travels in a northerly direction, steered me to my destination.
I celebrated my return with a beaver tail. It is a slice of dough, shaped like its namesake, fried to order and dusted with cinnamon and sugar. I sat on a picnic table atop the ice and attacked my snack.
Before, my wish of skating the canal was hopeful and anxious. Ottawa natives grew up on skates. Stepping onto their canal would be like dipping a surfboard into Oahu's waters. These people are pros. I am not. Less than two years ago, I would have needed a stack of milk crates to help me negotiate the ice.
Children, however, can persuade their parents to do unexpected things. As my kids learned to skate, I convinced myself that joining them on the ice was a healthier and more engaging experience than loitering in the snack bar. With practice, I progressed from pawing at the boards to my current level, which I'd classify as novice.
It takes me a few yards to brake to a stop. Skating backwards is not happening. But I can now skate to the point where I can fake my way around the ice. Even that of the world's largest naturally frozen rink.