Travel
This baker is the last Mainer standing in the 2018 James Beard Awards
Alison Pray, owner of Standard Baking Co. in Portland, makes hearty breads and delicate pastries.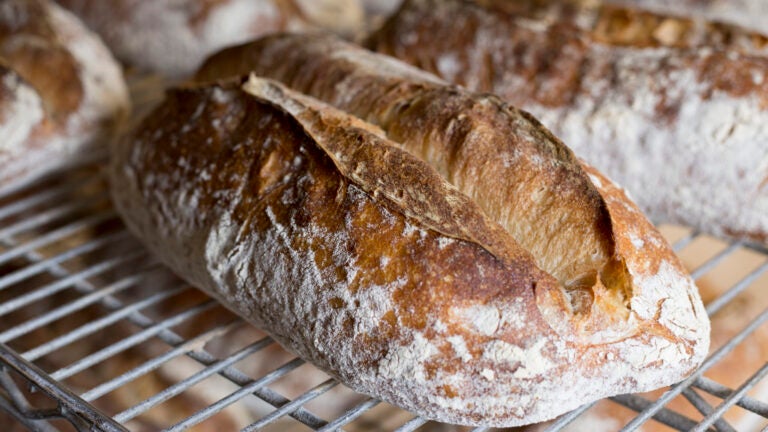 For the past decade, Maine chefs — and Portland ones in particular — have received accolade served on top of accolade. And every year when the James Beard Foundation releases its annual list of nominees for its James Beard Awards, the restaurant community spends weeks speculating about who will take home the prizes.
Last year, Chefs Mike Wiley and Andrew Taylor of Eventide Oyster Co., The Honey Paw, and Hugo's shared the award for Best Chef: Northeast. Previous ceremonies have recognized Sam Hayward of Fore Street, Melissa Kelly of Primo, Rob Evans of Duckfat, and Mark Gaier and Clark Frasier of M.C. Perkins Cove (formerly of Arrows).
But this year, something different happened. While 11 Mainers and Maine-based restaurants earned semifinalist spots on Feb. 15 (including Hayward, Ilma Lopez of Piccolo, Cara Stadler of Tau Yuan, Krista Kern Desjarlais of The Purple House, Vien Dobui of Cong Tu Bot, Erin French of The Lost Kitchen, Ravin Nakjaroen of Long Grain, Keiko Suzuki Steinberger of Suzuki's Sushi Bar, as well as restaurants The Back Bay Grill and Chase's Daily), only one nominee from the Pine Tree State even made it to the March 14-announced finals.
Alison Pray, co-owner of Portland's Standard Baking Co., is the last person standing in the 2018 James Beard Foundation Restaurant and Chef Awards, and she's nominated in a category that has only existed for four years: Outstanding Baker. (Erin French, owner of the Lost Kitchen in Freedom, Maine, is a finalist in the 2018 James Beard Foundation Book Awards, a separate competition.)
"This is our third year being nominated out of the four years they've had a category for bakers, and I didn't expect to be nominated again," Pray said. "I felt like our time had passed — we had been recognized, and now they would go on to recognize other bakeries."
Pray described herself as "stunned" that her bakery, which specializes in old world-style breads, rolls, and pastries, is still on the Foundation's radar. Bakeries, Pray said, are places that do "behind-the-scenes work — it's not as glamorous as the restaurant world." At Standard Baking Co., she strives to serve the repeat customer, the person who comes in every morning to buy their "daily bread."
"Since we opened 23 years ago, that's who we have wanted to serve," she said. "And if people weren't in the habit of buying daily bread, we were hoping we could create that need."
While Standard Baking Co. is known for its simple-yet-delectable baguettes, brioches, and boules, it also offers breakfast pastries, like scones and buns, and dessert items, such as cookies, Madeleines, galettes, and brownies. When asked which of its offerings best showcases its bakers' skills, Pray points toward the viennoiseries, pastries made from laminated dough that has been repeatedly folded.
"This is a process that takes years to master," she explained. "You have to have systems in place so that you can reproduce the same results consistently, day after day. It's a great reflection of the baker's skill."
Pray has spent decades perfecting these classic techniques, but she's also interested in pursuing new types of baking and creating new products for her customers. She's currently experimenting with a series of breads based on porridges.
"We're looking for a way to make whole grains easier to digest and more delicious," she said. "Using the porridge process really helps bring out the elemental flavors of the grain."
She uses a process of slow fermentation and techniques of soaking, hydrating, and scalding to impart a different texture into the bread and create a greater depth of flavor.
"These amorphous porridge loaves are what we're most excited about right now," she said.
She's also pretty excited to attend the James Beard Awards Gala (though she admits to "stressing a little about the whole thing," too). On May 7, Pray will dust off the flour and join her fellow nominees in Chicago, where she'll find out whether Standard Baking Co. has won the prestigious prize.
"I'm proud to be handpicked from Maine," she said. "We get to represent Maine, and bakers, and the hard work of bakers everywhere."
Standard Baking Co., 75 Commercial St., Portland, Maine; standardbakingco.com