Travel
The best places to stay in New England, according to local bloggers
Plan your weekend getaway at these local hotels and inns.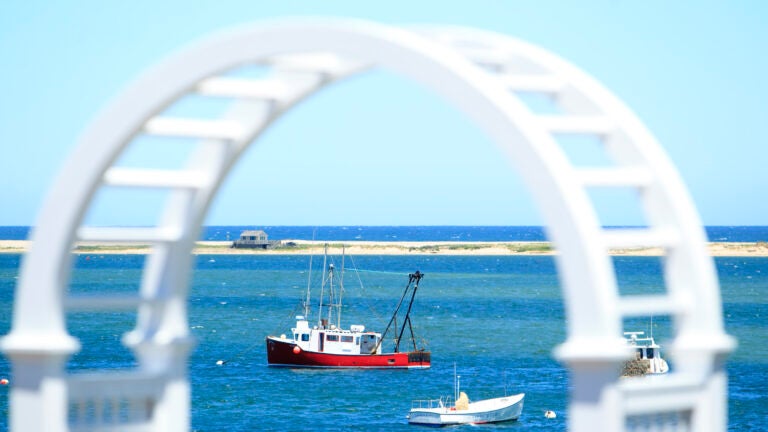 With warm weather seemingly here to stay (fingers crossed), your next weekend getaway might not be too far away. New England offers plenty of destinations to help you unwind without venturing too far from home.
We talked to six New England lifestyle and travel bloggers to get their picks for the best places to stay in the Northeast. Here are their top recommendations.
Connecticut
Calling all "Gilmore Girls" fans: Here's your chance to visit the place that started it all. After a visit to the Grace Mayflower Inn, show creator Amy Sherman-Palladino said she was inspired to create Stars Hollow, according to a New York Times article.
Located in Connecticut's Litchfield County, the hotel is "the perfect location to disconnect and relax," according to Aubrey Yandow, a Connecticut native who runs the blog The Coastal Confidence. The 30-room hotel, set on 58 acres, also houses the Mayflower Dining Room, a restaurant that serves food made from regionally-sourced ingredients, and a 20,000 square-foot spa, with numerous ways to destress. Yandow recommends the Grace Mayflower Inn for a weekend spa getaway, or simply for exploring Litchfield County.
Planning a trip to Mystic? Yandow suggests the Whaler's Inn, located in the heart of Mystic Village, for a seaport experience.
The biggest boutique hotel in downtown Mystic, the inn has 47 guest rooms spread across five buildings, most of which recently have been renovated. The renovations are scheduled to be completed by the end of May.
The Whaler's Inn also provides a complimentary adult bike rental program by Mystic Community Bikes to get around the town, as well as continental breakfast and an on-site restaurant, Bravo Bravo.
Maine
It can be hard to choose one place to stay from Maine's great community of inns and bed-and-breakfasts, according to Hayley and Blair Griffin, the local bloggers at Sea Salt and Chambray. However, the blogging sisters say one spot in downtown Portland stands out from the crowd: the Pomegranate Inn.
"Each bedroom has really intricate murals and wallpapering, bright, bold colors, and it's really just a gorgeous place to stay," Blair said.
The hotel has eight guest rooms, and serves complimentary tapas-style small plates for breakfast each morning. If guests decide to sleep in, homemade baked goods, fresh fruit, and more are available throughout the day for guests.
"A lot of the travel I've done, you know, I wanted to be out and about and adventuring, so I didn't really care what [my accommodations] looked like. I just want to stash my bags there and be unconscious there," Blair said. "The Pomegranate Inn … [is] really a place for people to go and enjoy being there."
New Hampshire native Maggie Sutherland, creator of the blog Seacoast Lately, spent time in Maine for college and recommends staying at the Cliff House in Cape Neddick.
This family-friendly hotel boasts ocean views and a plethora of activities to do in and around the resort. Amenities include indoor and outdoor swimming pools, a luxury spa, and summer on-site and off-site activities, like golfing, biking, hiking, sea kayaking, fishing, and lobstering trips.
Massachusetts
Cape Cod local Bethany Kate Peterson, who runs the lifestyle blog Miss Bethany Kate, recommends that visitors stay at the Chatham Bars Inn during a Cape Cod weekend getaway.
Established in 1914, the inn first served as a semi-private hunting lodge for wealthy Boston vacationers. It advertised soundproof accommodations with electric lights, steam heat, long-distance telephones, and private bathrooms featuring both fresh and salt water baths. 
Fast forward to the current era: Chatham Bars Inn underwent a $100 million renovation in 2006 from top to bottom — all rooms, restaurants, and common areas were updated, and the private cottage suites were redesigned and reconstructed. But don't fret, history lovers; the inn has retained its old-world charm while now offering modern amenities.
New Hampshire
If you're traveling to New Hampshire, Sutherland suggests staying at the Great Island Inn in New Castle. Originally built in the 1820s and situated about 100 yards from the waterfront, the property has six modern studios for guests that feature kitchens and in-room laundry.
Sutherland said that it's a small-town inn with a homey feel, so it really lets you experience New Castle and the Seacoast like a local.
Rhode Island
The Moore family revamps abandoned homes around the world into guest cottages for weekend getaways. One of their recent updates: a home in Tiverton in coastal Rhode Island, which they call the Boat House. After a year and a half of renovations, the waterfront home features three bedrooms, one bathroom, a kitchen, a garden patio, and waterfront access — including for kayaks. The property is available for up to six guests.
Rhode Island native and blogger Jess Ann Kirby recommends a stay at the Boat House because she said it feels like a home away from home.
Gurney's Newport Resort and Marina, which overlooks the Newport Bridge and contains 257 guest rooms, is a new and hip place to stay in Newport, according to Kirby.
The hotel is located on Goat Island, surrounded by Narragansett Bay, which means it exudes the atmosphere of a private island minus the seclusion — it's situated near the shops and restaurants of downtown Newport. You can also relax in the full-service spa and outdoor saltwater pool.
Vermont
According to Erin McCormick, the blogger behind Travel Like a Local: Vermont, Burlington is a must-visit town when heading to Vermont because there are so many things to do within an hour of the city.
And Hotel Vermont is the only independent boutique hotel in Burlington. That's where McCormick suggests visitors to the city stay.
The 125-room accommodation features rustic wood decor and views of the lake. The modern-styled Juniper Bar is located on the lower-level of the building. To explore Burlington, guests can rent bikes for a scenic ride along the lake or even a simple shopping outing down Church Street.
Once a lodging house during the Civil War era where travelers would stop to rest, the Pitcher Inn is now an 11-room hotel — it has two two-bedroom suites and nine guest rooms — with amenities to explore the great outdoors of Warren, Vermont. It's one of McCormick's favorite places to stay, she said.
There's plenty to do within and surrounding the hotel, including playing games in the hotel's game room, riding trek hybrid bikes, canoe riding, and gaining complimentary access to the Sugarbush Health and Racquet Club. McCormick recommends visiting the on-site restaurant, 275 Main, and the pub downstairs, Tracks.
"[Pitcher Inn is] pricey, but if you can splurge a little bit, it's a great spot to stay for the weekend," McCormick said.