Travel
6 New England towns to visit in May
You can feast on oysters, learn to sail, or fly a kite near a 143-year-old lighthouse.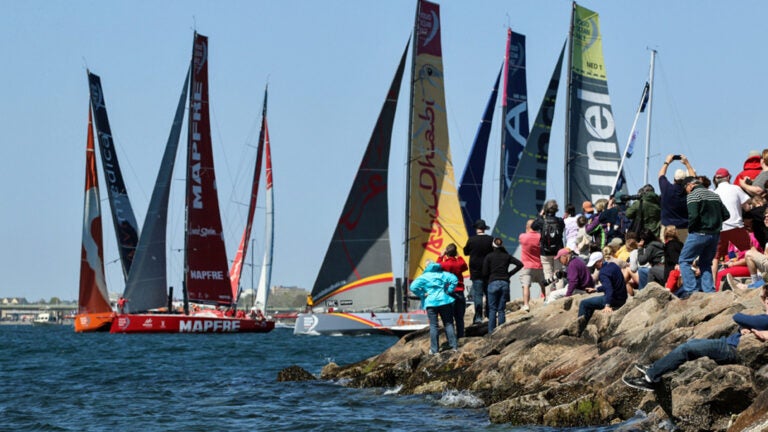 With the arrival of May, New England towns are full of activities that embrace spring. Finally. 
Head to Newport for your only chance to see the triennial Volvo Ocean Race in North America. Here's the premise of this insanely long race: Seven teams of racing sailors (including a USA/Denmark boat with three Americans) left Spain on Oct. 22, 2017 and are expected to reach the finish line in the Netherlands in late June 2018. In between, they will have crossed four oceans, spanned more than 45,000 nautical miles, and stopped in 12 cities. One of those cities is Newport, which they'll arrive in on May 10. From May 8-20, Newport will transform Fort Adams State Park into an admissions-free Race Village full of sailing-themed activities, live music, food and beer, and a chance to meet the sailors and get up close to the racing boats. Visitors can take free sailing classes on Narragansett Bay, participate in hands-on activities in an ocean exploration zone, and step into a globe-shaped theater where a 3D movie will show what it's like on board a racing boat.
After a weekend visit to Connecticut in 1938, the late First Lady Eleanor Roosevelt wrote about "an avenue of pink and white dogwood on Greenfield Hill such as I have never seen anywhere else in this country." Attend Fairfield's 83rd annual Dogwood Festival from May 11-13 and check out a craft show, a plant and garden boutique, and even a two-mile fun run. During a Friday luncheon, Kandi Carle, known as the "Victorian Lady," will discuss fashion, life, and etiquette during the Victorian era.
Celebrate the "incredible edible dandelion" at the Remick Country Doctor Museum & Farm's Dandelion Festival on May 19 from 11 a.m. to 3 p.m. Festivalgoers will be able to sample dandelion wine and cordials, taste recipes that include the flower, and try out dandelion cosmetics. If guests are still hungry, they can roast hot dogs and s'mores at an open fire pit (no dandelions included).
Kites at a previous Bug Light Kite Festival in Maine.
Send your kite up into the sky with other colorful kites and a 143-year-old Maine lighthouse as the backdrop. The 9th Annual Bug Light Kite Festival will take place on May 19 from 11 a.m. to 4 p.m. at South Portland's Bug Light Park. The Portland Breakwater Light (also called Bug Light) was built in 1875 and is open to the public only a handful of times a year, according to the Rotary Club of South Portland/Cape Elizabeth, whose volunteers conduct tours and will do so all day during the festival. Outside the lighthouse, members of the Noreasters Kite Club and KONE (Kites Over New England) will provide kite-flying workshops, a kite repair area, kite races, and demonstrations of show kites. If you don't have a kite, you can buy one at the South Portland Historical Society's museum gift shop, located near the entrance to Bug Light Park. Also near the museum, look for the Maine Marimba Ensemble, which will perform between 11 a.m. and 1 p.m., and a barbecue area where you can fuel up after some serious flying adventures.
Browse the wares of more than 110 juried New England crafters and artisans on May 26 from 10 a.m. to 5 p.m. "It's a great way to not only get out and meet your neighbors and meet new people, but you get to see crafters who have been working all winter on their inventory," said event coordinator Diane Perry. If all that shopping makes you hungry, you can order Indian, Thai, seafood, fried dough, wood-fired pizza, barbecue, ice cream, and more from the food vendors and food trucks set up on School Street. Children's activities will include a dunking booth, a bounce house, face painting, and a playground area. Local musicians and dancers will also perform throughout the day.
Feast on the shellfish to the sound of a 17-piece jazz band when this festival takes over Wareham's Main Street on May 27 from 11 a.m. to 5 p.m. "Wareham is a real haven for very high-quality oysters that are exported throughout New England and beyond," said Linda Burke, a volunteer for the festival. "It's a great opportunity for people to try them and compare them to other oysters across the region." Guests will also have the chance to taste oysters from places like Cape Cod and Rhode Island, she said. Not a fan of oysters? There will be plenty of other food options, such as lobster rolls, clam cakes, and pad Thai, Burke said. Beer and wine will also be served.