Travel
Elin Hilderbrand on living in Nantucket: 'What I write about in my novels is also what's in my life.'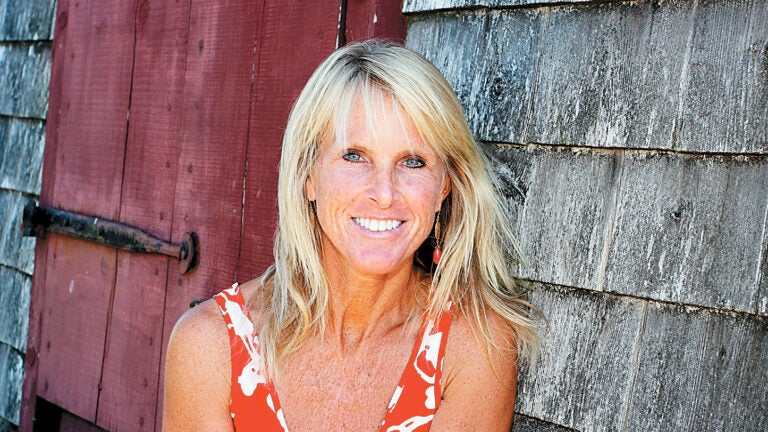 New York Times best-selling author Elin Hilderbrand eats, sleeps, and breathes Nantucket. She first visited the island in 1993 and moved there full time to write in 1998. All of her novels take place on the island, starting with "The Beach Club'' (2000), a romance she started in graduate school at The University of Iowa Writers' Workshop. On June 19, her 21st book, "The Perfect Couple,'' goes on sale, a murder mystery about a maid of honor found floating face-down in Nantucket Harbor the morning of a fancy wedding. So, what first drew Hilderbrand to this elbow of sand 23 miles off Cape Cod?
"I grew up spending summers in Brewster at my family's house,'' says the mother of three. "I had been to the Vineyard and thought, you know what, I'm going to Nantucket, and when the ferry pulled into Nantucket Harbor, I said, 'Oh, my goodness, this place is so gorgeous, I never am leaving.' ''
What sets Nantucket apart from other places, says Hilderbrand, is the island's authenticity. "The downtown is historically preserved, and then there is 50 miles of pristine beach, which is preserved and conserved out the wahoo. So, you are seeing a place which has been unchanged for hundreds of years, which is what I love so much about it — it's real.''
That 50 miles of coast plays a prominent role in Hilderbrand's life and in her books. Not only does she set most of her novels at the beach, but that's where she writes them, longhand. "I ride my bike to the beach with my notebooks and write there, because why not? It provides a calm, relaxed setting that is also inspiration.'' This is, of course, after a 6-mile run and exercise class.
"I have this ridiculous exercise regime in the summer that I do not deviate from,'' admits Hilderbrand, "because it's a very strict discipline that sets up my day, and I do it no matter how hung over I am or how late I was out. My present route is the Madaket Road and then I go to Forme Barre (formerly Go Figure Barre Studios). This is how I get two books written each year without an assistant on deadline.''
One of Hilderbrand's favorite writing beaches is Steps Beach. "It's beautiful, close to my house, and has all these dunes with Rosa rugosa. It's also on Nantucket Sound, so you can see the ferry and there are no waves.'' Another favorite is Ram Pasture, on the Southwest coast at the end of a long dirt road and "virtually deserted, even at the height of summer.'' In fact, Ram Pasture was the setting for Hilderbrand's most recent novel, "The Identicals.''
When Hilderbrand's not writing, she loves to shop. "All of my jewelry is essentially from Jessica Hicks. She hand makes everything, and her rings, necklaces, and earrings in silver with semi-precious stones are mostly what I buy because they're at the right price point.'' For clothes, Hilderbrand fancies Milly & Grace. "It has really feminine, fun, flirty, colorful clothes from designers like Parker NY, Minnie Rose, and Rebecca Taylor. I basically go out four nights a week and because I am photographed often, I never wear the same thing twice, so I'm constantly shopping!'' Then, of course, Hilderbrand can't resist Mitchell's Book Cornerand Nantucket Bookworks, both of which carry her novels and where she meets fans and signs their books, "several times a week.''
When it comes to dining, "I do not mess around,'' says the self-described foodie. "I really love the Boarding House, which is right, smack in the middle of the action. I love sitting at the bar, and they have this warm crab dip with cream cheese that is so delicious. It comes in a cast iron pan with homemade potato chips.'' Hilderbrand also frequents The Proprietors Bar & Table, mainly for its seasonal, craft cocktails ("anything with cucumber in it'') and The Nautilusfor its blue crab fried rice, which she likens to take-out on steroids.
"It's the most delicious thing on earth,'' enthuses Hilderbrand. "It's made with big chunks of lump crabmeat and comes with this green sauce, a grilled lime and deep-fried eggs, which when you crack open, the yolks go all over the rice.'' She also recommends Surfside Beach Shack, mainly for its Krabby Patty, a crab, shrimp, and scallop burger served on a bun with lettuce, tomato, and red-pepper dill aioli.
"I add bacon and avocado and it's the perfect beach sandwich. Add a watermelon limeade and you have the best lunch ever.''
For homemade ice cream, Hilderbrand says most folks flock to The Juice Bar. "But the line is around the block, so this past year I discovered Island Kitchen. I ordered the French lemon soufflé ice cream and it was just so damn good. I always think I'll get something else, but I always end up getting it.'' She gushes about Bartlett's Farmfor its fresh-picked flowers, corn, and tomatoes, homemade blueberry and peach pies, and broccoli slaw. Lemon Pressis her go-to spot for "amazing avocado toast, as well as egg sandwiches.''
When guests visit, Hilderbrand often takes them to Cisco Brewers, a distillery, brewery, and vineyard. "It's a party every afternoon in summer and there are food trucks, dogs, kids, and live music,'' she says. For late-night fun, she hits The Chicken Box, a dive bar and island institution. "There is no chicken, no food, just live music, dancing, and craziness.''
Regarding hotels, The Nantucket Hotel & Resort is the author's "home away from home.'' When not at the beach, she works out in their gym and writes by the pool. What's more, each January, the hotel and Hilderbrand host a fan weekend, complete with fancy meals and trips to favorite spots in her novels.
When Hilderbrand does leaves Nantucket, it's primarily for work. For six weeks in November-December she rents a house on Beacon Hill to revise her summer book. Every spring, she heads to St. John in the US Virgin Islands to finish writing her winter book (she has released four winter books, thus far, all set on Nantucket in the off-season). "I have to be away from the kids off-island, so I don't get distracted,'' says Hilderbrand.
As hard as she works, Hilderbrand admits she leads a pretty charmed existence. "I live a life very similar to my characters in that I live a full-blown summer fantasy from June to September. I go to the beach and work there every day. What I write about in my novels is also what's in my life.''