Travel
The Maine campground with the 'glamp' tents now has glamorous cabins and huts
Peek inside.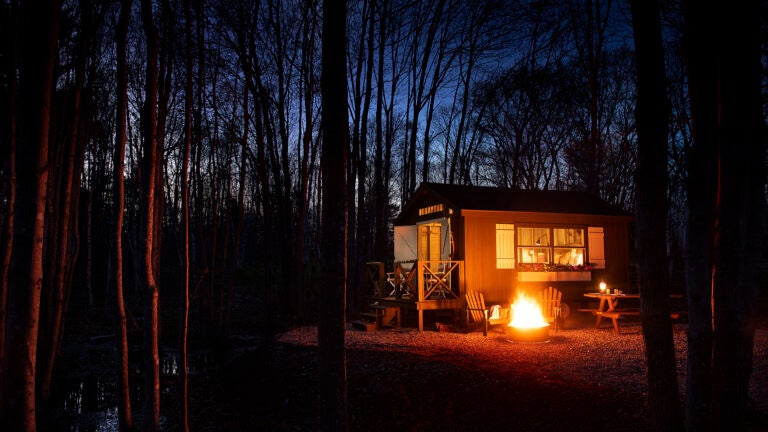 Sandy Pines Campground launched in Kennebunkport, Maine, last year with great fanfare — and glamping.
It reopens this weekend for the summer through fall season with added deluxe lodgings. New this year are 12 "Camp Carriages," or cabins on wheels, each uniquely decorated by Kennebunkport designer Krista Stokes and outfitted with beds, air-conditioning, exterior window shutters, fire pits, and seating areas. Also joining the camp cavalry, which includes spots for traditional tents and RV hookups, are a dozen wooden, wheelable A-frame "Hideaway Huts" that Stokes collaborated on too. They have full-size beds, outdoor seating, and fire pits.
Four more glamp tents have been built, as well, making a total of 16 individually designed, luxury-level tents in all.
"They were hugely popular last year and are proving popular this year too," said Sandy Pines' Marketing Director Beth Geary of the designer tents. "It will be interesting to see if the carriages and A-frames hurt the glamp tents' bookings once I get them on social media. But the glamp tents are fully booked at weekends through to the middle of September."
Co-owners Tim Harrington (a hotelier behind the Kennebunkport Resort Collection) and Debra Lennon (formerly a Kennebunkport Resort Collection owner) had originally planned for this phase-two rollout to be a selection of vintage Airstreams. However, the amount of time and investment in locating and renovating Airstreams wasn't practical, Geary said. Harrington's own silver camper sits on site, unused.
"Tim and Debbie both do a lot of traveling and they see what's up-and-coming," Geary said. "There are so many glamping options out there now — from tree houses to A-frames. We had to decide what fit our aesthetic. The cottages and huts work well in this setting."
Because of town regulations, permits limited what could be added.
"The new structures had to be on wheels and movable in the winter," Geary said. "We added cute decks and skirting to hide the mechanical parts."
Located near the golden sands of Goose Rocks Beach, Sandy Pines has extended its onsite entertainment program and will also host its first Vintage Camping Weekend June 15-17. Owners of restored, DIY, and unique campers will gather and hold open houses at the event, and there will be live music, lawn games like corn hole, and barbecue. All campers, whether doing it vintage-style or not, are invited to join in.
Sandy Pines Campground, 277 Mills Road, Kennebunkport, Maine; open May-October; sandypinescamping.com