Travel
4 reasons to relocate to Cape Breton — if only for a few days (5, if you play golf)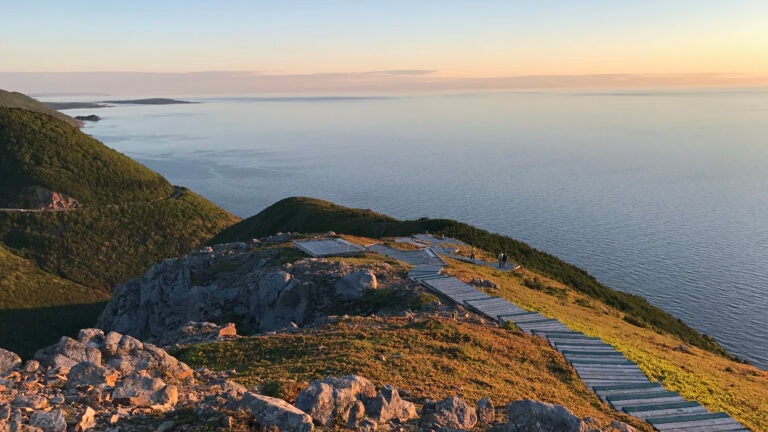 Months before the 2016 US presidential election, Cape Breton, Nova Scotia, radio personality Rob Calabrese created a website, www.cbiftrumpwins.com, urging Americans to consider relocating to the island. The site was just a lark, but what a result: After Trump's victory, inquiries went through the roof. The Citizenship and Immigration Canada website even crashed for a couple of hours.
Although a mass exodus to Cape Breton didn't happen, the international exposure the island received was overwhelming. Bookings trended up in 2016, and "this year, [tourism] operators are reporting a marked increase in sales,'' says Mary Tulle, CEO of Destination Cape Breton Association. The media attention that Cape Breton received was definitely a factor, she says.
Post-election, the website is still up, beckoning folks of all political persuasions to come see what Cape Breton has to offer. Connected to mainland Nova Scotia via causeway, the island (population: 132,000) is off the beaten track, even by Canadian standards. Could you live here? You could do a lot worse.
It definitely feels far from home. The island's aboriginal, Gaelic, and French ancestry can still be felt. Fiddling is the music of choice, Gaelic is spoken in places, and musical gatherings called "cielidhs'' (pronounced kay-lees) are commonplace in summertime. Cape Breton claims more fiddle players per capita than anyplace else in the world. If you're a golfer, you've heard of this island; Forbes magazine called it "the hottest island in golf'' and it offers Canada's only true links course.
But the most overwhelming aspect of Cape Breton is its sheer beauty. Deep green hillsides plunge to tawny strands of beach lapped by the Gulf of St. Lawrence to the west and the Atlantic Ocean to the east. The wildly scenic Cabot Trail encircles much of the island, one-third of it looping through Cape Breton Highlands National Park, along the coast and over the highlands. Twenty-six hiking trails lace the park, with occasional sightings of moose and black bear (even whales, from the headlands).
After hanging around Cape Breton for a few days, we became enamored of this little-known spot in Atlantic Canada. Here's why. (Dollar amounts have been converted to the US dollar.)
The Cabot Trail. Allow plenty of time to drive this 185-mile route, so you'll have time to stop at scenic overlooks and places that strike your fancy. That's how we discovered Barbara Longva, who makes lavish, one-of-a-kind hats at Sew Inclined (www.sewinclined.ca), her shop and studio in Wreck Cove. Longva learned the trade from her mother, who was born in Jamaica Plain; during her 24 years in business, she's made hats (ranging in price from $50-$273) for luminaries like Elton John. You'll find artisans galore, making kilts and quilts, hooked rugs and painted puffins. It's worth a side-trip off the trail to explore Cape North and Meat Cove, at the northernmost tip of the island.
The lobster suppers. "I plan to eat lobster until I can't stand it anymore,'' said our travel companion, Marcia Glassman-Jaffe from Beverly, when she learned it was lobster (and snow crab) season on Cape Breton. A popular option for a crustacean-based meal is Baddeck Lobster Suppers (www.baddecklobstersuppers.ca) in Baddeck. Nearly everyone goes for the pound-and-a-quarter boiled lobster with all-you-can-eat steamed Breton mussels and seafood chowder with dessert and a beverage ($33.) Outside, they're cooking salmon on maple planks over an open fire to sweet perfection, a tasty alternative ($23). Other worthy stops include the Lobster Galley (www.facebook.com/lobstergalleyrestaurant) in South Haven, set on Cape Ann's Bay, and Harbour Restaurant in Cheticamp (www.baywindsuites.com), where you pick your lobster from the tanks out back. To drink, pop over to Big Spruce Brewing in Nyanza (www.bigspruce.ca), and sample their organic beers, like Cereal Killer Oatmeal Stout, in the tasting room.
Getting out on the water. Cape Breton's inland sea, Bras d'Or Lake, slices through the island, and will beckon you onto a sailboat. We went out with Captain John Bryson on Amoeba (www.amoebasailingtours.com; from $20), the 67-foot schooner his father built, and spent a pleasant two hours watching bald eagles dive for fish, and admiring Alexander Graham Bell's mansion Beinn Bhreagh from the shoreline. Afterwards, you'll want to head up the street to the Alexander Graham Bell National Historic Site (www.parkscanada.gc.ca/bell). "A really interesting museum, even if you're not into inventors,'' as one guest put it. And because it's a Parks Canada site, it's free this year for Canada's 150th, so there's nothing to lose.
When you're surrounded by water, the lure of paddling is irresistible. Although our kayak day dawned with leaden skies and rough waters, we joined outfitter Angelo Spinazzola of North River Kayak Tours (www.northriverkayak.com; $54) for a half-day excursion. Given the conditions, our tour took some effort, but we were rewarded with views of soaring eagles, and a snack stop at a beach with a waterfall. Spinazzola, who's also a musician, operates three rustic but comfortable rental cabins in the woods, across the road from the river — ideal for getting away from it all.
The hiking. Superlative hiking draws visitors to Cape Breton Highlands National Park, (www.parkscanada.gc.ca/capebreton), where trails wind through Acadian (mixed woods), Boreal (mostly conifers), and Taiga (bogs and rocky barrens) habitats. Some trails lead to bogs with orchids and insect-eating plants; some lead to salmon pools or old-growth forests. One not to miss: Skyline Trail at sunset. How gorgeous is the scenery? They feature this scene in Nova Scotia Tourism TV commercials. We went on a group hike with guide Jean-Marc Renault; they offer this nearly every night from mid-June through September for $11.50 per person. This loop hike is the most popular trail in the park, so doing it at night is the way to see it minus the crowds — and perhaps with views of moose. While we didn't see any moose on our side of the trail (this hike does just half of the loop), we reveled in the "golden hour,'' just before sundown. Renault pointed out nature features along the way, like the white petals of bunchberries. "They shine brightly in the moonlight and will light our way back,'' Renault said. He also told stories of how moose, once hunted out, were brought back to the island — by train, of all things.
The portion of the trail we hiked was fairly flat, with approximately 700 feet of boardwalk and steps that lead to the Gulf of St. Lawrence — and the golden ball of the sun, hovering over inky waters. "I wish you all a beautiful sunset,'' Renault said softly, as we waited for the moment when the shimmering orb melted into the horizon.
Anyplace that celebrates the sunset is a good place to be, even for only a couple of days.
If you go. . .
For information: www.CBIsland.com.
To get here: Fly into Sydney (on the island), or fly to Halifax and drive to Cape Breton (4½ hours).
Where to stay: Think inns, yurts, cabins . . . On the Cabot Trail, just outside the town of Baddeck, the Chanterelle Country Inn (www.chanterelleinn.com; rates from $101) offers lofty views and an excellent dining room. A delicious multi-course breakfast is included in the room rate. Sleep in a safari tent at Kluskap Ridge campground in Englishtown (www.kluskapridge.com; tipis from $59.) The resort is set on a hillside on St. Ann's Bay, and its new owners are introducing aboriginal heritage activities (such as drumming nights and bread-making) for their guests. Plan to do some kayaking? Sleep just a few steps away from the North River (and outfitter North River Kayak Tours) at River Nest Wilderness Cabins (www.airbnb.com; from $89).